L' Oenosablier
by
Terry Sullivan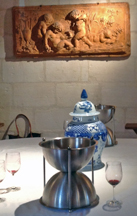 It isn't every day that you get excited about a spittoon. But it isn't every day that you meet a designer of one either. We met Michel Buillard while in France during the summer of 2013. Michel has a vast wine background and teaches wine classes. He also designed and produces L' Oenosablier, an hour-glass looking spittoon. The spittoon come in different capacities and colors. In many of the tasting rooms we visited in France, there was a L' Oenosablier on or near the tasting area.
Elegant is not a term often associated with spitting. However the L' Oenosablier is an elegant looking spittoon that catches the eye. The shining stainless steel hour-glass looks like it belongs on the tasting room counter or table. It also gives the room a sense of professionalism.
Do people really use it? It depends on the visitors. In our recent visit to France, we were with a group of winemakers, wine growers, a distributor and wine writers. One of the winemakers constantly used the spittoon. Others in the group often used it. Our mission was to taste the wines and evaluate them. This task involves tasting not drinking. L' Oenosablier was indeed utilized.
Michel assembles the L' Oenosablier in his home. He has international distribution of the item. We were surprised to see it in so many French wineries we visited. This particular spittoon isn't as common in the United States, but we are searching for it. We have a one liter black L' Oenosablier in our wine room and it makes a very nice addition.
| | |
| --- | --- |
| | Chateau Gazin in Pomerol, France sets a table in the area for wine tasting. L' Oenosablier make an elegant addition to the table and room. |
| La Face Cachée de la Pomme
in Hemmingford, Québec, Canada has a L' Oenosablier on their tasting counter. | |
| | |
| | |
---
Visit these tour operators that partner with Wine Trail Traveler.
North America, Europe

SmoothRed
London, England, United Kingdom