Maison Lamartine
(An Online Virtual Visit)
by
Kathy Sullivan
Images provided by
Maison Lamartine
This article about Maison Lamartine is based on an online interview, online data and photos supplied by the winery. The article was written during the time of the worldwide 2020-2021 pandemic. Jerome Gourraud owner and winemaker responded to our questions.

Summary: Maison Lamartine, located in Bordeaux, produces Bordeaux wines. Jerome Gourraud is the founder and winemaker at Maison Lamartine. The Lamartine wines are available around the world. Travelers to the Bordeaux region will discover that Maison Lamartine welcomes wine enthusiasts. In an interview response, Jerome offered a delightful response that in addition to choice, a good price, visitors will also receive "the smile of the winemaker."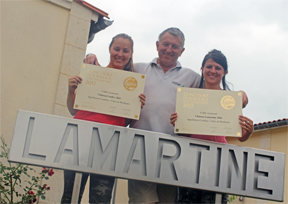 Jerome Gourraud had early experiences with wine growing as his grandparents were winegrowers and his father established a vineyard in 1977 which eventually increased in size. Jerome helped his father with the vineyard and later studied viticulture and oenology. Jerome arrived in 1989 and a year later he increased the vineyard acreage. Other developments at the winery included the building of a barrel cellar in 2002, a new wine cellar in 2008 and new offices in 2014. The Maison Lamartine cellar is more than 40 years old. The cellar is modernized and techniques in the cellar have been improved.
The winery was named for Alphonse de Lamartine who was a renowned 19th century French poet, writer and politician. Alphonse traveled to the area. In honor of the poet, the image of Lamartine's face is used on the wine bottle labels.
Lamartine Vineyards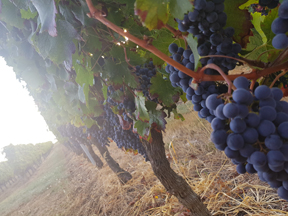 Today Lamartine has 20 hectares (49 acres) of vineyards. The majority of the vineyards contain Merlot with other varieties including Cabernet Sauvignon, Cabernet Franc and Malbec.
The vineyards are located on the same plateau where Saint-Emilion is located. Jerome wrote, "From the same limestone plateau as Saint-Emilion, east of Bordeaux, the wines of Castillon Côtes de Bordeaux enjoy a privileged location with a southern exposure and an altitude difference of more than 100 meters."
Jerome also wrote about the enjoyable aspects of the vineyards, "Every day is different, work in the vineyard, pruning, harvesting ... work in the cellar, vinification, bottling, meeting clients and partners ...there is no routine."
Winemaking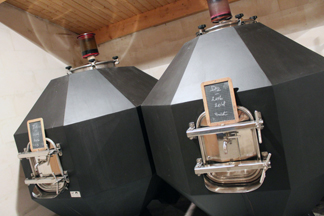 Jerome is the head winemaker and works with an oenologist. "For vinification, determine the vatting times, depending on the style of wine I want to obtain for Lamartine, I work with Nicolas Guichard (oenologist). Nicolas is an expert in the field of assemblies. we can compare it to a "nose" the experts who work to create perfumes."
In the Maison Lamartine winery, Jerome also uses Diamond vats. These special concrete vats have an ovoid interior which produces a perpetual movement allowing the lees to continuously move while aging takes place. The winemaker does not need to stir the mixture. The result of producing a wine in a Diamond vat is a round wine with aromas of fruitH.
Food Pairings with Lamartine Wines
Jerome suggests pairing Lamartine wines with mild goat or cow's milk with quince jam. According to Jerome, "It makes a great opener to any party." He adds, "The wine also goes perfectly with duck and grilled beef on vine shoots.
 Pair it with veal paupiette, which is a traditional dish served in Castillon. It's sliced thin, then stuffed with any kind of sweet or savory filling." Jerome continued with suggesting the cuvée, without added sulphates, pairs well with a summer BBQ.
Visiting Maison Lamartine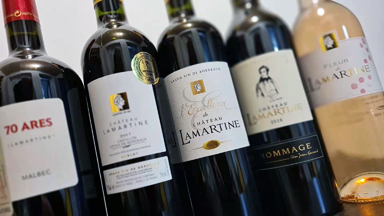 Maison Lamartine organizes visits to the vineyard. These visits include explanations of grape varieties and the soil. According to Jerome, visitors will see a vineyard in perfect condition and well maintained. Visitors will also see the aging, barrel and vilification cellars. Visitors will receive an explanation of vinification, aging in barrels and bottling. The visit always ends with a tasting of wines. Jerome added, "Depending on the season, visitors can take part in the cellar work or cut the grapes during the harvest season and take a tour with a tractor :-)"
Important for travelers is that tours take place in French and English with a few tours in German and Spanish. For a tour in Chinese, visitors should make an appointment.
We asked, What makes this winery unique? Jerome responded, "I believe that each vineyard is unique, each winegrower brings with him his personal sensitivity, his experience and he creates wines that resemble him. At Lamartine, I make wines that are easy to drink, silky, velvety. I'm trying to make the one who opens the bottle happy. I also have fairly modern cellars with black concrete tanks and diamond-shaped tanks. It's very atypical."
Jerome would like wine enthusiasts to know that customers are always welcome to visit. Also that Maison Lamartine strives to produce the best wines every year. The winery is producing five different cuvées, of which four are red and wine is produced without any added sulfates, and a rosé wine. Maison Lamartine offers visitors a choice, good price and the smile of the winemaker!
Wine enthusiasts can find Maison Lamartine wines in China, North America, Europe and Asia. Maison Lamartine recently (September 2020) opened their first boutique in Taiwan (Taipei).
Discover the wines of Maison Lamartine when you have the opportunity.
Maison Lamartine
2 La Nauze, 33350
Saint Philippe d'Aiguilhe, France

Article written January 2021.
---
Visit these tour operators that partner with Wine Trail Traveler.
France

SmoothRed
London, England, United Kingdom