Domaine Céline et Frédéric Gueguen
(An Online Virtual Visit)
by
Kathy and Terry Sullivan
Images provided by
Domaine Céline et Frédéric Gueguen
unless otherwise noted.
This article about Domaine Céline et Frédéric Gueguen is based on an online interview, online data and photos supplied by the winery. The winery graciously sent three samples of wine. The article was written during the time of the worldwide 2020-2021 pandemic. Mathilde WELIAN, an assistant at Domaine Céline et Frédéric Gueguen, responded to our questions.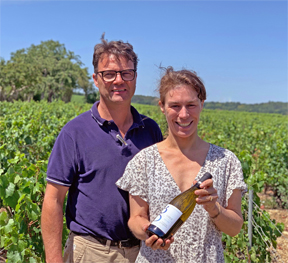 Summary: Domaine Céline et Frédéric Gueguen is a family operated winery located in La Chapelle Vaupelteigne, only a short distance from Chablis. The Gueguen winery is the result of a couple from longtime winemaking families in Chablis. Céline Gueguen Brocard and her husband, Fréderic Gueguen (pictured right) have interesting backgrounds with both involved in the wine industry from an early age. They are from vineyard and winemaking families.
The winery is unique because Domaine Céline et Frédéric Gueguen offers a long range of Auxerrois and Chablis wines. They also have two gîtes (accommodations) for visitors. Three more lodging sites will be opening in the center of Chablis.
Wine Trail Traveler asked, "What would you like the public to know about your winery?" Mathilde responded.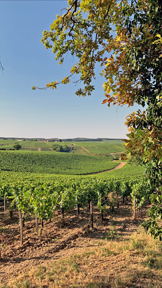 "We would like the public to know that we build everything to offer them the best experience as possible. We offer to them a visit in a small, human size winery, with a family spirit. If they are looking for a beautiful moment to spend, they can come to the property without hesitating."

Domaine Céline et Frédéric Gueguen is the result of a couple from longtime winemaking families in Chablis. Céline Gueguen Brocard and her husband, Fréderic Gueguen grew up in winemaking families. In 2013 they decided they wanted to branch out and start their own vineyard and winery. In this way, they can control the entire process of creating wine from growing their own grapes to producing wines. Mathilde wrote.
"Céline & Frédéric have both been working for Céline's father. Both coming from winemakers families, they already had the flame for the wine. So, in 2013, they decided to start their own new adventure. It was a real wish from them to operate all the process of the wine, from the vine to the glass. Céline and Frédéric also wish to pass on their enthusiasm for the vineyard to their two children, Jeanne and Baptiste."
History
Mathilde commented about the family history.
"Céline's mother is herself a winemaker's daughter. When her father married her mother, he inherited one acre of vines in Chablis area. He started from nothing and has built one of the biggest vineyards of Chablis, with a very determined entrepreneurial spirit. Céline's parents are led by the passion of the terroir and the wine, passion they have transmitted to their children, as Céline's brothers became wine professionals too."
Vineyards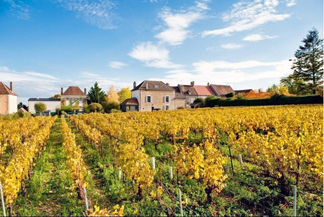 Domaine Céline et Frédéric Gueguen currently has 25 hectares (62 acres) of vineyards where they are growing Chardonnay, Sauvignon, Aligoté, Pinot Noir and Sacy. Some of the vineyards they inherited and other vineyards were obtained from retired growers. Regarding the inherited vineyards, Mathilde wrote.
"This is the case particularly for the Bourgogne Aligoté, a legacy of Céline's grand-mother, Marie-Louise. Indeed, they are old vines, giving a beautiful complexity to the wine. Without adding sugar, the Bourgogne Aligoté has a very elegant sweet roundness."
The Sacy is a "confidential wine" because it is a rare and old variety. The Sacy grapevines are 50 years old. In her answers, Mathilde wrote that they are only producing 1000 bottles of the Sacy wine each year.
The vineyards with the AOC Chablis offer a soil that has been enriched with small oysters, "a treasure coming from the Late Jurassic. This is 'Kimmeridgian' and provides the Chablis wines with minerality."
Other vineyards have limestone which gives Chardonnay and other varieties a minerality. Mathilde wrote, "All the wines are lively, full of freshness thanks to the soil."
Mathilde answered our questions enthusiastically and we asked her about the enjoyable aspect of working in the vineyards. "The most enjoyable aspect of maintaining the vineyards is that our all year long work is finally bottled and consumed by people. If we master the work of the land with passion and treat the juice with respect, we will have a beautiful result to taste in the glass."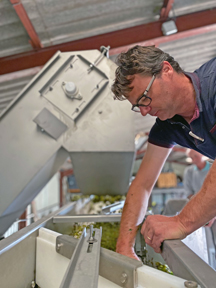 Winery
Both Céline and Fréderic are winemakers. However, at Domaine Céline et Frédéric Gueguen, Fréderic is the head winemaker and Céline focuses on the clients and international marketing.
Wine and Food Pairings
Mathilde suggested that the Petit Chablis and Chablis will match perfectly as an aperitif with gourère, that is made with cabbage dough with Gruyère cheese. Pair the Bourgogne Chardonnay and the Chablis with oysters and Burgundy snail with garlic butter. The Auxerrois wines pair well with local charcuteries including marbled ham (jambon persillé).
Future for the Domaine
Domaine Céline et Frédéric Gueguen has a bright future. In 2023 they expect to have the organic farmer label (agriculture biologique.) They have also been investing in winemaking equipment include a bottling line and a new wine press. A wine shop is being constructed. Mathilde commented that they are seeking to improve the quality of their wines as well as expand their business.
Wines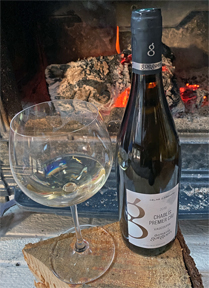 For the three wines we sampled, the Chardonnay grapes were mechanically harvested and natural yeasts were used for the fermentation. The temperature of the fermentation was controlled and the wines underwent malolactic fermentation.
The 2019 Chablis was made from vineyards in Préhy with a south-east exposure and limestone soil. With 12.5% alcohol, the wine had only 0.3 g/L of residual sugar. The wine had a yellow color with light green hue. The aroma was refreshing with floral, yellow stone fruit and citrus notes. The lively taste included peach, apricot, lemon and a touch of mineral. The finish was crisp and fruity. The wine was thirst quenching and could be used as an aperitif or paired with oysters, seafood or goat cheese.

The 2019 Bourgogne Côtes Salines was also made with grapes from the vineyards in Préhy. The wine, with 12.5% alcohol had a straw color with light green hue. The aroma was reminiscent of a fruit salad with white fruits and lemon. The taste offered white peach, apple, pear and lemon with a chalky minerality. The racy mouthfeel would pair well with seafood. The wine had a crisp, long finish with fruit yielding to mineral.

The 2018 Chablis Premier Cru Vaucoupin (pictured right, photo by Wine Trail Traveler) was made with the domaine's grapes in the village of Chichée. The vineyards have a clay and limestone soil and a southern exposure. The wine had 12.5% alcohol and a yellow color with a light green hue. The aroma was very aromatic and offered a fruit salad. The taste included white peach, apple, pear, citrus and a subtle mineral. The fruity finish had a perceived sweetness and dried on the long aftertaste. The mouthfeel was elegant and this wine would pair well with lobster.
For those wine enthusiasts that do not like oaky Chardonnays, try any of these wines. The wines were crafted with keeping the Chardonnay grape in mind rather than masking it.
Wine Tourism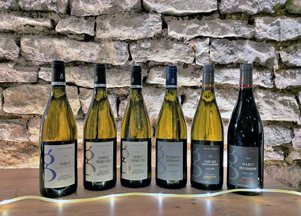 French and English tours are available at the winery. Mathilde was very detailed in her description of visiting Domaine Gueguen.
"They can expect to visit a beautiful cellar in the middle of the vineyards. We always take care of our visitors, assuring they discover our passion and craft as much as possible. They can expect to taste a large range of Chablis and Auxerrois wines, to feel many sensations with our several wines: sweetness with Saint-Bris Sauvignon and Bourgogne Aligoté, freshness with Bourgogne Côtes Salines and Chablis, a real fruity journey with our Irancy (red wine made of 100% Pinot Noir) and Bourgogne Rosé. We want to share our passion with our visitors and to let them leave with a beautiful memory of Burgundy."
Pandemic Reaction
Domaine Céline et Frédéric Gueguen has been able to stay open during the 2020-2021 pandemic. Mathilde wrote.
"It seems important to us to carry on having our visitors discover our wineyards and wines. Our beautiful region is attractive, giving a real breath of fresh air, making people forget the sad pandemic context in the middle of the vineyards. Also, we always maintain the link with our clients sharing our news on social medias and website. We are trying to have an e-relationship with professional and private people, always wishing them to be safe."
While traveling the roads of Bourgogne, make plans to visit Domaine Céline et Frédéric Gueguen for a tour and tasting.
Domaine Céline et Frédéric Gueguen
31 grande rue de Chablis 89800
Préhy BOURGOGNE, FRANCE
For more information about Domaine Céline et Frédéric Gueguen
Article written February 2021.
---
Visit these tour operators that partner with Wine Trail Traveler.
France

France

SmoothRed
London, England, United Kingdom