Chateau du Clos de Vougeot
by
Terry Sullivan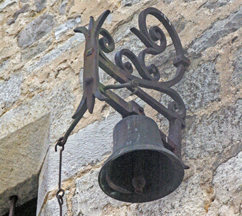 Summary: Although no longer a winery, this site is worth a visit to discover the winemaking during the times that there was a Cistercian Abbey present. As you walk into the winery, think of the phrase, "Once upon a time."
The Abbey had vineyards surrounding the buildings just as today. The farm was founded in 1089 built by monks from the Abbey of Cîteaux. During the 16th century a chateau was added to the existing buildings. The Cistercians made wine at the Abbey. Wine was important to the monks in part due to its use in Catholic masses. Furthermore, the monks were allowed to drink wine each day and provide wine for visitors. As a result, the monks took care of their vineyards and the wine they made.
Now the Abbey and vineyards are no longer owned by the Cistercians. The buildings are owned by the Confrérie des Chevaliers du Tastevin. Sixteen times a year this group holds important dinners involving Bourgogne wines. The Confrérie des Chevaliers du Tastevin has owned the former Abbey since 1945. The facility is also rented for activities such as anniversaries. Dinners and events are held in the room that once aged wines.

While still an Abbey, massive presses made from wood were used to press the grapes. Four of these wood presses are still in the winery and a short video explains how they were used.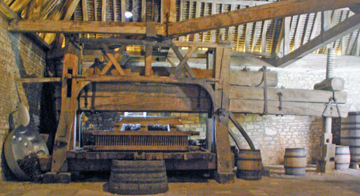 The Press
The huge wooden presses took several individuals to operate. Grapes were placed on the wooden floor of the press. The floor area was quite large and wood walls enclosed the floor. Workers would then stomp the grapes with their feet. Once the grapes were crushed, the grapes were covered with boards and beams piled on top of each other until the beams reached the lever of the press. The press was then adjusted so that an equal amount of pressure was transferred to the boards covering the grapes. This adjustment took awhile since the press had to be lowered and raised several times. The press exerted twenty pounds of pressure, enough to press the juice out of the grapes.
The juice from the grapes ran into large buckets. The juice was then fermented. Large wooden tanks were used to ferment and age the wines.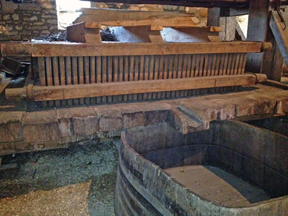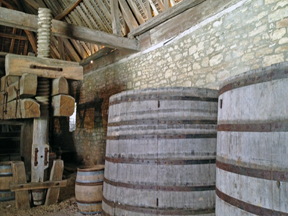 Vineyards
The vineyards are no longer associated with the former Abbey. Surrounding the buildings there are 52 hectares (128 acres) of vineyards. More than 80 growers farm the vineyards. The Pinot Noir vines grow in a rocky, clay soil.

The huge wooden presses are interesting to see. If in or near Vougeoty, consider a visit to Chateau du Clos de Vougeot.
Chateau du Clos de Vougeot
La Montagne
21640 VOUGEOT, France
0033 380 628 609
GPS: N 47º 10' 31.8' E 4º 57'20.0"
---
Visit these tour operators that partner with Wine Trail Traveler.
North America, Europe

SmoothRed
London, England, United Kingdom