Domaine des Moirots
(An Online Virtual Visit)
by
Kathy Sullivan
Images provided by
Domaine des Moirots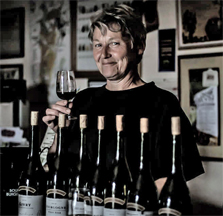 This article about Domaine des Moirots is based on an online interview, online data and photos supplied by the winery. The article was written during the time of the worldwide 2020-2021 pandemic. Muriel Denizot (pictured right) responded to our questions.
Summary: Domaine des Moirots is in the village of Bissey-sous-Cruchaud, about 1.5 to 2 hours north of Lyon. This small, family-owned winery produces still red, white wines and sparkling wine. Visitors are welcome to visit the winery.
History of Domaine des Moirots
The Domaine des Moirots has been settled for as long as six generations. The estate was started in 1980 by Lucien Denizot and his father, Léon. Christophe Denizot began working with his father Lucien, in 1990. Christophe's sister, Muriel joined the team in 2009. Muriel added, "Our grandfather who had been one of the founding members of the Cooperative Cellar of our village, had been the very first also in the village to leave the cooperative in 1959 to devote himself to the winegrowing, winemaking and selling, which was like being a pioneer in the sixties."
When Lucien started the estate, he grew only five hectares (12 acres) and was assisted by his immediate family - wife and Christophe. Muriel wrote that in the beginning he did not have any customers.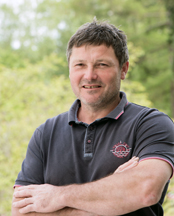 Muriel explained, "Christophe (pictured left) studied at the Lycée Viticole in Beaune and then joined his father. Christophe helped by adding new grapevines to the estate. By the time their father retired in 2005, they had more than doubled the size of the estate. Christophe has increased the size of the estate to 15 hectares."
Muriel's position at Domaine des Moirots began in 2009 after she had a long career in hotel business and tourism. Today Muriel is in charge of the exporting of wine and public relations. In addition Muriel wrote: "Anyway, you can be sure that, like in all family businesses, my tasks are extremely versatile and varied from the vine work to the kitchen at the time of harvest!"
Domaine des Moiroits fits the definition of a family winery as Christophe's wife, Céline, also works full-time in the vineyards and cellar.

Vineyards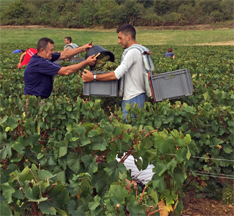 Muriel wrote that Domaine des Moirots' vineyard soils vary from one vineyard to another but are primarily clay and limestone with fossils. The various soils can be described as silty and clay, granitic soil and some blue marl soils. The vineyard soils help to determine the variety of the grapevines planted. The Aligoté and Gamay grapevines are planted in granitic soil.
Today the vineyards cover 15 hectares (37 acres). They are classified as AOC/AOP. The vineyards are maintained with sustainable farming methods.
It is important to recognize that at Domaine des Moirots grapes are only harvested by hand.
Muriel wrote about the enjoyment and importance of working in the vineyards. "Working outside with nature is certainly the most enjoyable aspect … Sometime less when it rains… 80% of winemaking is made from the work in the vines so we like taking care of them!"
Winemaking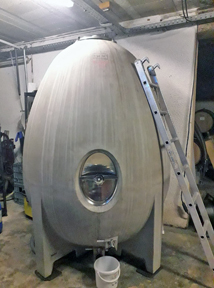 Muriel wrote that Christophe is the winemaker and winegrower. "Winemaking is the culmination of all the work done in the vines throughout the year. Every vintage is different and reflects the climate conditions of the passed year. Each vintage is a discovery .. It's a job where every day is different because the wine is a living thing. The plant moves. Wine also moves. It has its periods of opening and closing and it's exciting to follow."
During winemaking, Christophe uses cement tanks, some egg-shaped cement tanks and oak barrels. Winemaking protocol includes sorting the grapes on a stainless steel sorting table.
Suggested wine and food pairings for white wines included: goat cheese, pork, fried fish, frog legs and snails. Red wine food pairings included "Boeuf bourguignon", grilled beef and duck.
The wines of Domaine des Moirots are exported to the UK, USA, Hong Kong, Belgium, Netherlands, Denmark and Estonia.
Wine Tourism
Domaine des Moirots enjoys having visitors. This winery family wants to share their story and show wine enthusiasts how they work as well as taste the wines. They want to show visitors the lifestyle of wine growers and wine makers. We asked Muriel what languages were available for visitors and she wrote, "English, German and French, of course!"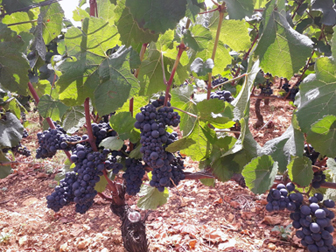 We were curious as to how the 2020-2021 pandemic affected the winery. Muriel wrote a long description including,
"Even during the second lock down, we were allowed to stay open to the public by respecting all the measures like wearing masks, using alcohol based hand sanitiser, maintaining the distance… . However, we did not have so many visitors. A lot of our French customers ordered their wines as we could ship them or deliver them directly to their home. We wrote to them as well to give some news and explain how to order wine. After the first lock down and especially during the summer, we had more visitors but still less foreigners than French people. During the year, we usually attend fairs which have been cancelled but we organized "delivering tours". We had less export orders but we think that, regarding the export to the USA, it was due more to the "Trump taxes" (over costs) than due to the pandemic. Our export sales were more impacted by this pandemic on the European Markets (including UK). Our sales to wine shops increased as well as they were allowed to stay open. During the pandemic, I did my first video tasting with our importer sales team in Jersey… Amazing!"
Look for an opportunity to taste the still wines and sparkling wines produced by Domaine des Moirots.
Domaine des Moirots
14 Rue des Moirots,
71390 Bissey-sous-Cruchaud, France
Article written February 2021.
---
Visit these tour operators that partner with Wine Trail Traveler.
France

France

SmoothRed
London, England, United Kingdom