Chateau de Fontenille
by
Kathy Sullivan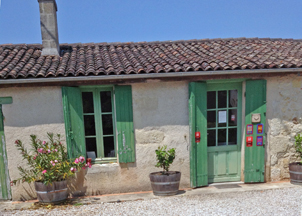 Summary: Chateau de Fontenille is located in the Entre-deux-Mers region of Bordeaux. The winery produces more than 300,000 bottles of wine in a building built in the 1500s by monks. In 2013 a new winery building close to the vineyards is under construction.
The owner and winemaker Stéphane Defraine purchased Chateau de Fontenille in 1989. He provided a great deal of information to our visiting group of winemakers and wine writers; at one point he noted that the French wine industry has 800,000 people involved it.
The original building that continues to house the winery was built by monks in the 1500s. The building is rustic and contrasts with the gleaming stainless steel tanks. Although the region has been renowned for centuries for its wine, at one time 300 years passed without winemaking taking place.
History
In 1290 the vines are mentioned in a lease to Fontemilles. During the IVth century the poet Ausone was praising the wines of the region. There was a villa at a place called 'Font e Melha' of which some ruins still remain today. In 1524 the wealthy Cadouin family are considered as the real founders of the property. More recently, since 1989, Stéphane has taken the future of the wines of Château de Fontenille in hand.
While Stéphane proudly proclaims the virtues of the vineyards for producing quality wines, his wife chimes in that it is also because he is a good winemaker. Stéphane laughed and noted that his wife said that because "she loves me." The friendly couple work well together.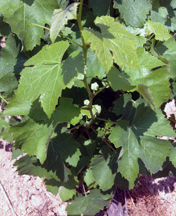 Vineyards
With 49 hectares of vineyards, grape varieties include Sauvignon Blanc, Sauvignon Gris, Semillon, and Merlot. Grapevines are 17 to 20 years old. We noted that the vines were taller than in other areas of France including Champagne and Burgundy. About 5,000 grapevines are planted per hectare. The soil is composed of gravel, clay and silica. When the grapes are harvested by machine very few stems are found. In the vineyard they try to be organic; however, will use chemicals if needed.
Winery
At the winery wines are labeled when the wine is ordered. Eighty-five percent of the wines produced are exported. Numerous oak barrels are from a variety of producers including Demptos and Sansaud.
While touring Chateaux de Fontenille we noticed a large building at the beginning of construction. A metal frame was constructed and workers were busy adding more framing. They hope to have the new winery building ready for the 2013 harvest.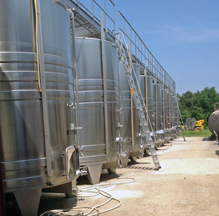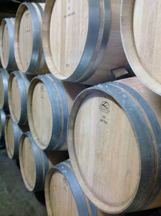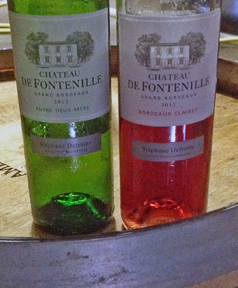 Wines
Depending on the weather the winery produces more than 300,000 bottles. Bordeaux Clairet 2011 reminded me of a good rosé. It was a light red color with good structure and many nuances. Pairing suggestions included cold lunches or grilled meats. The Clairet would also be good as an aperitif. Grand Bordeaux Entre-Deux-Mers 2012 was a blend of Sauvignon, Muscadelle and Semillon. The color was a light yellow and the aroma was light. The crisp, smooth taste was of citrus, especially lemon. The finish was smooth and lingered. Suggested pairings included seafood, grilled fish and goat cheese.
Bordeaux 2011 was from a stainless steel tank. The color was a dark purple with a light purple rim. The aroma was of berry fruit including blackberry and blueberry. The taste was of blackberries, blueberries and tannins. The finish was long with blackberry notes and tannins. Suggestions included pairing this wine with roast beef, grilled meat, stews and cheese.
Our final activity was to taste three of the same wines but produced with different methods. Stéphane led a discussion of which wine we preferred and then described the difference in the methods he used.
Enjoy a visit to Chateau de Fontenille to taste wines with friendly owners who are knowledgeable and laid back. Notice the striking contrast between old and new throughout the winery.
Chateau de Fontenille
1315 route de Grimard
33670 La Sauve, France
Article written July 2013
---
Visit these tour operators that partner with Wine Trail Traveler.
North America, Europe

SmoothRed
London, England, United Kingdom