Pascal Bouchard
by
Kathy and Terry Sullivan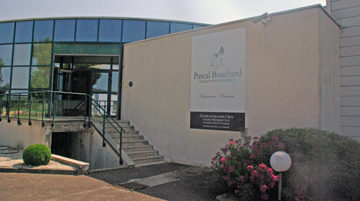 Summary: Located close to Chablis village, Pascal Bouchard produces a variety of Chablis from the appellations in Chablis. The winery focuses on sustainable and organic vineyard practices.
Pascal Bouchard in the Chablis region of Burgundy is a 5th generation family winery. The winery is currently owned by Damien, Pascal and Romain Bouchard. Pascal Bouchard produces Chablis from the four Chablis appellations: Chablis Grand Cru, Chablis Premier Cru, Chablis and Petit Chablis. The winery is located in a modern building. The entryway walls are a deep yellow and the floors are made of oak. A small seating area is on the right.
Vineyards
In 2013 Bouchard has 33 hectares (82 acres) in all the various appellation types. The grapes are hand harvested for the primary cru and the grand cru and old vines. Machine harvesting is for Chablis and Petit Chablis. Since the early 2000s the winery has been interested in using organic methods in the vineyard. One vineyard is certified organic and another is in the process of becoming certified. Pascal Bouchard also buys grapes from other growers.
The main section of vineyards was planted in the 1980s. Earlier in the 1950s and 1960s the old vines were planted. Old vines are included in the Grand Crus or Premier Crus: Les Clos, Fourchaume, and Montmains. The Chablis subsoil has been dated to the Jurassic period.
Chablis Region Characteristics
According to a brochure provided by Pascal Bouchard, "Situated in the northern part of the Burgundy region, Chablis (5,300 hectares) is know throughout the world because of a unique combination of:
-a grape, Chardonnay, planted on hills,
-a climate, continental with cold winters and warm summers,
-a subsoil, dating back to the Jurassic period with Kimmeridgian layers which abounds in sea fossils."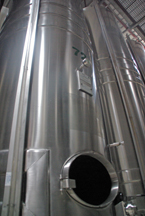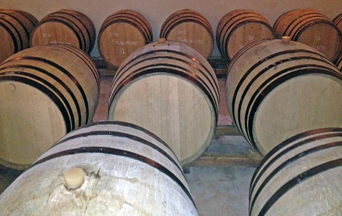 Winery
Each year the winery has 40 people harvesting the grapes. The winery produces 800,000 bottles. Seventy percent are exported to more than 30 countries. The winemaking philosophy is to allow nature to take its course. The winery uses indigenous yeasts and natural malolactic fermentation. They allow the best wines to age on fine lees without bâtonnage (stirring the lees back into the wine). Wines are produced using oak barrels and stainless steel tanks. Stainless steel is used for fruity, fresh wines.
Despite its long history, Pascal Bouchard has a modern state of the art facility built in 1995. Equipment includes pneumatic presses and temperature controlled stainless steel tanks. They also have an underground barrel cellar where a small section is dedicated for wine tastings. The barrel aging rooms hold 150 barrels of different sizes (228 liters, 350 liters and 400 liters).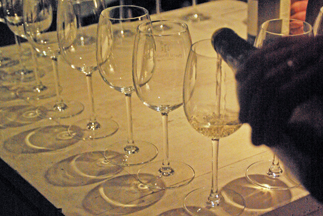 Pascal Bouchard Chablis Wines
Chablis 2010 was a light yellow color. The aroma and taste offered apples, citrus, flint (mineral) notes. There was lively acidity on the tip of the tongue. The finish was crisp and fruity.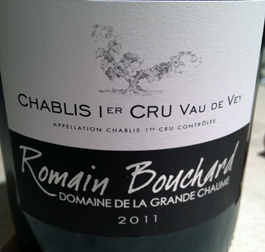 Chablis 2011 1er Cru Vaude Vey was made by Romain Bouchard. This yellow wine offered an aroma and taste that was flinty with apple and citrus hints. The finish was very crisp with minerality yielding to fruit. Chablis Grand Cru Vaudésir was a yellow color with an aroma of apple and pear. The taste also had apple and pear with buttery nuances. The finish was crisp with fruit yielding to mineral. This third wine was not as flinty as the others.
This fifth generation owned winery and vineyard is passionate about their vineyards and winery. Be sure to visit Pacal Bouchard when you are in the Chablis region of Burgundy.
Paschal Bouchard
Parc des Lys, BP 34

89800 CHABLIS, France
33 06 08 89 15 31
GPS: N47º 48' 59.5" E3º 46' 59.4"
Article written July 2013
---
Visit these tour operators that partner with Wine Trail Traveler.
North America, Europe

SmoothRed
London, England, United Kingdom