Domaine Marc JAMBON et Fils
(An Online Virtual Visit)
by
Kathy Sullivan
Images provided by
Domaine Marc JAMBON et Fils.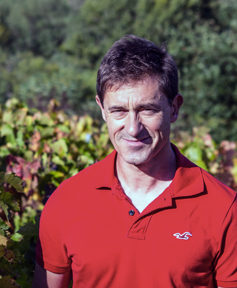 This article about Domaine Marc JAMBON et Fils is based on an online interview, online data and photos supplied by the winery. The article was written during the time of the worldwide 2020-2021 pandemic. Michel PRUDHON, co-manager, (pictured right) responded to our questions.
Summary: Domaine Marc JAMBON et Fils is located in the southern region of Bourgogne. The winery is in the Mâcon appellation. Currently Domaine Marc JAMBON et Fils is producing 13 cuvees. Passion for crafting wines is the forefront of this domaine.
Wine Trail Traveler asked what would Michel PRUDHON like the public to know about Domaine Marc JAMBON et Fils. He replied.
"We produce wines of character, which reflect our terroir and our passion for wine. We only produce single varietal wine from authorized grapes. We always bring as much passion as there is grapes for each cuvée. Our estate is a small winery, we do not expect to become a large international structure. Our main goal is to give pleasure to consumers and to ourselves. We want to offer gourmet and surprising wines with the best possible quality, while respecting our terroir and our environment. The estate is well known for its white and red cuvées of dry wines and more recently with a surprising fruity dry rosé. We are also known for our production of sweet wines vinified from Chardonnay and even Gamay (the Caresses de la Saint-Martin and L'Insolite cuvées). These wines were developed by Pierre-Antoine following the various internships he did in Alsace in his youth."
History of Domaine Marc JAMBON et Fils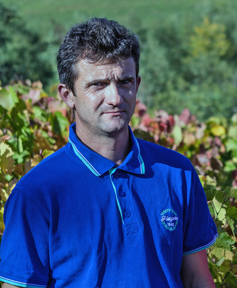 Since 1752 the JAMBON family has been involved in making wine. In 1892 Pierre-Antoine's great-grandfather, noted for the quality of wine he made in in 1907, received a medal. Marc JAMBON was interested in the history of the region and found archives mentioning the family. Marc established the vineyards while also raising cattle. Pierre-Antoine joined his father in 1996. Vineyard grapes were sold to a cooperative cellar until 1999.
The first wines of the estate were produced by Pierre-Antoine (pictured left) in 1999. Marc has now retired and Michel PRUDHON, a childhood friend of Pierre-Anotine's is now co-manager with Pierre-Antoine.
During the early years, Marc was active in promoting Bourgogne wines. He was a member of the Bourgogne winemakers society and from 1998 until 2001 Marc was president of the BIVB. (Interprofessional Bureau of Bourgogne Wines).
Michel wrote about the advancements in knowledge and techniques over the past 20 years.
"The environmental concerns have driven skills to evolve. The consumer expectations deeply changed. Nowadays, he became an enlightened taster. As a result, the market made its metamorphosis. Strongly concerned about enhancing the terroir, we (Pierre-Antoine and Michel) are convinced that nature is often more effective than systematic interventionism. For example, all fermentations are therefore naturally carried out by native yeasts. It contributes at least as much as the soils to reveal the character of our wines and are one of the essential parameters in the development of our terroir wines."
Vineyards

In Pierreclos, Domaine Marc JAMBON et Fils has 11 hectares (27 acres) of vineyards with the majority planted with Chardonnay. They also are growing Gamay, Pinot Noir and Aligoté in the Pierreclos vineyards. The clay, limestone and silt soils are very good for Chardonnay and for fruity Gamay wines. The sandstone and limestone clays are also good for producing Chardonnay. In Vinzelles there are 60 acres of Chardonnay planted on clay and limestone soils. Michael added.
"Specific vineyards are planted with particular grape varieties to produce specific wines. For example, "Granite slopes oriented to East and Northeast are more adapted to Gamay for our red Mâcon-Pierreclos cuvée "Classique" about 3000 bottles per year."

Michel described the benefits of the Pierreclos terroir, which included a continental climate with a Mediterranean influence. The annual rainfall average is 840mm (33 inches).
"We benefit from a continental climate under Mediterranean influence. Winters are cold with regular precipitation. Summers are hot and can have violent thunderstorms. Spring is usually mlld but can be "precocious" and there may be a frost. Autumn is mild without humidity, which provides the winery the opportunity to produce a sweet wine."
 
Winemaking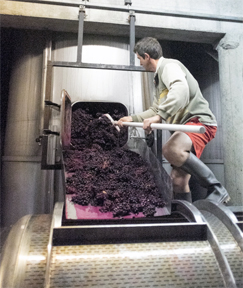 The winemaking is shared by Michael and Pierre-Antoine. Michel explained, "This job is played with two heads and four hands. We are convinced this is a real strength. This way of working enables expression of our different sensibilities and perceptions. We complement each other."
Wine Trail Traveler asked about the most enjoyable aspects of winemaking. Michael wrote.
"Sharing it! This profession has the great advantage of bringing together a large number of different activities. Routine is never present. In addition, all the years are different, so we must constantly adapt our choices to the conditions of the vintage. A perpetual questioning that each year teaches us a little more about wine ... and about ourselves too. In such a way that each cuvée of each new vintage is like our child that we are always very happy to present. Sharing our passion with our clients is in a way our ultimate reward."
Wine Trail Traveler asked what makes Domaine Marc JAMBON et Fils unique. Michel provided a very detailed answer beginning with, "Making wine is a bit like drinking it, it's knowing how to seize the instant."
Michel went on to explain that the choices they make are "driven by our love for good food accompanied by good wines."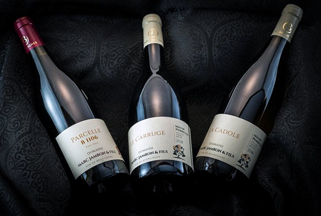 He believes, "A wine is like film photography. You can't get an excellent wine without respect of your terroir and high quality grapes (you can't have a good print without a perfect shot and a great negative)." Michel also wrote about the importance of reducing the environmental impact on the vineyards which includes respecting the natural organisms in the vineyards and no longer using weedkillers and insecticides. Michel also noted that they limit the amount of grapes harvested in each vineyard. "We believe that it is not possible to make good aromatic and balanced wines by having a plethoric production. The vine produces good grapes only if they are not produced too much."
Another aspect of Domaine Marc JAMBON et Fils that differentiates the winery from other wineries is their effort to harvest grapes a little later than is commonly done. This allows the grapes to fully mature. Time of harvesting is determined by laboratory testing and tasting the grapes.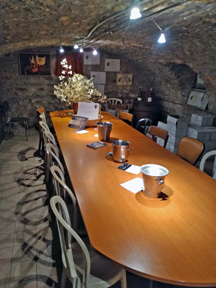 At Domaine Marc JAMBON et Fils, time is spent on observing and reflecting on the protocols used in the winery and the vineyards. Michel concluded with, "It is by questioning yourself on all that has become a habit for many. We are observing and also developing our critical, even rebellious (so french), spirit that we cultivate the uniqueness of our wines. All this allows us to produce cuvées with atypical characteristics for the Mâconnais."
Domaine Marc JAMBON et Fils is currently shipping wines to the United Kingdom, Italy and Japan. They hope to begin exporting wines again to the United States in the future. When you travel look for wines produced by Domaine Marc JAMBON et Fils. We hope that soon wines produced by Domaine Marc JAMBON et Fils will be available in the United States.
Wine Tourism
During the time of the COVID Pandemic, it is best to contact the winery to inquiry about wine tastings and appointments. Tastings are generally conducted on Mondays through Saturdays. The photo on the right shows the cellar room used for wine tastings.
Domaine Marc JAMBON et Fils
38 impasse de la Roche 
71960 PIERRECLOS, 
FRANCE
 +33 6 25 68 80 61
Article written February 2021.
---
Visit these tour operators that partner with Wine Trail Traveler.
France

France

SmoothRed
London, England, United Kingdom