Domaine Sorin
by
Kathy and Terry Sullivan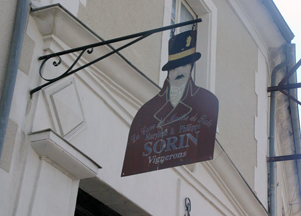 Summary: Domaine Sorin has been in the family for generations dating back to 1577. Today Philippe and his son, Romain, are the winemakers.
We met Romain Sorin at Domaine Sorin. He is the 19th generation of fathers and sons who have passed down winemaking skills. Following in tradition, Romain and his father, Philippe, make the wine and tend the vineyards.
Today Domaine Sorin is producing 50,000 bottles each year. In the winery Romain has developed a unique way to press wines. He uses bundles of grapevine cuttings as a course filtering in the press to block the grape skins from clogging the press, an inexpensive technology.
We went on a tour of the property that once was a carriage house. Casanova changed horses here in 1750. Decades later Napoleon I stopped in 1815. Alexandre Dumas stayed here. You do not have to be famous to visit this domaine and be warmly greeted.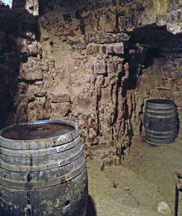 Underground, the cement vats are coated on the inside of the tank with epoxy. When grapes are harvested, the grapes are kept separated according to the vineyard plot and grape variety. Domaine Sorin wines are kept in the vat or in oak for nine months. There are several cement vats in different rooms.
We were led into caves where wine barrels were stored. Then we entered caves that were recently discovered.
Vineyards
Domain Sorin vineyards consist of 23 hectares (57 acres) in several locations around the village of Bandol. Philippe and Romain do not use chemical fertilizers or weed killers in the vineyards.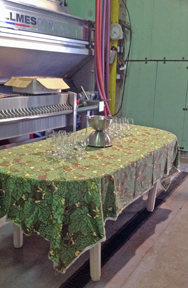 Wines
A table was set up in the winery next to the press for our wine tasting. On the table were wine glasses and a stainless steel l'Oenosablier (spittoon). We tasted three wines.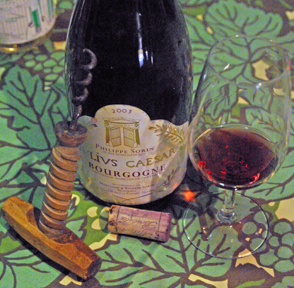 Bourgogne Aligoté 2012 was a light yellow wine. The aroma was of yellow stone fruit. The taste also had yellow stone fruit but with nuances of citrus. The finish was dry with fruit yielding to chalk. Saint Bris Sauvignon, a Sauvignon Blanc, was a straw color. The aroma offered notes of tropical fruits and lemon. The taste had peach and apricot notes. The finish was crisp with fruit yielding to mineral.
Julius Caesar 2003 was a red wine made with the César grape variety. The variety existed since 50 BCA and has been planted in France since the second century. The red wine offered herbal and cranberry notes. The taste had nuances of mushrooms and dark fruit. The finish with tannins began with fruit notes and yielded to mineral.
Although some famous people have visited here, you do not need to be famous or infamous to visit Domaine Sorin. Call to set up an appointment.
Domaine Sorin
12 rue de Paris
89530 Saint Bris le Vineux, France
03 86 53 60 76
GPS: N47º 44' 42.0" E3º 38' 58.8"
Article written July 2013
---
Visit these tour operators that partner with Wine Trail Traveler.
North America, Europe

SmoothRed
London, England, United Kingdom