Domaine René & François Leclerc
by
Kathy Sullivan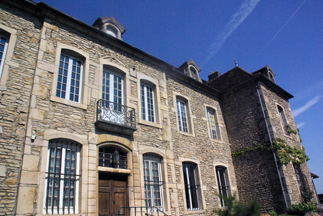 Summary: Domaine René & François Leclerc winery, a boutique winery, is located in Gevrey-Chambertin. François Leclerc, owner and winemaker,carries on with the winemaking tradition of his family.
Visitors to Domaine René & François Leclerc can view the contrast of old versus new equipment. In the winery a modern wine bottling machine may appear a bit unusual when considering the oak wine barrels in the stonewall cellars. Visitors will also see a pulley for lifting lugs as well as several rectangular red tanks.
Domaine René & François Leclerc was established in 1962. Between 1980 and 1990 the caves were built behind the house. François is René's son and has worked in the vineyards for decades. François makes wines with his father, René, and also makes his own wines.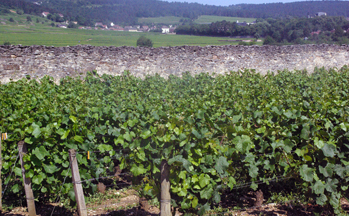 Vineyards
Domaine René & François Leclerc has 10 hectares of grapes in the village of Gevrey-Chambertin. Pinot Noir is planted in the vineyards. Some of these vineyards have been in the paternal family for many years.
Winery
In the Leclerc winery, François uses natural yeasts for fermentation. Sulfates are added during the winemaking process; however, no other chemicals are used in producing wines. François likes to use natural yeasts to ferment the wines.
Visitors are likely to see a wood press in the winery. François talked about the press dating back to 1951. François uses neutral oak for aging wines. Wines are aged for 12 months. He does not like to use new barrels since they overpower the wine. François wants the wines to represent the terroir and the grape, not an oak barrel. The wines are bottled without filtering.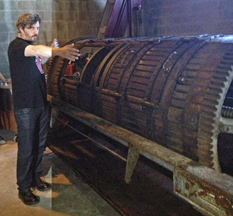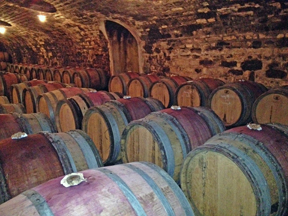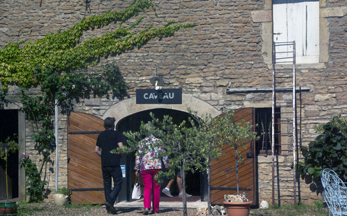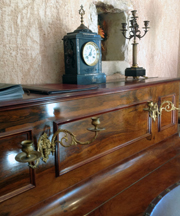 Tasting Room
The tasting room, on the ground level is more modern but still offers the ambiance of old style France with beige walls and wood ceiling beams. Antique furniture including an old piano and a dining table add to the ambiance. Throughout the room, maps on the walls and laminated maps on the tables showed Bourgogne regions including Côte de Nuits and Gevrey-Chambertin.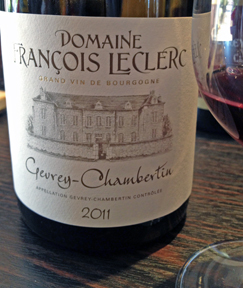 Wines
Gevrey-Chambertin 2011 was a light ruby Pinot Noir blend of different plots in different fields. The aroma and taste were of raspberries and cherry with a hint of earthiness. The finish was sweet with a touch of earthiness and crisp with mild tannins. Clos Prieur (old vine) was a red color with a dark pink hue. The wine offered a black cherry and floral aroma and taste. The finish was crisp with raspberry notes and mild tannins. The wine was made from old wine grapes approximately 70 years old. Gevrey-Chambertin 2009 1er Cru Les Champeaux was a Pinot Noir with a ruby color and pink hue. The aroma and taste offered notes of raspberries. The finish had tannins and was crisp and fruity. Lavaux St. Jacques 1981 was a Pinot Noir wine that had a sienna color. Legs were prominent on the wine glass. The aroma had herbal and earthy notes. The taste was of cherries and raspberries. The finish was crisp with tannins.
Domaine René & François Leclerc is a friendly winery to visit in Gevrey-Chambertin. If you will be in the area be sure to stop by for a tasting.
Domaine
 René & François Leclerc
29, Route de Dijon
21220 Gevrey-Chambertin, France
Article written July 2013
---
Visit these tour operators that partner with Wine Trail Traveler.
North America, Europe

SmoothRed
London, England, United Kingdom