Les Caves Bailly Lapierre
by
Kathy and Terry Sullivan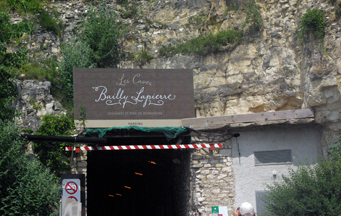 Summary: Les Caves Bailly Lapierre is a very unique winery where the tasting room and wine storage are in immense caves once used as a quarry. Even cars park in the caves at the entrance to the degustation. Tours of the caves filled with wines aging as well as numerous sculptures are dramatic. Visitors may find the caves slightly cool and damp so may want to have a light jacket available.
After arriving at Les Caves Bailly Lapierre, visitors will discover parking inside the caves. Those arriving by bus may have to walk past the car entrance, somewhat reminiscent of a James Bond movie. Walking towards the bright lights, they will find a large tasting room with several sections for wine tasting. Colored lights reflect off the cave walls providing a dramatic effect. Over one tasting area a carved relief in the stone shows an angle emerging from a cluster of grapes. Posters and stainless steel spittoons brighten the area. Brick seating around circular concrete tables is available.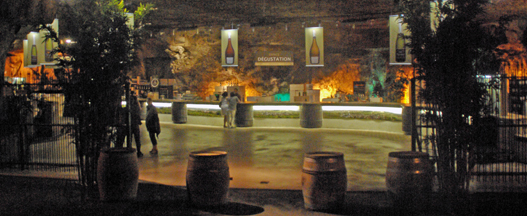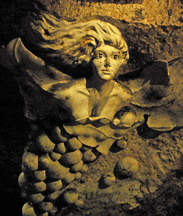 Les Caves Bailly Lapierre has wine caves located in a limestone quarry. The caves were built in the 12th century. Today the quarry is closed. In 1972, the caves were changed to wine storage of sparkling wines. The four-hectare area always has good humidity for storing wines and is a constant 12 degrees Celsius.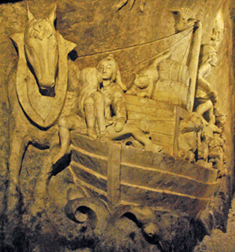 Sculptures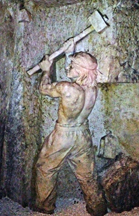 Several large sculptures are placed along the walls of the caves. Between 1991 and 2001 sculptors were invited to show their work. If their work was related to wine or the quarry and selected, the sculptor could sculpt it on the rock of the quarry. One sculpture depicts a boat traveling the river carrying a cargo of wine and people. At times, river travel was safer than using the roads littered with bandits. Another sculpture shows a bottle of a sparkling wine that was just opened. The cork is flying in one direction. The sparkling wine is pouring out of the bottle and a woman is trying to climb the flow of the wine.
Not all sculptures are wine centered. There is a sculpture of a miner working in the quarry. One wonders how the workers managed sweaty, hard work in a cool damp environment. Some sculptures are adult themed. Near the end of the tour there is a sculpture of a winemaker and press. What would a display of sculpture be without a sculpture of Bacchus? It was the last sculpture we saw on the tour of the caves.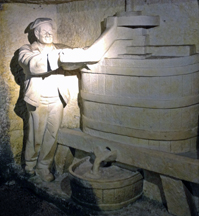 Winemaking
At the beginning grapes were sourced from 30 wine growers and now 80 wine growers are participating. The grapes are grown in vineyards with limestone soil.
Strict rules are set for accepting grapes creating crémant wines. The only grapes that can be used are Pinot Noir, Gamay, Chardonnay and Aligoté. Grapes must be harvested by hand. The amount of juice from grapes is limited. Nine months aging is required for the second fermentation. But Bailly Lapierre will let some wines age for 30 months.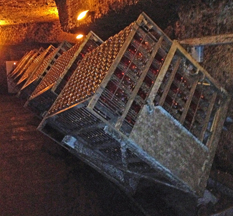 Riddling is done by gyroplate. The winery has 80 of these riddling machines. Some of the machines are seen along the tour. Each year the winery produces 4,000,000 bottles of wine. Currently 8,000,000 bottles are aging in the caves.
Wines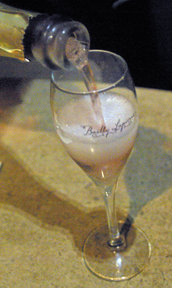 Brut Crémant de Bourgogne was produced with Chardonnay. This yellow wine offered an aroma and taste of apple with some citrus nuances. The finish was crisp and refreshing. Extra Brut Crémant de Bourgogne was produced with Pinot Noir. This was a light yellow wine with citrusy notes. The wine was crisp and dry. Rose was a Pinot Noir wine with a salmon color and red hue. The taste was creamy with light red berry fruits. The finish was crisp.
If one is looking for an unusual experience and sparkling wines, they should consider a visit to Les Caves Bailly Lapierre. Carry a light jacket for the tour.
Les Caves Bailly Lapierre

Quai de l'Yonne - Hameau de Bailly
B.P. 3
89530 Saint-Bris-le-Vineux, France
GPS: N47º 43' 21.0" E3º 37' 39.9"
---
Visit these tour operators that partner with Wine Trail Traveler.
North America, Europe

SmoothRed
London, England, United Kingdom