Domaine Royet
(An Online Virtual Visit)
by
Kathy Sullivan
Images provided by
Domaine Royet
This article describing Domaine Royet is based on an online interview, online data and photos supplied by the winery. The article was written during the time of the world-wide 2020-2021 pandemic. Jean-Claude Royet and his son Vincent answered our questions.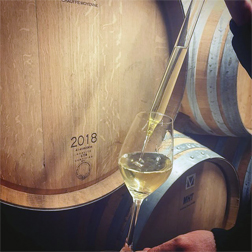 Summary: Domaine Royet is located in the Côtes du Couchois appellation. They wish to be known for striving to produce quality wine and that they also produce a Crémant de Bourgogne "Brut Nature" with very fine bubbles. Currently Domaine Royet wines are exported to Germany, Belgium, Canada and the USA.
Located in the Côtes du Couchois appellation, Domaine Royet grows the Bourgogne grape varieties including: Gamay, Pinot Noir, Aligoté and Chardonnay. In addition to producing white and red still wines about one/third of their wine production is sparkling wines. They also produce a small amount of rosé wine.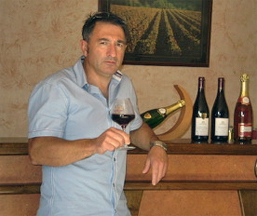 We asked, "What makes Domaine Royet unique?" Jean-Claude Royet (pictured left) replied.
"Our big advantage is that we are located in the Côtes du Couchois and that nobody knows this appellation. It is therefore imperative to discover this region of Burgundy, where the value for money is very interesting. Our white wines are rich and elegant, our red wines are powerful and structured. You will find a distinct Couchois typicity that must be distinguished. Our estate also produces its own Crémant de Bourgogne. The product of the moment: a white crémant de Bourgogne « Brut Nature » without sugar with a very fine bubble."

Vineyards of Domaine Royet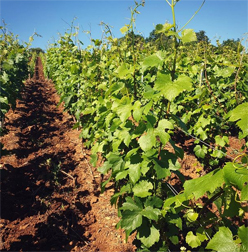 Domaine Royet has 14 hectares (almost 35 acres) of vineyards. The soil is comprised of different types of clay with a limestone base. Jean-Claude wrote: "On red or yellow marls we produce red wines with a beautiful structure and good texture. We favor blue marls for rich and gourmet white wines. Of course the bedrock is limestone."
We asked about the enjoyable aspects of working in the vineyards. Jean-Claude's answer was extensive.
"The contact with nature is the most pleasant thing. We see the environment changed with the seasons. Our lives are punctuated by the vegetative cycle of the vine. We strive to ensure the health of the vines if we want a quality harvest. Moreover, we have a superb view of the Dheune valley, we can admire hilly landscapes, where the culture of the vine, herds of animals, crops and rivers are mixed. Secondly, we plan for the future harvest and try to work respecting the vintages and the terroirs."
Winery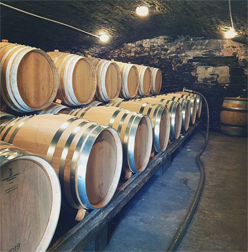 The winemaker is Jean-Claude Royet and his son Vincent. They enjoy the vinification of the wines. Jean-Claude commented, "It's in those few weeks that the dream takes shape, and all of that work and time and effort becomes real."
Jean-Claude suggests that the white wines of Domaine Royet pair well with goat cheese from a neighbor's farm. The Domaine Royet red wines pair well with Charolais beef from Saone et Loire.
Previously, Domaine Royet began exporting wine to England and Japan. When Vincent arrived at the winery, he expanded production to Canada, USA, Germany and Belgium.
History of Domaine Royet
Jean-Claude's grandparents, Julien and Marthe Creuseveau, always grew grapes and were also producing wine. In addition his great-grandfather was a wine distiller.
In 1968 Jean-Claude's parents, Bernard and Nicole ROYET doubled the size of the vineyards. By 1984 Jean-Claude had joined the winery, expanded the vineyards and began selling bottles of wine to individuals.
1995 was the year the winery began producing Crémant de Bourgogne. Since 2005 there has been an interest and effort to increase the quality of the wines.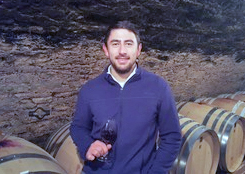 Now Jean-Claude's son Vincent (pictured right) has joined Domaine Royet after studying at the Beaune wine school and working in New Zealand.
Jean-Claude wrote about what it was like during the 1930s and 1940s. "During and after the war, the region of Couchois was intended to supply the mining basins of Montceau-les-mines and Creusot. This wine was not the reflection of the quality and the terroirs of Couchois."
We asked how Jean-Claude had become passionate about wine. He noted that it began with helping his parents in the vineyards. He continued, "Then passion appears when we understand the entire manufacturing process and share beautiful moments around a glass of wine. When we taste we feel the history and the work of a day, a year, a life."
The Future
Within the next five years Jean-Claude and Vincent hope to build a new winery that will provide them with more functional space. With a larger space it will be possible to source grapes from other appellations and also to create a high-end category.
Wine Tourism
When wine enthusiasts visit Domaine Royet, they will discover a relaxing time of sharing. They will learn about the terroirs and the passion for wine. "They can expect to discover a new side of Bourgogne."
While the wine cellar is open Monday thru Saturday, visitors are encouraged to contact the winery ahead of time.
Article written February 2021.
---
Visit these tour operators that partner with Wine Trail Traveler.
France

France

SmoothRed
London, England, United Kingdom