Clos St. Louis
by
Kathy Sullivan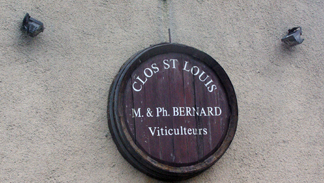 Summary: Clos St. Louis is a special boutique winery in Burgundy located in a picturesque village with buildings dating back hundreds of years. Martine and Philippe Bernard are the owners and Philippe is the winemaker. He offers a sense of humor while also focusing on growing and producing wines.
Traveling through the narrow streets between aged tightly-packed homes and small wineries, we reached Clos St. Louis. A short walk away we visited the vineyards of Clos St. Louis. Currently Clos St. Louis is owned and operated by the 4th generation family. We met Philippe Bernard now the current generation owner and winemaker. Philippe followed in his grandfather's and father's footsteps and in 2011 was inducted into the Chevalier du Tastevin.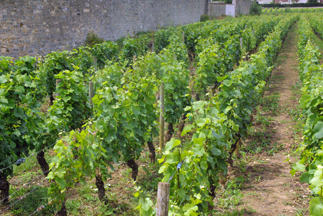 Vineyards and Winery
The gently sloping vineyard consists of 17 hectares (42 acres.) The grapevines of Pinot Noir and Chardonnay were towards the end of flowering stage. Each vine has eight bunches of grapes which is the maximum number of bunches allowed by the AOC. Each year a small percentage of grapevines do not survive. Phillippe estimated this loss of grapevines at two percent. He noted that under the topsoil the soil is chalk and limestone.
After viewing the vineyards, we walked back towards the winery where we discovered tall, red rectangular tanks. These are made of concrete. Philippe noted that he learned his winemaking skills from his father and also went to school to learn winemaking. For a time he worked at another winery. His sense of humor showed during his relaxed presentation to our group noting, "I am a farmer. I live poor and I die rich." Regarding the weather, "I am a farmer and like any farmer I will complain about the weather."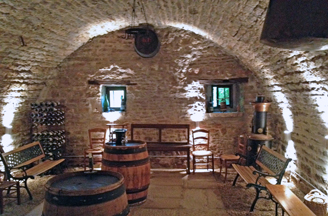 Visitors to Clos St. Louis will discover that the winery, tasting room and dining area are in stone buildings built long ago. Curved ceilings add to the ambiance. One building has the date 1645 etched in the stone. Space in these closely packed buildings is used well.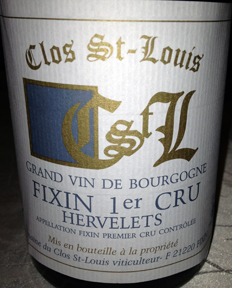 Wines
In the aged cellar we tasted several wines. The wine cellar offered the traditional old wine cellar ambiance with stonewalls and a curved ceiling. On one wall was a framed poster of St. Vincent. Chairs were placed along the walls while Philippe presented a very organized tasting of his wines.
Grand Vin de Bourgogne Fixin Chardonnay 2012 was a light yellow with a wonderful aroma. The wine offered notes of apple, citrus and some tropical fruit. The taste was velvety and fruit forward.
Rosé was a Pinot Noir with a salmon color. The aroma had a slight red berry scent. The wine taste was of red berries and the finish was crisp. Grand Vin de Bourgogne Fixin 2011 was a Pinot Noir with a ruby color. The wine offered notes of spice and cherries. The finish was spicy with tannins.
Our wine tasting continued in the dining area. Our tour group had a wonderful, relaxing lunch paired with Clos Saint Louis wines. Chardonnay 2011 was a light yellow. The aroma and taste were of apple and pear. The wine was drying on the palate.
Fixin 1er Cru 2010 Hervelets was a red to ruby color. The wine offered cherries and spice notes. The finish was spicy with mild tannins. Fixin 1er Cru Hervelets 2009, was a red cherry color with some cherry and a bit of spice. The wine offered mild tannins. The wine was tart reminding one of Montmorency cherries.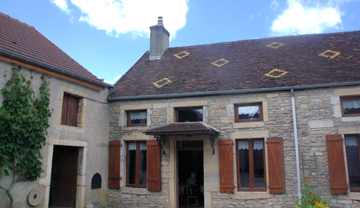 When visiting Burgundy, consider a visit to Clos St. Louis.
Domaine Du Clos Saint Louis
4 rue des Rosiers
21220 FIXIN, France
GPS: N47º 14' 58.4" E4º 58' 22.4"
---
Visit these tour operators that partner with Wine Trail Traveler.
North America, Europe

SmoothRed
London, England, United Kingdom