Vignobles Vellas
(An Online Virtual Visit)
by
Kathy Sullivan
Images provided by
Vignobles Vellas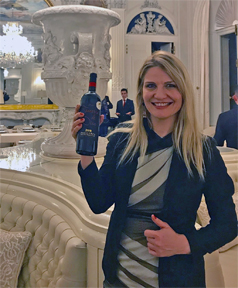 This article describing Vignobles Vellas is based on an online interview, online data and photos supplied by Vignobles Vellas. The article was written during the time of the world-wide 2020-2021 pandemic. Julia Garcia (pictured right), Export Manager, answered our questions.
Julia studied International Commerce at Bordeaux University. She has worked for
Languedoc producers for 15 years and commented that "Vellas winery is the place where I have fun working!"
Summary: The focus of Vignobles Vellas is on specialty wines and creating unique wine labels. The majority of the vineyards are farmed organically. It was through Vignobles Vellas that we learned about the practice of farmers burying pants in the vineyard!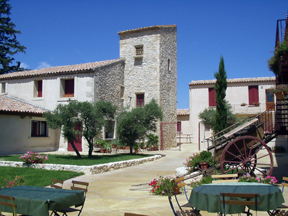 Vignobles Vellas, a fourth generation winery, has five vineyard estates. The winery was named Vellas, the family's name. The vineyards are located for the most part in AOP Pic Saint Loup (Grand Cru of Languedoc). Vignobles Vellas also works with other winegrowers to obtain grapes. Julia wrote:
"We have about 60 small winegrowers in the south of France under the contracts of 10 years. We select a parcel of vineyard in the appellation missing in our portfolio and interesting for our wines and engage to buy all the harvested grapes from it, then this winemaker makes the wines, and bottles it with our dry matters ( or we do it at our bottling line)."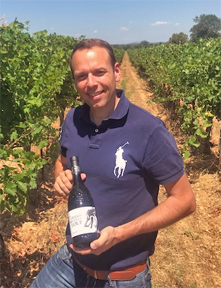 Nicolas Vellas (pictured right) is the current 4th generation of the Vellas family winery. Nicolas grew up learning the wine industry from his grandfather and father. In 1997, at the age of 18, Nicolas took over the management of Mas du Pont. Nicolas oversees the vineyards and winemaking and emphasizes specialty wines. Julia wrote, "He adores the style of Italian wines, concentration, pure fruit, aging in American oak barrel with strong notes that give to the wine the taste of vanilla and chocolate."
Wine Trail Traveler asked what makes the winery unique? Julia wrote, "Our bottles! Nicolas Vellas is an artist! We don't produce standard, every bottle creates emotions. You cannot just put it on the table; people will be all curious about!"
Vineyards
The Vellas family has 160 hectares (395 acres) of vineyards. The majority of the vineyards are located in several appellations including: AOP Pic Saint Loup, AOP Faugeres, AOP Saint Chinian Terre de Berlou, AOP Languedoc and IGP Pays d'OC.
The main red grape varieties include: Cabernet Sauvignon, Merlot, Grenache, Cinsault, Carignan and Mourvèdre. White varieties include Chardonnay, Sauvignon Blanc and Viognier. In addition the vineyards include more than 20 other grape varieties.
Julia described the local terroirs in the south of France.
"Here the climate is rather good for vines, hot summer days and fresh nights, many mountains and diversity of terroir. Vellas wines have very particular thing: we harvest our vines at rather late maturity, Nicolas Vellas is looking for concentration in everything: colour (dark to very deep black), aromas (often a bouquet of red fruits), silky tannins (that create a good structure and give a good potential for aging)."
Vineyard Estates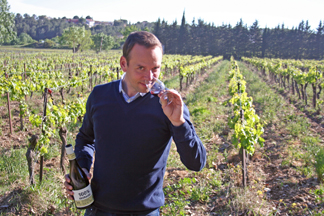 Mas Du Pont, the main location, is located in Teyran where there is a Mediterranean climate. The Mas Du Pont vineyard (pictured left with Nicolas Vellas) has 30 hectares (74 acres). The soil is comprised of chalky clay. Grape varieties growing at this location include: Syrah, Grenache, Merlot, Marsanne, Gros Manseng, Viognier and Muscat. The Mas Du Pont location includes a wine cellar for sales and offers workshops. The estate also offers the Vellas Manade for bulls, horses and bullfighting shows, a theater, a large event room and lodging called "Gites de France".
The Garoloup estate, in Pic Saint-Loup has a combination of continental climate and Mediterranean climate. The soil has clay-limestone and marls. Grape varieties growing in this location include Syrah, Grenache Noir, Mourvèdre, Grenache Blanc, Roussanne, Marsanne and Viognier.

The Léo Vareille estate vineyard in the AOP Faugères has schist soil. The vineyard receives a maximum amount of sunshine. Grape varieties thriving in this vineyard include: Grenache, Syrah, Mourvèdre and Cinsault.
The Valinière estate in St Drézéry focuses on Syrah, Grenache and Cinsault grape varieties. The climate is Mediterranean and the soil is a mix of clay and limestone.
The Mas de Gachon estate is located in Lunel-Viel. The vineyard soil consists of pebbles and alluvial deposits. The grapes from this 40 hectare (99 acres) vineyard are organic and used to produce single varietal wines. Grape varieties include: Syrah, Grenache, Mourvèdre, Sauvignon, Chardonnay, Muscat and Gros Manseng.
Why Would You Want to Bury Pants in the Ground?
Julia mentioned in an earlier online presentation, that in southern France, farmers bury their pants in the ground. When we asked Julia about this unique practice, she explained.
"Bury cotton briefs near the vines ... it's not a joke! This innovative and unusual device (comes from the history of winegrower in the south of France) makes it possible to measure the quality of the soil. If in some time there were pieces left, it means that the soil is poor…."

Wines of Vignobles Vellas

As mentioned earlier, the wines of Vignobles Vellas are specialty wines. These niche wines include Naturellement Pur "Orange Mécanique". This wine is produced with skin contact for 7 to 10 days.
Wine Trail Traveler asked, "How do your customers react to the orange wine and the rare grape varietal wines?" Julia answered:
Very good! The wines are organic and vegan as well; it is rather popular now, everybody wants to save the planet! And to find something new for his taste. One important thing is that Nicolas produces wines that are very easy to understand and to appreciate by the ordinary customer ( fruity but rather strong in alcohol, we produce 14/15/16/17/ and even 18% alcohol natural dry red wines!) always with same sweetness in the final not to feel the heavy style. We adore vanilla and chocolate and in some wines smoked bacon aromas! One of our best sellers is "MR BURGER" wine AOP Languedoc red dry wines for gastronomique fast food lovers.
The Vieux Aramon was produced with an historical grape Old Aramon. The grape is also known as Ugni Noir. The label features Nicolas Vellas' grandfather with his mule getting ready for harvest.
Lledoner Pelut was also produced with this grape which is a mutant of Grenache Noir. The label features a 1960s photo of Nicolas Vellas' father, mother and a cousin at harvest time.
The bottled Tempranillo has a 1960s photo of the family's first tractor on the label.
When asked about local foods that paired well with Vignobles Vellas wines, we learned that such foods included aperitifs with Mediterranean tapas (olives for whites and rosé). Red wines would pair well with rabbit, bacon and prunes.
Wine enthusiasts who visit Vignobles Vellas will discover tours in several different languages including French, English, Russian, Czech, and Spanish. In the tasting room wine tastings are often presented to Chinese clients.

If you are looking for specialty wines to enjoy yourself or impress guests try a wine from Vignobles Vellas. Who wouldn't want to try a wine with a smoked bacon aroma?
Vignobles Vellas
Mas du Pont
34820 Teyran – France
Article written January 2021.
---
Visit these tour operators that partner with Wine Trail Traveler.
France

SmoothRed
London, England, United Kingdom