Domaine Lucien Jacob
by
Kathy Sullivan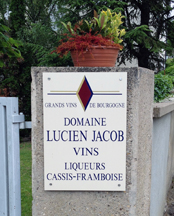 Summary: Domaine Lucien Jacob offers a wine tasting experience in their aging cellars. The winery produces both Chardonnays and Pinot Noir wines. Owner and winemaker, Jean Michel Jacob is also an artist.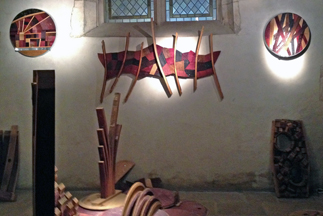 Visitors to Domaine Lucien Jacob will discover it located in the small, quaint village of Echevronne. Jean Michel Jacob and his wife, Christine, are the second generation continuing the Domaine Lucien Jacob tradition. Jean Michel is also the winemaker and an artist. Currently his artwork involves the creation of wood sculptures using oak barrel staves. At the time of our July 2013 visit, these artistic works were available in the winery tasting room at the Marche Aux Vins in Beaune (pictured).
Domaine Lucien Jacob is a winery located in Haute Cotes. Haute Cotes means "high coast." The vineyard is 250 meters higher than other vineyards in the region. The vineyards of 18 hectares are spread over a large area. Christine Jacob noted that one can plant the same plant in different places and the wines will be different. The vineyards of Domaine Lucien Jacob include Pinot Noir and Chardonnay with a small amount of Chambertin.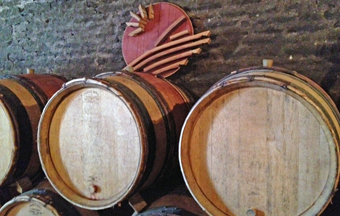 Winery
The winery was built in 2001. Wines are aged in unpainted concrete vats with no lining. The old vats date from 1952. The building is 140 years old. Domaine Lucien Jacob uses a pneumatic press. Wines are fermented for about 14 days. They use a small amount of new oak in their winery. Their bottling machine can bottle 10,000 bottles a day.
Wine Cellar
The wine cellar, built in the 1960s, is now currently used for wine barrel storage. The cellar always maintains a temperature of 13 degrees Celsius. Normally production for the winery is in the 75,000 bottles range. However in 2012 the winery produced 38,000 to 40,000 bottles.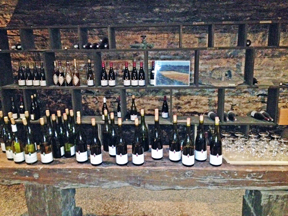 Tasting Room
The tasting room is located in Domaine Lucien Jacob's cellar. The cellar with old ambiance has walls of stone. The long tasting counter is made of wood with eight-inch thick wood resting on heavy legs. Five small stools created with small barrels have brown cushions for seating.
White Wines
Aligote 2011 was a straw color. The wine aroma was floral with tropical notes. The finish was crisp and fruity. This wine pairs well with salads or as a palate cleansing wine. Bourgogne Hautes-Cotes de Beau Les Larets Blancs 2012 was a light straw color Chardonnay. The wine offered pear notes with tropical hints. Savigny-Les-Beaune was a light yellow Chardonnay. The wine offered apple and pear notes. The fruity finish was crisp. Savigny-Verelesses 1er Cru 2011 was a light yellow Chardonnay. The aroma had oak notes. The taste included pear and vanilla notes. The finish was crisp with a long aftertaste of pear and vanilla.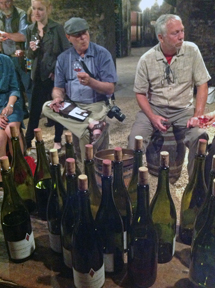 Pinot Noir Wines
Domaine Lucien Jacob produces three different Pinot Noirs from three different vineyards all produced the same way. Savigny-Les Beaune 2010 was a light ruby color. The wine offered cherry nuances with licorice hints. The finish with tannins was crisp and fruity. Beaune 1er Cru Les Toussaints 2010 color was ruby with a pink hue. The aroma and taste was very fruity with raspberry notes. The finish, with tannins, had fruit notes yielding to herbal notes. Gevrey-Chambertin 2010 was ruby with dark pink hues. The wine offered cherry and raspberry notes. The finish had bold tannins and was fruity yielding to herbal nuances.
Visit Domaine Lucien Jacob in the village of Echevronne for it's ambiance, wines and oak barrel stave sculptures.
Domaine Lucien Jacob
Place de la Mairie
ECHEVRONNE, France
0033 380 215 215
GPS: N47º 6' 21.0" E4º 50' 59.8"
---
Visit these tour operators that partner with Wine Trail Traveler.
North America, Europe

SmoothRed
London, England, United Kingdom