Fridays Creek Winery
by
K.L. Sullivan
Fridays Creek Winery was easy to find, only about two miles off Rt. 4. As we wound our way along the winding Chaneyville Road, the warm autumn sun highlighted the fertile farmland. Entering the parking lot in front of two large red buildings, we saw grapevines on the right. In front of the large red building was a small two-tier waterfall trickling past small rocks.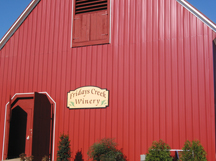 We were early and as we waited a truck pulled in. The driver jumped out, waved a friendly hello, and started talking about Fridays Creek. Responsible for the current buildings, he cheerfully told us about the plans for the future including enlarging the parking lot and turning one building into a banquet room. His enthusiasm was contagious as he explained how the larger of the two buildings was originally a tobacco barn.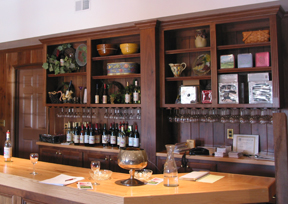 Eventually we made our way into the tasting room. Walls and doors were made of walnut and the countertops were made of oak. Two large walnut trees on the property provided the wood for the walls and doors. The wood had a warm glow that accented the wine tasting room.
Two wine servers were eager to answer all of our questions. This is one of the nice things about small wineries. There is no sense of rush. People at the small wineries will spend time answering your questions. At the current time, Fridays Creek Winery produces roughly 10,000 gallons and expects this to increase. We tasted red wines and white wines.
Wine is produced from locally grown grapes and grape juice from New York, California and Virginia. As time goes on Fridays Creek Winery hopes to use more grapes from their property.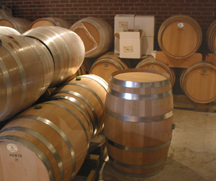 Two kegs were in the wine tasting room covered with a heating blanket. The Syrah was not "moving" fast enough and therefore it needed more warmth. A door on the left led to the oak barrels and stainless steel tanks that were behind glass-viewing windows. Going up the stairs takes you to the Art Gallery.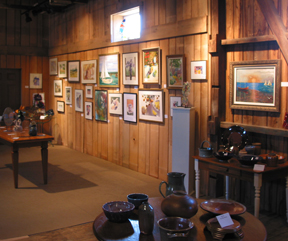 If you are a frequent visitor of wineries, you may notice wineries usually sell wine accessories, arts, and crafts items. Fridays Creek Winery has a selection of gift baskets. Most likely, you will find one that meets your needs. Fridays Creek Winery features art. Local artists provide the art in the Art Gallery.
The wine tasting room opened in August 2006 and the winery currently has about 250 visitors each week. Neighbors, people visiting area friends and people from approximately a 200-mile radius visit the winery.
Our time was most enjoyable at Fridays Creek Winery. The enthusiasm for their winery is evident. They love what they do – from designing the buildings to making wine. If you have an afternoon free, visit Fridays Creek Winery. At the time of our visit, there was no charge for tasting.
Fridays Creek
Owings, Maryland
---
Visit these wineries that partners with Wine Trail Traveler.