DeJon Vineyards
by
Kathy Sullivan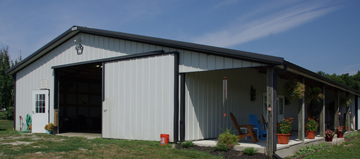 Summary: DeJon Vineyards is a family owned and operated vineyard and boutique winery. Enjoy a visit to this Maryland winery located in the countryside of Baltimore County. According to the owners, people like to visit the winery where they can learn about vineyards and get one-on-one attention.

DeJon Vineyards a new winery is located in Hydes, Maryland. John Wilkerson and Denise McCloskey opened the winery doors in June 2010. The winery and vineyard are located on farm property that was once used for raising beef cattle. The land is part of Baltimore County's conservatory and will remain farmland.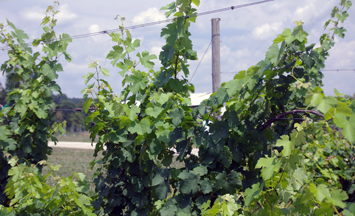 The owners enjoyed wine and learning more about it while visiting France for their honeymoon. John discovered the idea of planting a vineyard as a result of an article stating that there were not enough grapes grown in Maryland. He researched and discovered that you can make money on a vineyard but not a living unless you plant a large number of acres of vines. Using the concept of value added farming, John and Denise decided to also build a winery. In 2008 they planted Cabernet Franc and Chardonnay on four acres. Since 2008 they have added Chambourcin, Merlot, Cabernet Franc and Chardonnay.
After touring Bordeaux, they decided to use the name DeJon to call their cattle farm and chose to use the same name for the vineyards and winery. Their adult family members help with the vineyards and winery whenever they are needed.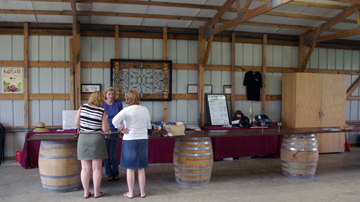 The approach to the winery tasting room facility winds through vineyards. The large building to the right houses the tasting room. The tasting counter rests on oak barrels and can easily accommodate several visitors. Tables and chairs are available for seating. Outside the tasting room additional seating with views of the vineyards and property offer a relaxing shaded area to enjoy a glass of DeJon wine.
DeJon Vineyard is the newest vineyard and winery in Baltimore County in 22 years. They expect to produce 1,000 cases of wine in 2010 and believe that 4,000 cases are the largest number they wish to reach. In the winery Flex tanks and oak staves are used to produce wine. They do not want to get too big too fast. In the winery, minimal intervention is used in the winemaking process. They believe that the more added to wine the more it takes away from the grapes. John pays strict attention to the wine, checking it daily and weekly. The wine is tested and checked weekly by tasting, smelling and looking.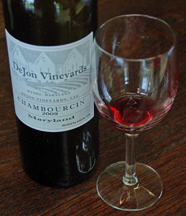 DeJon Wines
We tasted several wines beginning with Vidal. The Vidal 2009 was a light yellow with citrus nuances on the aroma and taste. The crisp finish had a citrus aftertaste. Sweet Denise 2009 was produced with Vidal grapes. This light yellow wine was semi-sweet with a residual sugar of 1.8. There were floral notes on the aroma with citrus on the taste. The off dry finish had citrus notes. Chardonnay 2009 was a light yellow. The aroma offered green apple and citrus nuances. There were citrus notes on the taste. The finish was crisp with citrus.
Merlot 2009 was a light red color. The aroma had pepper with earthy nuances. The taste was earthy with black cherry. The finish was crisp with black cherry notes yielding to pepper. Chambourcin 2009 was a ruby color. There were red berry fruit notes on the aroma and taste. The finish was crisp with red berry nuances.
Wetlands at DeJon Vineyards
An important aspect of this 44-acre farm is the 20 acres of land maintained as a wetland for wildlife. This portion of the property was not good for growing hay and is now an attraction for birds and other animals. Native plants and winter ponds are all part of the wetlands.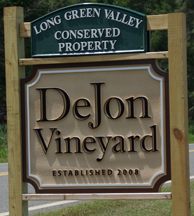 Events at the Winery
Events take place on Wednesdays and Saturdays. Fridays are reserved for special events including Cigar Nights. Winemaker dinners are held at the winery. These include a five- course meal and wine pairing. Wine in the Wetlands will be added to the event schedule.
Enjoy a visit to DeJon Vineyards, where you will receive a warm welcome. Enjoy the personal one-on-one attention.
Dejon Vineyards
5300 Hydes Road
Hydes, Maryland 21082
GPS: N39º 29.125' W076º 29.484'
---
Visit these wineries that partners with Wine Trail Traveler.