Turkey Point Vineyard
by
Kathy Sullivan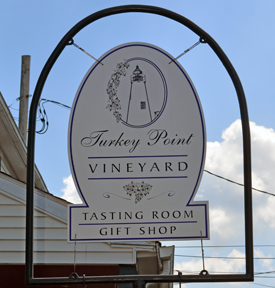 Summary: Turkey Point Vineyard is located on Turkey Point peninsula in Maryland. The Turkey Point wines are available in the boutique tasting room and gift shop in the tourist town of North East, Maryland.
Turkey Point Vineyard, with seven acres of vinifera grapevines, is located just a few minutes from North East, Maryland. Doris Wood and Eric Behnke, wife and husband, are the owners of the family vineyard. The farm property had been in Doris' family for many years and Doris is a fifth-generation farmer. Today Doris is a Maryland County Extension Agent. Upon inheriting the family farm property, Doris knew she wanted to keep the property in the family by working with the land. In 2007 Doris and Eric decided to plant a vineyard. The first grapevines were planted in 2008. In 2016 the vineyard varieties include: Muscat, Merlot, Cabernet Franc and Chardonnay.
In an email interview with Doris and Eric, we asked a couple questions.
1. We are always interested in the journey people take regarding wine including interest, education and travel. What is your wine journey?
Eric and Doris:
"Our "wine Journey" has been a local one. We haven't traveled the world looking for inspiration, we've traveled within our selves looking for the passion and strength to start this Vineyard on our own. It's an expensive proposition for "regular working people". I'm not just talking about the money needed to purchase vines, trellis supplies and farming equipment, non of which we started with. I'm talking about the entire process, from the planning: how many vines can we afford and manage, which varieties should we plant? How shall we plant them (row spacing, row orientation, trellis design, plant spacing within the rows) and then how are we going to manage the ever-growing, ever-changing vine environment? How should we best control weeds? How do you maintain the vines for the best crop?
How will we *ever* find the time to do all of this and maintain two full time jobs? Writing a check to start a vineyard and "managing" the process is one way to own a vineyard. Designing it, planting it, pruning it, maintaining it and harvesting the fruit yourselves, that is the hardest way to own a vineyard. We call it "glamorous" ! We also find it very satisfying and fulfilling."
2. You and Eric decided to plant a vineyard on the farm. What were some of the rationale behind the decision?
Eric and Doris:
"Both Eric and I are from hard-working families. We don't shy away from big tasks, we like the challenges. So when we were poised to inherit a piece of the family farm, we started to ponder what to do with it. It would be nice to keep it as farmland, to do something related to agriculture. Selling it an moving to Hawaii was the inside-joke, but never seriously considered. So what's to do with a nice piece of farm land? CSA? Fresh cut flowers? Orchard? Grow Hops for beer? We let the question and the future soak for many months, without finding an answer.... When we considered a Vineyard / Winery, we thought: "We can do this. Sure it will be hard work, but that won't stop us." Now that we've gotten to where we are, and it's too late to turn back (!!) : How do we make it successful? How do we make it a lasting business that our children would love to inherit? How do we engage the community and showcase the area, the hard work and our accomplishments? Those are the on-going, never ending questions! We're living the dream, and working our tails off because of it! We wouldn't have it any other way."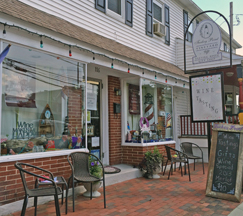 Turkey Point Tasting Room
While at the Turkey Point Tasting Room we learned that the vineyard and wines were named for the location of the vineyards. Turkey Point is a small peninsula between the North East and Elk Rivers. The Turkey Point Lighthouse is a landmark for visitors to the upper Chesapeake Bay.
Turkey Point wines may be tasted and purchased at the tasting room and gift shop located in North East, Maryland, a tourist town frequented by boaters and nature lovers. The tasting room is in a white-sided building with an attractive brick facade. Parking is available behind the main street shops. The tasting room location was leased in 2014. Visitors who stop by the Turkey Point Vineyard tasting room will find a warm welcome.
Inside the tasting room, an L-shaped tasting counter with seating is available for visitors where they can relax and enjoy talking while tasting the Turkey Point wines. The other side of the room is filled with an array of giftware. The assortment is likely to appeal to wine lovers and tourists.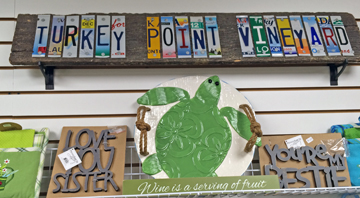 While tasting the wines browse the gift items. Be sure to notice the sign for Turkey Point Vineyard made of individual license plates. For this unusual sign, each letter is from a different state license plate. Many unique sayings are available on different gift items. We saw "Swirl Sip Sail", "Good Friends, Good Wine Good times!", and "A day at the beach begins with a sunrise and ends with a smile."
Turkey Point Vineyard Wines
The wines at Turkey Point are produced by well-known Virginia and Maryland winemaker Dave Collins. The 2014 Chardonnay was a pale yellow color and was unoaked. The wine offered notes of apple and citrus. The finish was crisp. The 2015 Lighthouse White was a blend of Chardonnay and Vidal Blanc. The wine was 12% alcohol with 1% residual sugar. This pale yellow colored wine offered an aroma of citrus fruit. The taste was of light citrus with hints of sweetness. This medium-bodied wine finished with a sense of sweetness plus crispness. The wine lingered on the finish with citrus notes especially lemon.
The 2014 Rose was produced with Cabernet Franc. The wine was an orange color with a pink hue. The aroma was of red berry fruit. The wine offered a taste of raspberries with a touch of citrus. The finish was crisp with notes of blackberries and oak.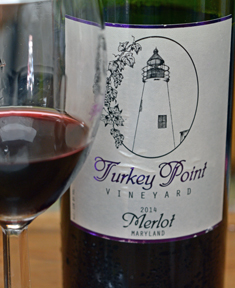 Merlot 2014 was an opaque dark ruby color with a purple hue. The aroma was of cherries and the taste included cherry, spice and earthy notes.The wine had bold tannins and was full-bodied. It had fruit yielding to spice. Cabernet Franc 2014 was an opaque dark ruby color. The taste was dry with notes of oak and blackberries The finish was was also dry with tannins and the taste lingered.
Late Harvest had 11% alcohol. This yummy wine was a gold color and was full-bodied. The taste was sweet reminding one of a tantalizing brown sugar/maple syrup. The sweetness lingered on the aftertaste. The grapes for this dessert wine were harvested November 30, 2014.
Events
The vineyard is the site of the Turkey Point festivals. Weddings can also be scheduled for the vineyard. Small events are occasionally held in North East at the wine tasting shop. A creative winery event was held in August 2016, "Wine & Wraps." The event included a flight of wines, a glass of wine and one sheet of Jamberry Nail Wraps.
After visiting some of the numerous gift shops and restaurants in North East, stop by the Turkey Point tasting room to relax and enjoy wines produced with Maryland grapes.
Turkey Point Vineyard Tasting Room
116 South Main St
North East, Maryland
Vineyard
2963 Turkey Point Rd
North East, Maryland 21901 

N39º 35.928' W75º 56.506'
Article written September, 2016

---
Visit these wineries that partners with Wine Trail Traveler.