Cygnus Wine Cellars
by
K. L. Sullivan
Summary: Cygnus Wine Cellars is located in the historic town of Manchester in northern Carroll County, Maryland. When you visit, enjoy the story of the winery's name and notice the thick doors separating the rooms. If you visit during the cooler months of the year, be sure to dress warmly.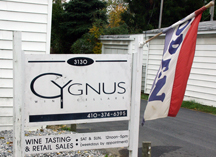 Ray Brasfield in Manchester, Maryland established Cygnus Wine Cellars in 1996 as a licensed and bonded winery, although the first crush was in 1995.We arrived at the winery room on a cool November day when the temperatures were in the low forties. Ray immediately greeted us as we entered the wine tasting room. A pelet-burning stove was a source of heat in the room and it merrily and bravely sent out rays of warmth.
With a strong interest in astronomy, Ray decided to name the winery Cygnus. The name refers to the constellation Cygnus, which is Latin for a swan. While Ray has B.S. and M.S. in Aerospace Engineering, he is a self-taught winemaker. As we talked about vineyards and wine, he talked about the soils in various areas of the state, how deep grapevines grow and more. Ray is a consultant to other wineries and vineyards and is available for consulting. People thinking of starting their own vineyards, or who have problems with their vineyards may want to contact Ray.
Another unique aspect of this winery is the building in which it is located. The winery building was originally a slaughterhouse. Ray has added a deck and new front doors. The room where the press and tanks are located had the floor replaced. Otherwise, Ray said it has been mostly cosmetic changes. Original doors, several inches thick are still in use.
The winery obtains locally grown grapes from Maryland and Pennsylvania vineyards. Ray currently produces about 3000 gallons (about 840 cases) of wine and would eventually like to reach 5000 gallons.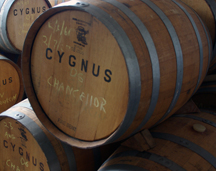 Ray gave us a detailed tour of the winery. The press room has several tanks as well as the press. Even though it was the middle of November, numerous lugs were filled with Catawba grapes that were just harvested to be used to produce a late harvest dessert wine. Ray talked about the Catawba grape and how he would like the Catawba grape to make a comeback as a respected wine grape. Thomas Jefferson used this grape and it is one of the oldest grapes. It is older than Niagara and Concord grapes.
After our tour, we tasted several very nice wines. While we tasted one couple arrived to purchase wine and another came and purchased a case of wine. Obviously, they enjoy the Cygnus wines.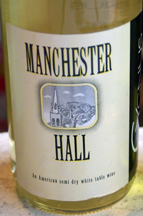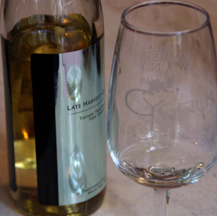 We tried the 2005 Chardonnay, which had a fruit nose and fruit taste with a bit of yeast from sur lees barrel aging. It had a fruit aftertaste. Manchester Hall is 100 percent Vidal Blanc. It had a fruit nose with a fruit flavor. There was a hint of sugar on the beginning of the taste and was dry on the finish. Carroll's Blush was made from the Seyval grape. It had a red fruit strawberry nose and was slightly sweet. This would make a nice picnic wine. Cygnus Red was a blend of three wines and was aged for 18 months in American oak. All Cygnus red wines are aged for 18 months. The blend was 68 percent Chambourcin, 24 percent Chancellor and 8 percent Cabernet Franc. It had fruit and spice on the taste. Cabernet Franc was a dark ruby red. It had a dark red fruit and spicy taste with a pepper aftertaste. Cabernet Sauvignon was dark red. It had a red cherry nose and red cherry on the taste and a long cherry aftertaste. Julian was 50 percent Cabernet Franc and 50 percent Cabernet Sauvignon. The 2002 Julian was a signature wine produced by Cygnus only during the best vintage years. It was dark ruby red with a red cherry nose. It was crisp and has a red cherry and pepper taste. Late Harvest Catawba was a dessert wine that was light gold with table grape nose and fruit taste.
Events are important at the winery. During the summer, several dinners are featured. A specially chosen chef will prepare a dinner for twenty guests outdoors. While he prepares the dinner, guests watch the chef and enjoy appetizers. Later they go downstairs where tables with linen tablecloths and crystal stemware are provided for the dinner.
Cygnus offers a variety of wines for you to taste. Try them and see which ones you enjoy. While visiting the tasting room check out the events.
GPS N 39° 39.567 W 076° 52.999
---
Visit these wineries that partners with Wine Trail Traveler.