Chateau Bu-De Winery & Vineyard
by
Kathy Sullivan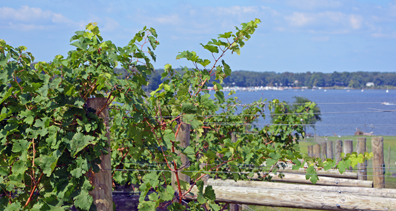 Summary: Chateau Bu-De in Maryland, is a one-of-a-kind destination site, offering visitors a million dollar view overlooking the scenic Bohemia River, delicious wines and an intriguing history.
Chateau Bu-De wants visitors to enjoy the best of the wines and experience the wonder. Brenda and Warren Dedrick are the owners of the winery. During our visit, Brenda Dedrick noted, "We have taken the bar and raised it." The unusual winery name was taken from the first two letters of the the proprietor's maiden and married names, Butler and Dedrick.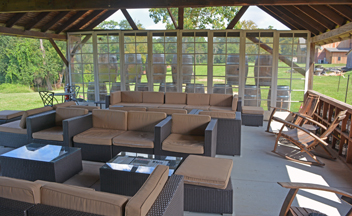 We discovered Chateau Bu-De on Maryland's Eastern Shore where the current tasting room rises above luxurious views of the Bohemia River. The current tasting room is located in a large, open barn with vineyards and a large white event tent nearby. An expansive, comfortable seating area with views of the scenic Bohemia River and thriving vineyards is adjacent to the tasting counter. Construction of a dedicated Old World-style tasting room is set to begin in 2016 and completion is expected in early 2017.
A short distance from the tasting room at the apex of the hill overlooking the Bohemia River lies a pile of tumbled down bricks, partial brick walls, and an iron well pump. These are the remains of where the 1600s owner lived. The site is surrounded by a black wrought iron fence. One can only begin to imagine what the earlier residents must have experienced while living with this scenic view.
History of the Land

The property where Chateau Bu-De is located was once known as Bohemia Manor Farm and owned by Augustine Herrman in the 1600s. Augustine is also known as Maryland's first naturalized citizen. He was born in the Eastern European city of Prague and years later arrived in the New World. Herrman was a cartographer who drew one of the first accurate maps of Maryland's scenic Chesapeake Bay. In 1670 Augustine presented the map to Lord Baltimore who gave Hermann 5,000 acres of land including the land where Chateau Bu-De is located.
Chateau Bu-De Vineyards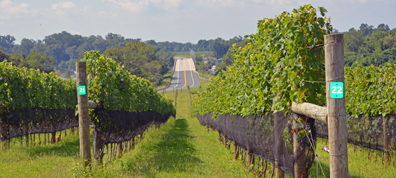 The thriving vineyards are young and cover 35 acres of the 440-acre property with 40,000 grapevines. Heading north on Highway 213 crossing the Bohemia River, one has fantastic views of the vineyards in the distance. Varieties include Cabernet Franc, Sauvignon Blanc, Pinot Noir, Cabernet Sauvignon, Chardonnay, Merlot, Pinot Noir, and Petit Verdot. The healthy vineyards receive a stiff wind from the river which also allows Pinot Noir to grow well in this location.
At Chateau Bu-De, they have taken measures to protect the vineyards against the red blotch virus. Currently they are purchasing grapevines on their own rootstock. Grape varieties that are virus free are then grafted on these rootstocks. In the future, the owners plan to purchase grapevines that are tested and free of red blotch.
In addition to the estate grapes, varietal grapes are also sourced from Pennsylvania (Equivine Vineyard) and Napa Valley (Beckstoffer Vineyards and Stagecoach Vineyard). The winemaker places an emphasis on sourcing fruit from well-maintained vineyards where grapes are encouraged by cropping to become riper. Brenda noted that when sourcing grapes from one high-end vineyard in California, the contract stipulated that the name of the vineyard must be on the bottle and specified the minimum price for a bottle of the wine.
Wine Journey
Brenda Dedrick, proprietor and wine enthusiast, traveled around the world. At 18 Brenda was in Napa Valley and became intrigued with wine and how it was made. She talked about how they went to every vineyard and winery they could visit. When talking about starting Chateau Bu-De, Brenda laughed and said, "This was suppose to be a retirement job."
Chateau Bu-De Winery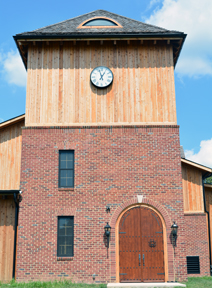 Brenda designed the winery building based on what she saw in Prague. It is modeled after the Old Town Hall Tower and Astronomical Clock including the eyebrow windows in the roof of the tower. She wanted an Old World-style that would fit in well on the farm; therefore, not too fancy. The tower links the present with Augustine Herrman from Praque and Maryland's past. Inside, the tower has a large, ornate European-style chandelier.
The winery has numerous stainless steel tanks with a unique style. These tanks were designed by winemaker John Irving Levenberg and built in South Africa. Alternating tanks are truncated or inverted. The winemaking team also includes Jacques van der Vyver from South Africa. John and Jacques are noticing that different varietal grapes do better in different tank shapes. For instance, Cabernet Sauvignon, Cabernet Franc and Syrah tend to do well in a truncated tank. Merlot does well in an inverted tank. Techniques in winemaking include pump overs.
Chateau Bu-De Wines
We tasted several of the wines that were in tanks while learning the Chateau Bu-De story. These wines were ready to be bottled.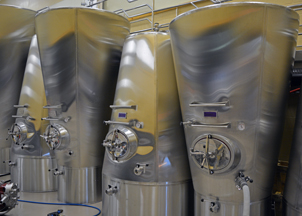 Sauvignon Blanc 2014 was a light yellow color with tropical fruit notes. The wine was crisp and refreshing. The Grüner Veltliner 2015 grapes were sourced from Pennsylvania. This yellow colored wine was 50% barrel fermented and aged in neutral oak. The aroma was floral. The taste was of citrus. The oak influence was subtle and the finish was crisp. Chardonnay 2015 was produced with fruit from Pennsylvania. This wine was stainless and barrel fermented with some oak. The yellow colored wine offered an aroma of apple with a taste of caramel. This wine was crisp. Chardonnay Reserva 2015 was 100% barrel fermented. The grapes were sourced from Pennsylvania. This dark yellow wine offered apple notes with vanilla and caramel. It was very smooth.
We also tasted wines from barrels. Bottling of these wines is expected in the early spring of 2017.
Dickerson Equivine Red 2015 was produced with grapes from Pennsylvania. The blend was of Merlot and Cabernet Sauvignon. The wine was an opaque ruby color. The wine offered fruity black fruit notes. The wine was full-bodied with tannins. This wine is expected to be bottled in March 2017.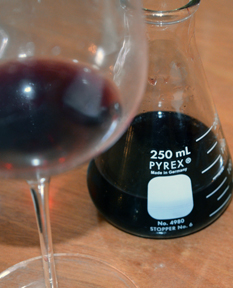 1660 was a blend of Cabernet Sauvignon, Cabernet Franc and Merlot. The wine was named for Augustine Herrman who came to Maryland in 1660. This wine was produced with Cabernet Sauvignon sourced from Stagecoach Vineyard, Beckstoffer Vineyards and Equivine Vineyards. The Cabernet Franc was sourced from S&L and the Merlot was from Equivine Vineyards. This wine offered notes of black fruits including blackberries, blueberries, black cherry and cassis. Leather and licorice notes were also in the wine. The wine was full-bodied with tannins.
Bohemian Manor Estate Cabernet Franc 2015 was produced using whole berries, a long maceration and cold fermentation. The wine was an opaque dark ruby color. The taste was of dark fruits. The wine had bold tannins and was full-bodied.
The Cabernet Sauvignon 2015 was produced with fruit from Stagecoach in California. This dark ruby, opaque wine offered notes of blackberries and cassis. The wine was very fruity with a perceived sweetness. The wine was full-bodied with tannins.
Beckstoffer Cabernet Sauvignon 2015 was a bright ruby color The wine offered black fruit notes with black raspberries and black berries. The wine was smooth with bold tannins and full-bodied. This wine had an extremely long aftertaste.
When you want to taste some delicious wines and enjoy a jaunt in the picturesque countryside, plan to visit Chateau Bu-De Winery & Vineyard in Chesapeake City, Maryland. Take a camera for the fantastic scenery.
Chateau Bu-De Winery & Vineyard
237 Bohemia Manor Farm Lane
Chesapeake City, Maryland 21915
N39º 28.067' W75º 51.895'
Article written August, 2016

---
Visit these wineries that partners with Wine Trail Traveler.