Woodhall Wine Cellars
by
K. L. Sullivan
After traveling several miles (twenty minutes) from Basignani Winery, we arrived at Woodhall Wine Cellars where we were fortunate to meet the winemaker. As he spoke with us, one could sense the enjoyment he derives from his occupation, as winemaker.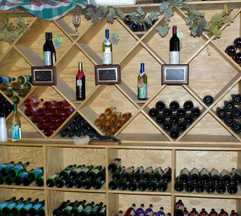 The tasting room, originally a horse barn, has a small tasting bar with several small tables set up for people to enjoy a leisurely afternoon at the winery. Lace curtains top the windows. An array of wine related accessories are also available for purchase.
Woodhall Wine Cellars opened in 1983 and produces ten thousand plus gallons of carefully produced wine. Woodall currently grows Chardonnay grapes and buys other grapes from within the state. "Wines should reflect the state," the Woodhall winemaker stated.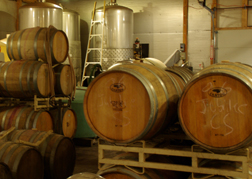 Despite the cold weather, we were given a tour of the winery where we saw stainless steel tanks and oak barrels for fermenting wine. A new building was recently constructed and it is already filled with various tanks and winemaking materials.
Various events are held at Woodhall. January featured soups on weekends and February features are Barrel Tasting, Chocolate Tasting and Futures Sales. Another event is the "Futures" offering, where you can taste a wine from the barrel before it is bottled and released. The house next to the wine tasting room just opened for lunch on the weekends. For more information check Woodhall's website.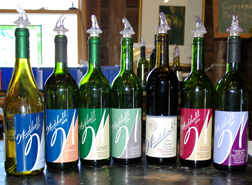 At the time of our visit we sampled a variety of wines including Gunpowder Falls (a blend of Vidal Blanc and Vignoles), Patricia's White (a blend of Cayuga White, Chardonnay, Seyval and Vidal Blanc), Chardonnay, Sangiovese, Merlot and Cabernet Sauvignon. We left Woodhall, reflecting on the winemaker's words, "The role of the winemaker is to maximize what he starts with."
Woodhall Wine Cellars
Parkton, Maryland
---
Visit these wineries that partners with Wine Trail Traveler.