Cassinelli Winery and Vineyards
by
Kathy Sullivan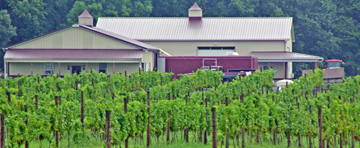 Summary: Located in Church Hill, Maryland, Cassinelli Winery & Vineyards, is near Chestertown where Washington College is located. The winery is a member of the Chesapeake Bay Wine Trail. Cassinelli Winery offers visitors a view of vineyards, buffalo and cattle. The tasting room is open Saturdays, and Sundays.
Cassinelli Vineyard & Winery is a family business. Al and Jennifer Cassinelli, owners, work hard to provide a good experience for visitors. They work the tasting room on weekends. The family moved from the Washington, DC area to Maryland's Eastern Shore in search of farm land. Visitors to Cassinelli will discover the dream of Al and Jennifer that they are fulfilling. Several years ago they searched for the perfect property. While the property selected was not profitable for some crops, it was ideal for grape growing, adding orchards and farm animals.
Cassinelli Vineyard & Winery is now home to vineyards, apple, pear, peach and plum orchards, buffalo and cows. Their plan is to grow the vinifera varieties and source hybrid grapes from within the county.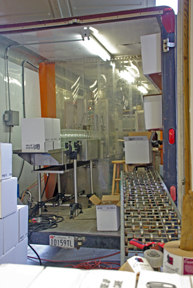 Wine Bottling
Cassinelli Vineyard & Winery was in the midst of bottling wine when we visited. We were grateful for the time the owner spent with us on such a busy day. Al commented that bottling day is an "orchestrated chaos." In actuality everything was organized and bottling was moving at a fast pace. Cassinelli Vineyard and Winery uses a bottling truck to bottle their wines. For anyone who ever wandered how pallets of wine cases do not tip over, Al showed how the cases are stacked so they lock together. Al noted that when the bottling was finished the entire facility will be steam cleaned with water and vodka.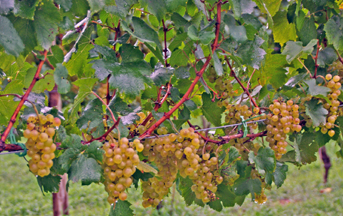 Vineyards
The wines produced by Cassinelli are from the 13 acres of onsite vineyards and grapes sourced from within Queen Anne's County. Bottle labels now will say Queen Anne's County. The onsite vineyards are planted with 9,400 vines. Specific varieties include Chardonnay, Merlot, Sangiovese, Barbera, Petite Verdot, Malbec, and Viognier. The vineyards are cropped at two tons per acre.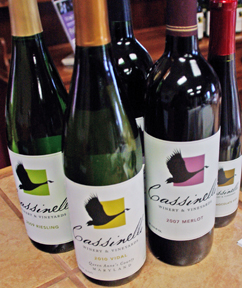 Cassinelli Wines
Two wines were available to taste on this busy bottling day. The Rosé of Barbera offered red berry fruit with a touch of forest. The wine was crisp. Barbera Reserve was a blend of 85 percent Barbera and 15 percent Merlot. This ruby wine offered an aroma of dark fruit. The taste was also of dark fruit with a touch of licorice. The finish was fruity with tannins.
We tasted two other Cassinelli wines at the Maryland Wine Festival. The Rosé of Merlot was a light red color and offered light red berry fruit on the aroma. There were strawberries and raspberries on the taste and the finish was crisp and fruity. The 2007 Merlot was a ruby color. The wine had a red berry fruit aroma and taste especially raspberries. There were mild tannins on the finish.
When visiting Cassinelli Vineyard & Winery take time to enjoy the wines and the experience of seeing buffalo, cows, vineyards and more. This is a family friendly winery and everyone will enjoy time in the picturesque countryside. The Cassinelli tasting room is open weekends.
Cassinelli Winery and Vineyards
3830 Church Hill Road
Church Hill , Maryland 21623
GPS: N39º 07.762' W75º 59.744'
---
Visit these wineries that partners with Wine Trail Traveler.