Tilmon's Island Winery
by
K. L. Sullivan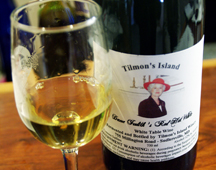 Summary: Tilmon's Island Winery is a small boutique winery that wants to remain boutique. Don Tilmon, owner and winemaker, tries to make a wine for each visitor that they will like. If he can make more than one wine that a visitor will enjoy, he will be ecstatic. Don is content to own a small boutique winery.
Tilmon's Island Winery, the first licensed winery in Maryland's Queen Anne's County, was licensed in 2004. Don Tilmon's hobby began in 1999 with a wine kit and he says, "it's a hobby that turned into a small business." Red Hat Society members should be sure to stop here and check out the Dame Judith's Red Hat Red and Dame Judith's Red Hat White wines.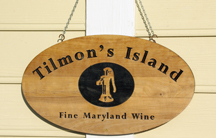 Tilmon's Island Winery's tasting room, not far from Route 301 on Maryland's Eastern Shore, is located at the back of Don's home in a converted sun porch. Behind the tasting room, visitors have a view of a demonstration vineyard, all Concord grapes. Don feels that the Concord grape is not appreciated but that many people enjoy a Concord wine. Don purchases grapes from nearby vineyard owners with whom he has quality agreements.
Inside the tasting room, a lace curtain decorates the door. A small counter with two stools, are at the opposite end of the entrance. The counter is hand created from a piece of lovely two-toned walnut.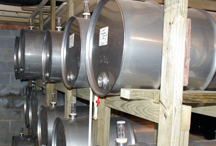 Don talks about the winery as a "hobby that got out of hand." In 1999, he was creating just enough wine for personal use. Don began increasing his production. In 2001, he made five gallons, 2002 - 20 gallons, 2004, 400 - 500 gallons and now produces 500 cases.
Don pointed out that grapes grown on the Eastern Shore are predominantly grown in sand. This gives the grapes different flavors than those grown in other parts of the state. Don considers the Bay County Chambourcin to be his best wine. This wine was dark red with a vegetative nose, fruit and vegetative taste and earthiness. Dame Judith's Red Hat White was fermented in open vats and had an amber color with a residual sugar of 3%. It was produced from Chardonnay and had a fruity, sweet taste. Dame Judith's Red Hat Red was produced with a Concord grape. Judy's Choice was slightly sweet with 1% residual sugar. It was light yellow and had a pear nose and taste.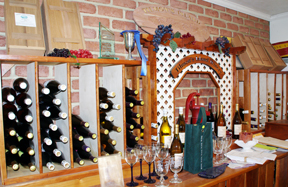 Don Tilmon wears many hats. At the University of Delaware, he is a professor of economics. He is a winemaker, small business owner, and wood artisan. As we walked in to see his barrels and carboys used for producing wine, we saw the beautiful quality of wine bottle display stands. Back in the tasting room, Don pointed out the Tilmon's Island Winery sign he made. In addition, he makes wood boxes of western cedar for holding two bottles of wine. He made a lovely finished box with dovetail corners for use in the tasting room.
When you visit Tilmon's Island Winery, take time to talk with Don while you taste wines. You will have a wonderful time talking about wines, grain prices or economics.
Tilmon's Island Winery
755 Millington Road
Sudlersville, MD
GPS N 39° 11.942' W 075° 51.771'
---
Visit these wineries that partners with Wine Trail Traveler.