Cool Ridge Vineyard
by
Kathy Sullivan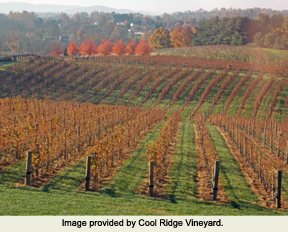 Summary: In the outskirts of Hagerstown, Maryland, Cool Ridge Vineyard is a boutique winery concentrating on dry wines. Appointments for wine tastings are necessary. The winery tasting room and vineyards are located atop a high ridge with countryside views.
During a cool, cloudy January day, we enjoyed a delightful visit to a warm and friendly boutique winery in Hagerstown, Maryland. Cool Ridge Vineyard is located in the countryside of Hagerstown where visitors will travel through a small town filled with historic stone buildings.
Upon our arrival at Cool Ridge Vineyard, we traversed a long curving driveway past acres of vineyards where we were greeted by the owners, Gerhard and Suzanne Glocker. Since the day was chilly, we were invited inside the elegant tasting room to learn the Cool Ridge story and taste the wines. Typically, if the weather is pleasant, wine tastings are offered on the large patio with views of the vineyards. Gerhard mentioned that on good weather days he takes visitors into the vineyards.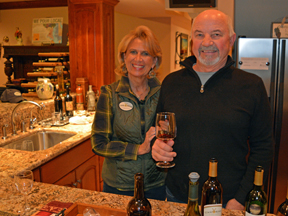 For Gerhard and Suzanne, the vineyard and winery is an enjoyable, second career. Suzanne is involved in real estate and Gerhard was involved in the transportation system for 25 years and is also involved in real estate for two decades. Gerhard's wine journey began as a child when living in Germany he visited his uncle who owned vineyards in Heidelberg.
The Cool Ridge Vineyard logo is their family crest. It is designed with a bell and a windmill. The bell is for the Glocker name which in German means "the ringer of the church bell." The windmill represents Suzanne's Dutch heritage.
Tasting Room
During inclement weather, wine tastings take place inside the L-shaped, spacious and elegant tasting room. The polished, granite tasting counter is L-shaped and offers seating. A uniquely shaped, stone fireplace offers a lovely warmth on a cool day. Large pieces of framed artwork decorate the walls. The artwork is from Maryland's Eastern Shore and Mexico with wine and music as the themes.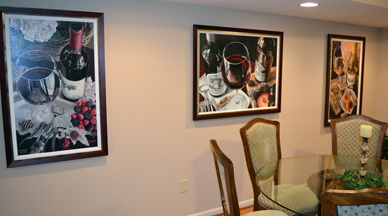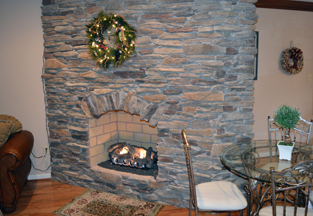 Vineyards at Cool Ridge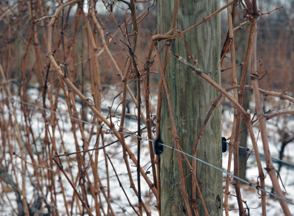 The Glockers added 15 plus acres of vineyards to their property. Grape varieties include: Gruner Veltliner, Traminette, Chardonnay, Pinot Gris, Viognier, Riesling, Cabernet Franc, Cabernet Sauvignon, Petit Verdot and Merlot. Gerhard likes to use some hilling in the vineyard to protect the graft area of the vines. Gerhard noted that it also helps with weed control and that it helps the water to drain away from the vines. Suzanne enthusiastically spoke about the Gruner Veltliner noting that the grape clusters are large and loose.
For many years, the Glockers enjoyed the land around their home, but Gerhard would frequently comment that the south facing sloping land would be good for growing grapes. The soil consists of limestone and chalk. Suzanne said, "For a lot of years he said we should put in vineyards." Finally, in 2008 they started planting grapevines. After success, they continued extending the vineyard. Today they average a harvest of 2.5 tons of grapes per acre. Many of the harvested grapes are sold to winemakers and only a portion is kept at Cool Ridge for their own winemaking,
Cool Ridge Winery
To produce the reds, the practice is to allow the red wines to spend extra time in the barrel. They primarily use French oak barrels. Gerhard added that he does like to blend the wines. Current production is less than 1,000 cases.
Cool Ridge Wines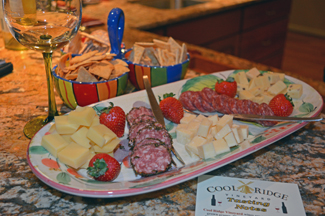 Our wine tasting was accompanied by a delicious assortment of cheeses and sausages. These paired wonderfully with the Cool Ridge wines.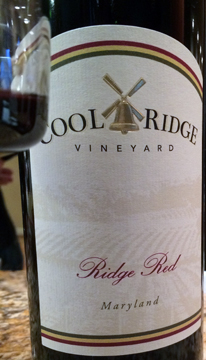 The 2015 Gruner Veltliner was crafted with 100% estate grown grapes. This yellow colored wine offered notes of yellow stone fruit especially peach and mineral. The fruity finish yielded to a mineral aftertaste. Viognier 2015 was a light yellow color with a floral aroma. The taste offered notes of flowers, peach, and mineral. The wine was medium/full bodied and had a fruity finish. Pinot Gris 2015 was a yellow color with a reddish-peach hue. The aroma was of citrus and flowers. The taste notes included flowers, citrus, and mineral. The wine was smooth and medium/full bodied. The finish had fruit notes yielding to mineral.
The 2014 Ridge Red was 100% Cabernet Franc. The wine was an opaque ruby color. There were notes of dark fruits. It was very smooth with notes of plum, blackberries and spice. The finish was fruity. The 2012 Ridge Red was a blend of Cabernet Sauvignon, Cabernet Franc, Merlot and Petit Verdot. The wine was a translucent ruby color. The aroma offered dark fruit notes. The taste included notes of dark fruits with a light oak influence. The wine had medium tannins and a medium/full body. The finish was crisp with fruit notes.
Plan to set up an appointment for an enjoyable visit in the countryside amidst vines at Cool Ridge Vineyard.

Cool Ridge Vineyard
19638 Cool Hollow Road
Hagerstown, Maryland 21740
GPS: N39º 34.523' W77º 41.000'
Article written January 2017
---
Visit these wineries that partners with Wine Trail Traveler.