Galloping Goose Vineyards
by
Kathy Sullivan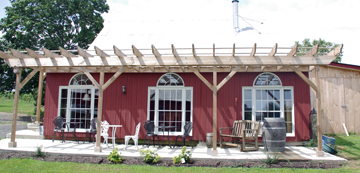 Summary: Galloping Goose Vineyards is a spot to visit, taste wine, and have a picnic. Staying small, the winery also wants to promote a peacful and relaxing, quiet time. Mature vineyards, a pond and rolling hills makes this Carroll County winery a must site to visit.
Background
Galloping Goose Vineyards is located at the end of a long driveway that wanders between fields of crops. At the end of your destination, visitors can view acres and acres of vineyards and red 19th century buildings. Galloping Goose Vineyards is in the rolling hills of Carroll County, Maryland. Enjoy a visit into the countryside but not far from major highways and find a hidden 100-acre working farm with 32 acres of grapevines and a boutique winery.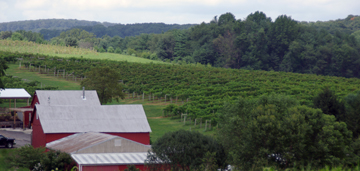 Diane and Ed Hale purchased the 100-acre farm in 1968. They wanted a farm that would be self-sustaining and provide financial stability. Diane noted this is a "very demanding lifestyle." Over many years they grew a number of crops including alfalfa, vegetables, sunflowers and buckwheat. They also had farm animals with an emphasis on sheep. The winery is named for a horse, Goose, the Hales purchased at a racetrack.
The vineyards are located on a large farm with barns dating back to the early 1800's. One of these red barns has been renovated into a combination winery, small gathering area and tasting room with a separate section devoted to each. The roof over the winery section is a living roof where succulents thrive. The living roof has cut the electric requirements of the winery by two thirds. Adjacent to the facility is a patio and, nearby up a slope, near the prolific vineyards is an open-air pavilion.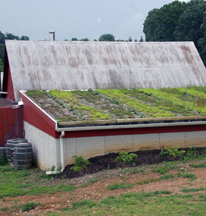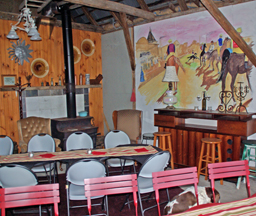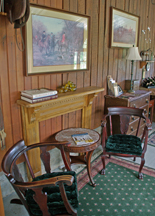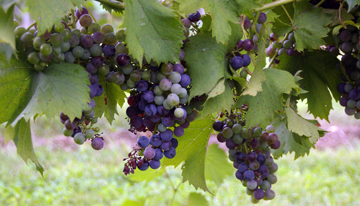 Vineyards
The vineyards were planted about 15 years ago. Varieties include large plantings of Chambourcin, Vidal, Seyval Blanc, Cabernet Sauvignon, Cabernet Franc, Petit Verdot, Barbera and Chardonnay. At the time of our August visit, many of the grapes were going through veraison.
White Wines
We tasted several wines in the quaint tasting room decorated with antiques and regalia.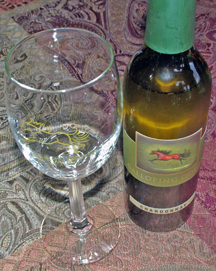 Vidal Blanc 2008 was light yellow. This crisp wine had citrus notes with a hint of tropical fruits. Chardonnay 2008 was a straw color. The wine was fermented in oak barrels. The aroma and taste had notes of apples and pears with a slight hint of caramel.
Red Wines
Chambourcin Rubious was a red to dark rose color. The wine offered red berry fruit notes. The finish had mild tannins and was fruity. Proprietors Claret 2008 was produced with Cabernet Sauvignon. The wine was light ruby with dark fruit notes. There were mild tannins. This is a food friendly red wine. Cabernet Sauvignon 2008 was dark ruby. The aroma and taste offered raspberry and blackberry notes. The fruity finish had tannins. Beaudacious was a sweet barrel-aged Cabernet Sauvignon. Blackberries were on the aroma while blackberry and plum notes were on the taste. The wine was slightly sweet. This was a good 3P wine - party, pool and picnic.
Galloping Goose Vineyards and Winery Events
Private events at the winery include graduations, parties, weddings and wakes. Diane offers suggestions for those looking for catering and featuring local foods.
The winery site has several private locations available for enjoying a glass of wine and a picnic basket. Plan to take someone special to the winery to enjoy a relaxing few hours away from the busy hum of the city. Perhaps celebrate an anniversary or special event in someone's life.
Enjoy a visit to Galloping Goose Vineyards and Winery where you will receive a friendly welcome and discover Maryland wines. Plan to take a picnic basket with you.
Galloping Goose Vineyards
4326 Maple Grove Road
Hampstead , Maryland 21074
GPS: N39º 39.323' W76º 50.414'
---
Visit these wineries that partners with Wine Trail Traveler.