Terrapin Station Winery
by
K.L. Sullivan
Terrapin Station Winery plans to be open to the public in 2008 by appointment only. In the meantime, visit their website and become a volunteer.
Terrapin Station Winery, owned by Morris and Janet Zwick, is located in Elkton, Maryland, off Interstate 95. The 44 acre property is Janet's family farm that the couple purchased in 2005. Today renovations of the buildings are ongoing and vineyards are established and increasing in size. The current vineyards are already producing grapes.
Morris' interest in wine began at an early age when he visited family in Italy for two months every few years. He learned that wine in Italy is considered a food and served with meals to adults and children.
Today Morris has a busy schedule maintaining a full time job and spending extra hours maintaining the vineyards and producing small quantities of wine. The first vintage from the winery was in 2006. This wine will be ready by the holidays for sale and will consist of about 600 cases. During the last week of August 2007, they harvested and crushed Cayuga grapes to kick off the 2007 harvest season.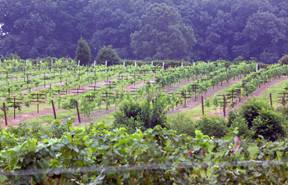 The vineyard is divided in two sections. In 2003 the first section was planted and the second planted in 2005. Currently 7.5 acres are planted and the expectation is that another 10 acres will be planted in the future. Wide spacing is used for planting the vines. Morris believes that by using 10 feet spacing, the vigor characteristic of the area will be limited to improve fruit quality.
As we walked through the vineyards, we learned about many of the problems vineyardists face with regard to growing grapes. Grapevines are dependent upon the weather, soil, insect and disease prevention. Just as in any farm operation, there is no guarantee that Mother Nature will cooperate.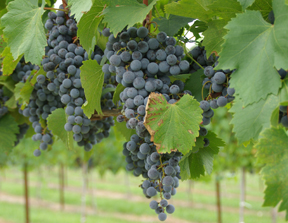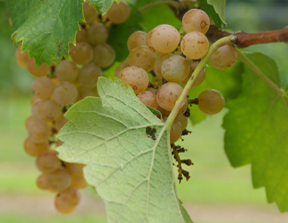 Grapes growing in the vineyard include Cabernet Franc, Shiraz, Cayuga, St. Vincent, Traminette, Sangiovese and Vidal. The grape clusters hanging down are picture perfect. As we walked among the grapevines, Morris explained how he is working to help the environment. He knows that chemicals are a necessary part of growing grapes but uses the minimum amount needed. A small stream flows between the two sections of the vineyard. He is working with Maryland to be environmentally friendly and shows concern about drainage into the Chesapeake Bay.
On our return from the vineyards, we stopped to see the equipment at the winery. Morris is a strong believer in wine research, particularly Australian research. He believes that the wine industry is better off in basing their vineyard and wine production on research opposed to always doing things the same way because it has always been done that way.
One example is the dropping of fruit. Many winemakers believe that fruit should be cut during the growing season. The belief is that this will force the other grapes to be better. Recent research is beginning to contest this idea. In the meantime, Terrapin Station Winery will seldom drop fruit.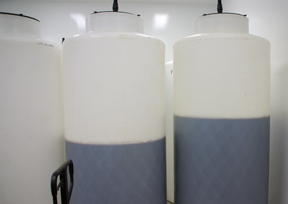 Another example of using the research is the tanks Morris uses. Rather than investing in expensive oak barrels, Morris uses special cylindrical plastic tanks. Like oak barrels, these tanks permit a small amount of oxidation but are easier to clean than oak barrels. He plans to bury some of these tanks in the ground. This will maintain the temperature the wine needs during fermentation and is cost effective.
Future plans for the winery include building a large facility which will have a tasting room and a large event room. This facility will overlook a large pond and vineyards. Morris hopes to reach a capacity of 10,000 to 12,000 cases.
Morris is willing to try new things both in the vineyard and in the winery. Wine should be fun and easy to understand. Terrapin Station Winery is intent upon using new research and trying new things to produce good wine. We look forward to hearing more good things about Terrapin Station Winery and tasting their forthcoming wines.
Terrapin Station Winery
Elkton, Maryland
---
Visit these wineries that partners with Wine Trail Traveler.