Harford Vineyard and Winery
by
Kathy Sullivan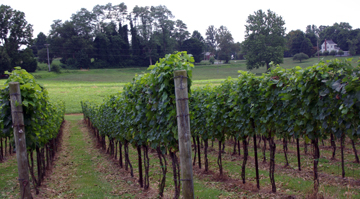 Summary: Harford Vineyard Winery offers a small tasting room experience and winemakers will be interested in the wide range of winemaking supplies available. Grapes used to make Harford Vineyard & Winery wines are from their vineyards and sourced. Grapes and juice are also available for home winemakers.
Traveling to Harford Vineyard Winery along country roads with trees, fields of green and sporadic housing is delightful. The long driveway off the road curves past a farmhouse and barn and between vineyards.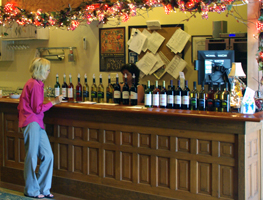 Harford Vineyard & Winery, established in 2003, is a family owned and operated winery. Visitors enjoy the tasting room because it is small and they can easily talk to people. The wine tasting counter of wood has room for four to six people. Along one wall a variety of winemaking accessories are on display. In front of the tasting room is a small patio with chairs and summer hanging baskets of flowers. From the patio there are views of vineyards and cornfields.
Harford Vineyard & Winery is more than a winery having started as a custom crush facility. Today the focus is on growing grapes, producing wine and supplying equipment and grapes for home winemakers at reasonable prices.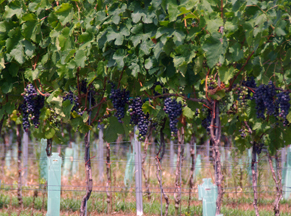 The vineyards were started with the idea of becoming a commercial grower. In 2005 they sold grapes and juice. However the owners discovered that it was more feasible to produce wine. The three acres of vineyards were planted in 2003. High density planting was used in the vineyards. The varieties include Merlot, Vidal and Traminette.
In 2009 they began selling wines under their own name, Harford Vineyard & Winery.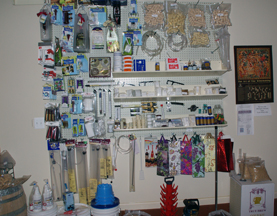 Winemaking Supplies
Anyone interested in making their own wine, will be delighted with the variety of items available. The winery sells grapes and grape juice to home winemakers. Home winemakers may choose grapes from Maryland, California, Chile and Italy. Grape juice is from California, Canada, Chile and Italy. A retail and wholesale catalog is available online. According to winery and vineyard owner, Kevin Mooney, the business was set up so that "you order what you want and you get what you want." An online catalog of the current supplies is available. Supplies for winemakers include wine bottles, carboys, corking machines, fermentation buckets, oak barrels and accessories.
Enjoy traveling through the pastoral countryside of Harford County on your way to Harford Vineyard & Winery where you will discover a family owned winery.
Harford Vineyard & Winery
1311 W. Jarrettsville Road
Forest Hill, Maryland 21050
GPS: N39º 35.252' W76º 26.037'
---
Visit these wineries that partners with Wine Trail Traveler.