Mount Felix Vineyard & Winery
by
K.L. Sullivan
"A great fit between wine and Maryland history." Peter Ianniello
Summary: Mount Felix is a friendly, family-owned winery to visit in Harford County, Maryland. Anyone interested in history will enjoy the extensive information the owners have gathered about local history. Enjoy a visit to Mount Felix with its lovely views, history and friendliness.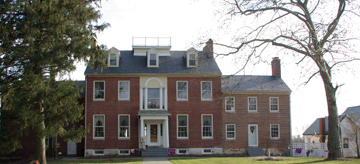 Mount Felix Vineyard & Winery, located in Havre de Grace, Maryland near the head of the Chesapeake Bay and the Susquehanna River, offers a delightful destination site for visitors. Peter and Mary Ianniello purchased the property in 2004.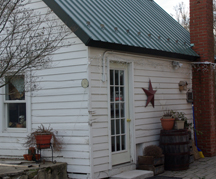 The land is under Maryland preservation protection so encroaching housing is a good distance away. To reach the winery tasting room, cars turn off Level Road unto a narrow unpaved lane. Parking is located under trees in front of the brick manor house. The tasting room is in a restored water house, once used for pumping water to the house. The tasting room is cozy and it was obvious that visitors enjoyed their stay and talking with one another and the owners.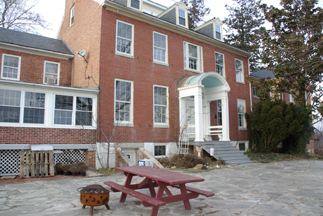 Today the elegant three story brick home built in 1849 is the home of Peter and Mary and their children. The two wings of the house are available as rentals. Behind the home is a large patio where wine tasters may enjoy their glass of wine. The patio also overlooks 15 acres of grapevines. As we gazed at the vineyard, Peter commented that wine "starts off in the soil." Peter wants to add more vines to his property but also wants to work with the local grape growers.
Peter fondly remembers his grandfathers making wine while he was growing up. In 2005, Peter planted Chambourcin and Marechal Foch, using high density planting. The winery opened in 2007. We entered the cozy tastefully renovated tasting room where Peter and his wife, Mary, were handling the wine tastings. They are an enthusiastic couple and it was obvious that they enjoy what they are doing as well as the connection to the history of the area.
According to Peter, "Each bottle of wine promotes a story." As he pours each wine, he brings out a book about Lafayette, a copy of an article from 1911 or a survey map. Peter's passion for local history matches his passion for winemaking. He is eager to share his extensive knowledge of local history.
Mitchell's Manor, a white wine, was a blend of Seyval and Chardonnay. The aroma offered apple and pear nuances. There was an apple taste. The wine was crisp with a long creamy finish. Suggested pairings included poultry, pork and seafood. The wine was named after Mitchell who built Mount Felix.
Cornelia's Blush, a Chambourcin wine, had floral and perfume-like aromas. The taste and finish offered fruit and floral (wild flower) nuances.
Matilda's Devotion was a blend of Seyval and Traminette. The wine offered a fruit and floral aroma with a fruit taste. Peter named this wine after Matilda who during the War of 1812, rowed out to a British Man of War to plead for her father's life. Her father John O'Neill was captured by the British and since he was not dressed in military uniform he was sentenced to death. Matilda explained that her father was a commissioned officer during the American Revolution. She produced her father's papers and was able to spare his life.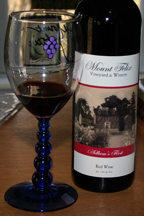 O'Neill's Bravado offered a black cherry aroma and taste with a fruity- sweet finish. This wine pairs with any entrée. The wine was named after John O'Neill, Matilda's father. After the British burned the Executive Mansion and Grounds (the White House) and laid siege to Washington, they sailed north. Eventually they arrived at Havre de Grace. Most citizens fled, but John O'Neill tried to defend the town. He was wounded, captured and held on the British warship the Maidstone.
Adlum's First was a blend of Chambourcin and Cabernet Sauvignon. The aroma was of black fruit, especially black cherry. The taste and finish had fruit and tannins. Consider pairing this wine with beef and pork. John Adlum established a vineyard in Havre de Grace and grafted European rootstock to American grapevines. Adlum had the first successful American commercial vineyard. Eventually Adlum moved to Georgetown and established a vineyard there.
Lafayette's Reserve, a blend of Chambourcin and Cabernet Sauvignon, offered a dark fruit (cherry) aroma and taste. The finish was crisp and fruity with tannins.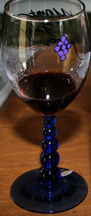 Wine tastings are $5.00 each and includes a wineglass hand painted by the family for visitors to keep. The tasting room offers creative note cards, gift baskets, well-made cloth wine bags, lovely small sculptures and gift certificates.
Located close to Interstate 95, and also the Chesapeake Bay and Susquehanna River, "Mount Felix is a piece of heaven," commented Peter.
Mount Felix Vineyards & Winery
2000 Level Road
Havre de Grace, Maryland 21078
---
Visit these wineries that partners with Wine Trail Traveler.