Thanksgiving Farm Wines
by
Kathy Sullivan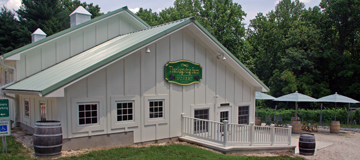 Summary: The Thanksgiving Farm winery experience is one that visitors will remember. The boutique tasting room is enhanced with dark mahogany and cherry wood décor and offers a delightful experience. Wines are all estate grown. The tasting room is open on Sundays.
Arriving at the long driveway leading to Thanksgiving Farm, visitors will see large farm buildings and farming equipment. Continue on the stone driveway for 0.3 miles, past the farm buildings. The driveway becomes tree shaded followed by views of vineyards and soon you will have reached the tasting room and winery. Outside of the tasting room, an area is set aside with tables and umbrellas.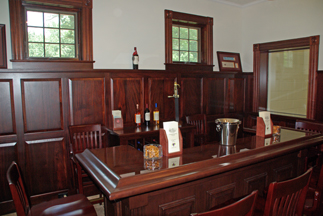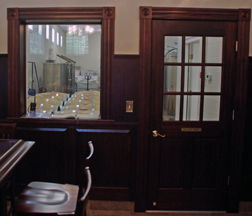 Thanksgiving Farm Tasting Room
The tasting room provides a delightful ambiance. Walls of dark mahogany, windows framed with mahogany and the tasting counter of cherry add a special touch to the wine tasting experience. The tasting room setting is one of elegance with a historical flair. Several bar stools are provided with a small table for seating two nearby. Large windows view barrels and stainless steel tanks. The small tasting room filled up quickly during our visit. It was a congenial group of wine enthusiasts who were interested in the wines and the Thanksgiving Farm story. One couple, Tim and Pudy Palmer were celebrating their 50th wedding anniversary by visiting wineries.
History
The farm, about 58 acres, was once part of a larger area of 332 acres called Richland. In 1954, 58 acres were sold to the Taliaferro family, who named the parcel Thanksgiving Farm. Doug and Maureen Heimbuch bought the 58-acre farm in 1996.

Today Doug and Maureen are the friendly owners and Doug is the winemaker. Doug became interested in winegrowing and home winemaking when he did doctoral work in New York States' Finger Lakes region. He visited U-pick vineyards, harvested grapes and made wine. He smiles when he remembers the resulting homemade wine was not very good. After discovering large wild grapes growing on the farm, the Heimbuchs thought, "Grapes do grow here." Beginning as a hobby, they planted a few white grapes and then decided to plant all red varieties.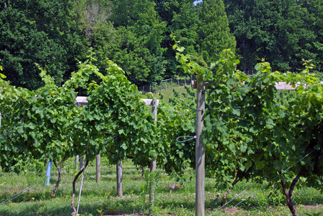 Vineyards
The nine acres of vineyards at Thanksgiving Farm consist of Merlot, Cabernet Franc, Petit Verdot, and Cabernet Sauvignon. These varieties thrive in the sandy, loam soil. An eight-foot fence protects the vines from hungry deer.
Wines
The focus of the Thanksgiving Farm is red wine varieties and producing wines with only their onsite grapes. The winery opened with the 2007 harvest. Eventually they would like to produce 700 cases of estate wines. At the time of our visit three wines were available for tasting. Quality Arcoroc stemware is used in the tasting room.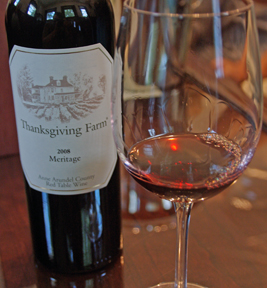 Franc Blanc 2011, a white Cabernet Franc, was a light gold color with an aroma and taste of red berry fruit with a hint of tropical fruit. The finish was crisp with citrus yielding to tropical notes. Doug said this wine is "great with cheese." Dry Rosé 2009 was a blend of Merlot, Cabernet Franc and Cabernet Sauvignon. The wine was made with free-run juice. The pinkish-orange wine was very light and fruity with cherry and hints of strawberry. This dry wine would pair with fish and cheese. Meritage 2008 was a blend of Merlot, Cabernet Franc, Petit Verdot, and Cabernet Sauvignon. The dark ruby wine offered an aroma of dark fruit. The taste included dark raspberry, plum, and black cherry notes with a hint of tobacco from the oak.
Be sure to visit Thanksgiving Farm winery and vineyard, a small boutique winery with a delightful, friendly welcome.
Thanksgiving Farm Wines

195 Harwood Road
Harwood, Maryland 20776
GPS: N38º 52.233' W76º 37.956'

---
Visit these wineries that partners with Wine Trail Traveler.