Great Frogs Estate
by
Kathy Sullivan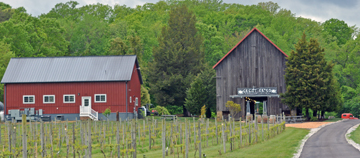 Summary: Great Frogs Estate in Annapolis, Maryland is located in an ideal area on the outskirts of historic Annapolis, Maryland. For an ideal wine experience, make an appointment for your Great Frogs wine tasting. Wine tastings can be enjoyed with small food bites.
Wine enthusiasts who arrive at Great Frogs will travel a long driveway. At the end of the driveway is a red barn-style winery. Close to the red winery, in stark contrast, is the historic, weatherworn tobacco barn. It is in the 1800s tobacco barn where visitors can taste wines and enjoy pleasant camaraderie with others who enjoy wine and conversation. The tobacco barn is open on two ends. The original barn walls add a historical ambiance to the wine tasting, although some of the walls are lined with oak barrel staves. Heaters just on the outside of the doors add a hint of warmth on a cool spring day. Inside, the tobacco barn has been split into two sections. One rectangular section is enclosed and heated. Small seating arrangements are in this area. The other section of the barn is filled with small picnic tables and can easily accommodate larger groups.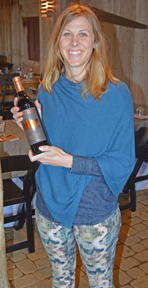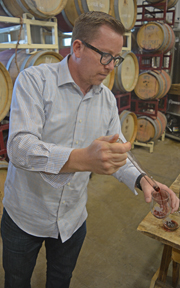 Wine Journey
We met Andrea (pictured left) and Nathanael (pictured right) O'Shea, owners and winemakers of Great Frogs Estate, in their historic tobacco barn and current tasting room. We first spoke with Andrea who described the O'Sheas' wine journey. Andrea explained that Nate was a wine buyer for a restaurant. When he was 19 and living in New England he worked at an inn. At the inn the chef helped Nate learn about the wine industry. Eventually Nate moved to southern California where he met many people involved with the industry. Later, while in the winery where we tasted wines from barrels, Nate said his wine journey began when his parents brought him home from the hospital after birth. They put a finger in wine and then placed the finger on his tongue.
In the beginning of developing a vineyard and winery in Maryland, Andrea and Nate had worked with another winery. The O'Sheas along with Don and Barbara Segal decided to partner and create Great Frogs Estate. We were curious about the name Great Frogs. Even though there are plenty of frogs in the region, the winery was named Great Frogs because Don likes frogs.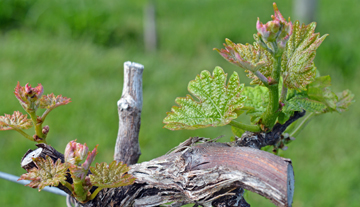 Great Frogs Vineyards
Currently the onsite vineyards includes 10 acres of Cabernet Sauvignon, Cabernet Franc, Merlot, Chardonnay and Syrah. The first vines were planted in 1999 and included Traminette, Marsanne and Viognier. In 2010 they increased their acreage devoted to grapevines. The temperatures in the vineyards are moderated by the proximity of the bay.
Great Frogs also owns vineyards located on Maryland's Eastern Shore, where they have eleven acres planted in Easton. Eventually the owners plan to increase vineyard acreage on the Eastern Shore.
Great Frogs Wines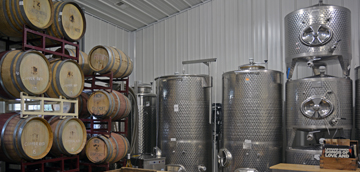 Great Frogs produces several styles of wines and current production is between 850 and 1,000 cases of estate wines with a total wine production of over 4,000 cases. They focus on dry wines although Great Frogs now produces one sweet wine for consumers who have a sweet tooth. The owners intend to stay local. In the winery they are using French and Hungarian oak barrels. The oak barrels are used for about four years. Old wine barrel staves are used for crafting furniture which can be seen in the tasting room. The Great Frogs wines are sold in the tasting room and to local restaurants. Many visitors are wine lovers from Annapolis.
During our wine tasting we met Ben Johnson, Nate's brother who is enthusiastic about the wines at Great Frogs as well as wines from around the world. During his many travel experiences, Ben always searches out memorable wines.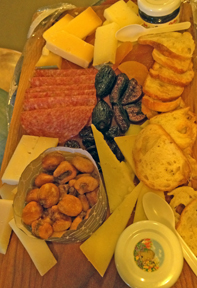 We tasted Great Frogs' wines with a wood tray filled with specialty cheeses, nuts, meat and more. Labels indicated what wines to pair with the foods. The cheeses were made from cow's milk and goat's milk. The cheeses were made in Maryland, the United States, Spain and the Netherlands.
Our wine tasting began with the Vintner's White 2014, a yellow colored wine. The wine was produced with a blend of Traminette, Chardonnay, Marsanne and Viognier. The wine offered floral, pineapple, pear and apple notes. The mouthfeel was very smooth. The 2014 Chardonnay, also a yellow colored wine, offered notes of apple, pear, with a hint of butterscotch especially on the aftertaste. The wine was medium/full bodied and smooth.
Syrah 2011 was an opaque dark purple color. The wine included notes of plums and prunes. The wine was full-bodied with medium/full tannins. The finish of fruit yielded to spices.
We tasted two Petit Verdots, one from Maryland grapes and one from Virginia grapes. The 2014 Petit Verdot was produced with grapes sourced from within Maryland. The wine was a translucent ruby color. The wine offered notes of black fruits including black raspberries. There were medium tannins with a medium/full body. The finish was crisp. Petit Verdot 2015 was produced with fruit from Virginia. This wine was an opaque dark ruby color. The wine had notes of dark fruits and leather. The wine was full-bodied with bold tannins. The finish was crisp.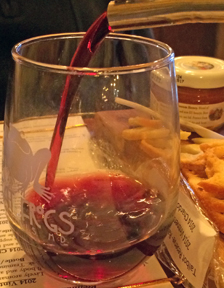 Two red blends were tasted. Vintner's Red 2013 was produced with a blend of Cabernet Franc, Syrah, Merlot and Cabernet Sauvignon. The wine was a translucent ruby color. The wine reminded Terry of a red fruit salad with plums and black raspberries. Other notes included leather and baking spices. The wine offered medium tannins and was medium/full bodied. The finish was crisp with fruit and spice hints. Meritage 2013 was a blend of Cabernet Sauvignon, Cabernet Franc and Merlot. The wine was an opaque ruby color. It offered notes of blackberries, licorice and was full-bodied. The finish was crisp and fruity with baking spice notes.
All Hands on Deck 2014 was produced with a blend of Syrah, Mourvèdre, Cabernet Franc and Grenache. This wine, fortified with vodka, had 18% alcohol. The color was pink with an orange hue. It had notes of alcohol and jammy berry fruit. The mouthfeel was very creamy. This fortified wine was paired with a fresh strawberry. The acid from the strawberry made the wine even smoother. City Dock 2013 was 100% Syrah. This was a port-style wine with 18% alcohol. The ruby colored wine offered notes of dried fruits. It was full-bodied with bold tannins. There was a bit of heat on the finish. When paired with chocolate the port dried and the heat disappeared.
When Nate heard that we liked white wines with extended skin contact, he took us to the winery to taste a few wines especially the Full Sail. Full Sail was produced with white wine grapes. Fermentation and maceration took place on the skins, then pressed and aged in oak. This wine was orange-colored. The wine offered floral and dried fruit notes. The wine had bold tannins and was full-bodied.
When making your plans to visit historic Annapolis, be sure to include Great Frogs winery on your itinerary. It is a wonderful setting to spend several hours relaxing and enjoying the wines.
Great Frogs Estate
3218 Harness Creek Road
Annapolis, MD 21403

GPS: N38º 56.637' W76º 30.897'
Article written May, 2016

---
Visit these wineries that partners with Wine Trail Traveler.