Charm City Meadworks
by
Kathy Sullivan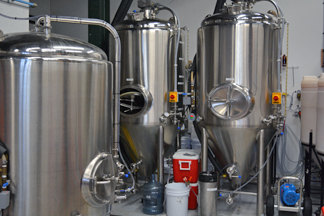 Summary: While Charm City Meadworks may be one of the new enterprises on the block, it is a quickly growing small business inside Baltimore City. Charm City Meadworks opened one and a half years ago and has already outgrown its current location. Currently the owners are looking for a new location inside Baltimore City. Today the meadery offers a variety of meads including those infused with different flavors. The audience for mead is increasing and consumers are beginning to understand that mead does not need to be sweet to be an outstanding beverage.
Currently Charm City Meadworks is located in an obscure location of Baltimore's industrial area. The business is located in a flat-roofed, blue cement block building. More importantly were the number of smiling people who had found their way to this location on an early Saturday afternoon. According to James Boicourt, co-owner, the meadery is busiest on Saturday afternoons. Currently Charm City Meadworks is open for a few hours each week on Friday evenings and Saturday afternoons.
Just inside the meadery's doorway, visitors will discover several seating options: a black bar attached to a sidewall with bright red bar stools, several picnic-style tables for small groups and a bar area around the pouring station. Four taps for the draft meads make it convenient for the assistants to pour the intriguing meads.
James noted that he is looking for a new location in Baltimore that will allow him to continue expanding the meadery. James explained that the current location is both a tasting room and production area. He must move tables and equipment about in order to facilitate the production of mead.
Background
While in college, James took a beekeeping class that just happened to include a session on making mead. Even though James was a home brewer, he was hooked on the idea of making mead, noting that in 2006 and 2007 modern mead making techniques were relatively unknown. He said that at the time there was "very little mead awareness, and very little dry mead on the market."
During the years as an engineer for aquatic vehicles when he built and repaired underwater vehicles, James met Andrew Geffken who brewed beer. James also brewed beer. Together they decided to partner in creating Charm City Meadworks. Despite the long hours that James puts into Charm City Meadworks, he believes that he made the right decision to leave his first career and delve into mead making full-time.
According to James, "It's been a learning experience. Mead awareness was next to nothing." He found mead more interesting compared to brewing beer. As the interview continued, James noted that he "introduced a lot of people to unique products." He added, that mead "appeals to beer drinkers and wine drinkers."
Mead Production
James has 12 beehives, but sources the majority of the honey he needs from a company in Lancaster, Pennsylvania. Currently this 18-month-old meadery is producing 24,000 gallons of mead a year. Already Charm City meads can be found at about 150 retail locations. James said that people "see the fun in turning out a product but don't see the industrial side." At the meadery, they can see and learn about the industrial side. Charm City Meadworks produces two styles of meads, the dry still meads and draft meads. The draft meads are carbonated.
The focus at Charm City Meadworks is to make lighter, dry meads. These refreshing meads are likely to pair well with a variety of foods.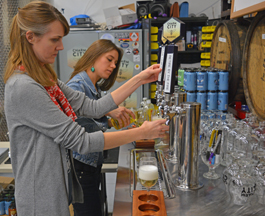 Charm City Meads
The tasting room offers flights of meads served in handmade wood carriers. It should be noted that some of the meads are seasonal, however; the popular Basil Lemongrass mead originally a summer mead, has been so popular that Charm City now has it available year round. Draft meads are available by the can, half-keg or sixth-keg.
Popular for this winter is the Retire by the Fire mead. This mead was produced with an infusion of vanilla, chocolate and cloves. The alcohol was 6.9%. The mead offered an aroma of spices and a taste of floral plus spices. The finish was crisp with a long chocolate aftertaste. The Basil Lemongrass draft mead was a light yellow with 6.9% alcohol. The mead was produced with Thai basil and lemongrass. The aroma included basil, lemongrass and floral notes. The smooth taste was also of basil, lemongrass and floral with a hint of honeysuckle. The finish was refreshing, cleansing and crisp. Pair this draft mead with a rocking chair on a porch.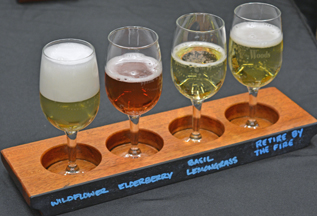 Elderberry draft was a burnt orange color with 6.9% alcohol. The aroma and taste included notes of elderberries. The finish was crisp and fruity. The Wildflower, also a carbonated mead with 6.9% alcohol, was a light yellow color. The aroma offered floral notes with a taste of floral, citrus and honeysuckle. The taste was crisp and refreshing.
Original Dry was a still mead with 12% alcohol and a yellow color. The aroma was floral. The taste was smooth with honeysuckle and daisy notes. The finish was crisp with a long floral aftertaste. This mead is available by the bottle. Suggested pairings included: sautéed vegetables, seared tuna, grilled chicken, and fresh fruit cobbler.
Be sure to visit Charm City Meadworks when you have the opportunity. Watch closely for their move to a new location.
Charm City Meadworks
3511 8th Avenue, Suite A
Baltimore , Maryland 21226
GPS: N39º 13.894' W76º 34.446'
Article written January 2016
---
Visit these wineries that partners with Wine Trail Traveler.