Serpent Ridge Vineyard
by
K.L. Sullivan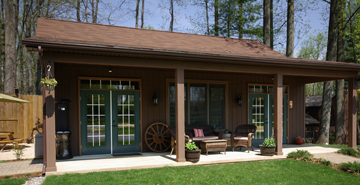 Summary: Serpent Ridge Vineyard, one of Maryland's newest wineries, is located on the outskirts of Westminster, about 45 minutes from Baltimore, Maryland. Greg Lambrecht is a small artisan winemaker. He takes pride in producing quality wines and believes that wine is made in the vineyard.
Greg and Karen Lambrecht, owners of Serpent Ridge Vineyard, have been making wine for about 15 years. Spending time in California's Russian Valley while with the Coast Guard broadened Greg's interest in producing wine. He has studied at UC Davis and taken advantage of many courses and seminars.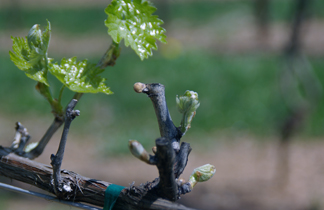 Vineyard
Although they had a small vineyard in their backyard, in 2002 the Lambrechts decided to look for a site where they could plant a larger vineyard. Currently they have two acres of vineyards that they will increase with another half acre. The vineyards are as sustainable as practicality allows it to be. The Lambrechts like to be able to say that they have a hand on everything in the vineyard and winery. Grapevines growing include Cabernet Franc, Cabernet Sauvignon, Sangiovese, Albarino and Petit Verdot. Their first vintage was 2007. The Lambrechts also purchase grapes from three Maryland contract growers.
Winery
The winery, with Greg as the winemaker, is producing 1,000 cases and he would like to grow a bit larger. Greg is proud of the wines he produces. He believes that wine is made in the vineyard and not in the winery. As winemaker, Greg loves the concept of old world winemaking but embraces modern technology. For example, he understands and believes in adding oak nuances to some of his wines with the use of oak wood planks. For corks, he uses the relatively new Zork cork. Zork corks have the advantages of both screw tops and natural corks. Greg produces wines that the public will enjoy. The winery offers five wines to taste that vary from slightly sweet to a dry red with tannins. Watch for the red sparkling wine coming soon.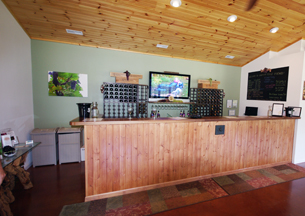 Tasting Room
The tasting room opened in April 2009 and is only a few feet from the winery building. Between the winery and tasting room buildings three large tables are available for visitors to enjoy a glass or bottle of wine. Visitors are welcome to bring a picnic lunch to enjoy. Crackers and cheese are also available for purchase in the tasting room. Wicker seating is available near the front doors of the tasting room creating a lovely setting.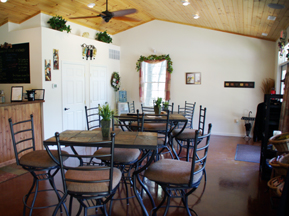 Inside several large tables with seating are available. The walls are a pale green and white. Framed art work by a local artist is available for purchase. Jewelry and wine accessories are available for sale. The winery also offers gift baskets. The tasting counter and top are of wood. Behind the tasting counter a large flat screen TV shows images of the vineyard, winery and tasting room.
Events also take place in the tasting room. For a sit down occasion, the room will comfortable fit 20 people. Upcoming events include Spring Fling and a Mother's Day Special. An RSVP is required for the Spring Fling.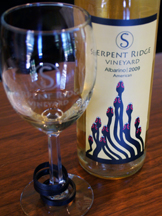 White Wines
Seyval Blanc 2008 offered an aroma of toast with green apple. The taste and finish had apple and citrus notes. Suggested pairings included white-sauce pastas, seafood and poultry. Albarino 2009, produced by pressing whole grape clusters, had an aroma of apricots. The medium bodied taste had apricot notes while the finish was crisp with a citrus aftertaste. Pairing suggestions included shellfish, white fish, spicy foods and cheeses. Pinot Grigio 2007 had a slight pinkish tinge as a result of sitting on the skins for a few hours. The aroma and taste were of peach and grapefruit notes while the finish also offered peach and grapefruit nuances. Suggested pairings included seafood, chicken, pork and cheeses. Also consider pairing this wine with Asian or Mexican cuisine.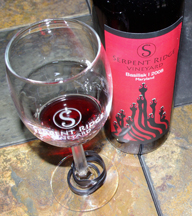 Red Wines
Basilisk 2007 was a blend of Cabernet Franc and Cabernet Sauvignon. The wine was a red/purple color. The aroma offered cherry notes while the taste had both cherry and vanilla notes. The finish had mild tannins and vanilla nuances on the aftertaste. This wine was a 2009 Gold Medal Winner in the Maryland Governor's Cup Competition. Pairing suggestions included wild game, sausage and pasta. Basilisk 2008 was also a blend of Cabernet Sauvignon and Cabernet Franc with different proportions compared to the 2007 Basilisk. This wine was aged in French and American oak. The aroma and taste offered notes of blackberries and pepper. The finish was fruity with tannins. Suggested servings included steak, barbeque, lamb and brownies.
Visit Serpent Ridge Vineyard where you will discover a lovely view of vineyards, good wines and friendly hosts. Plan on spending some time enjoying the views and wines. Serpent Ridge Vineyard is about a 15 minute drive from Interstate 70.
Serpent Ridge Vineyard
2962 Nicodemus Rd
Westminster, Maryland 21157
GPS: N39º 29.606' W77º 00.274'
Related article on Examiner.com Baltimore Edition
Day Trip to Serpent Ridge Vineyard article
---
Visit these wineries that partners with Wine Trail Traveler.