Great Shoals Winery
by
Kathy Sullivan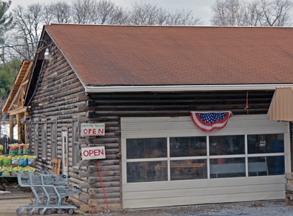 Summary: Over a few, short years Great Shoals Winery has made tremendous growth and moved to its new location in Silver Spring, Maryland. Today Great Shoals has added to their original production of sparkling wines and wine enthusiasts can also enjoy tasting traditional still wines, fruit wines and ciders. With the progress Great Shoals has made, this is a winery to keep your eye on in the future.
We met Matt Cimino, owner and winemaker, outside the farmer's market where the Great Shoals tasting room is located. Great Shoals is located at the Heyser Farms, a farm market in Montgomery County. Walk past a variety of fresh vegetables, fruits and large, freshly baked loaves of bread to the tasting room. Inside, the tasting room has honey-colored walls, and small tasting tables and bar stools offer a warm ambiance for tasting wines.
Signs on small blackboards offers visitors intriguing facts. "President John Adams drank a tankard of hard cider every morning!" "Hard cider replaced wine in Paris during the 19th century."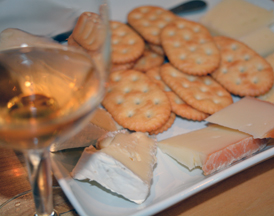 Wine lovers will discover that Great Shoals offers tasting flights and food pairings. Ask about the cheese plates and chocolate fondue options available with tasting wines.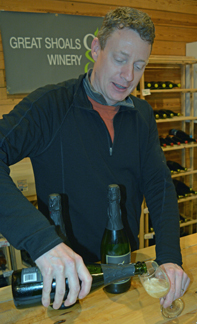 Matt talked about the struggles and joys of starting a winery while also having his first child during the first year of the winery. Matt and his wife Alex moved the winery's tasting roomto Silver Spring in 2013. The tasting room and some winemaking is located at the Heyser family farm where Matt noted that the winery is a work in progress.
In a previous article, we wrote about Great Shoals on the Eastern Shore of Maryland. "As a child, Matt Cimino found the Great Shoals Lighthouse a welcoming sign as he and his father, Tom, navigated their boat into the Wicomico River. Matt always knew he was close to home after spotting the lighthouse. In a tribute to the area, he decided to name the winery after the Great Shoals Lighthouse.
Matt had been drawn to wine as a teen. He noted that as a teen he read wine books about the different wine regions around the world. Later when he worked in the food industry, Matt would take note of the wines people would order with meals. When he became older and was able to drink wine, Matt toured wineries both small and large. It was not long before he began to experiment making hard cider. Family and friends encouraged him to make wine commercially. This encouragement was the tipping point to start Great Shoals Winery."
Eventually Matt met Mike Heyser and bought cider from him. Mike suggested that Matt move to his Montgomery County location. With a more heavily populated region, Great Shoals Winery is growing quickly. Matt noted that the tasting room is crowded at times.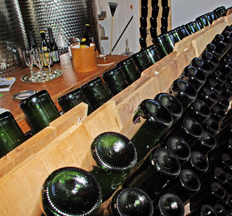 Currently all fruit wines are made at this location. All Great Shoals fruit wines are produced with 100% fresh fruit. Grape wines are made on the Eastern Shore at a warehouse facility shared with St. Michael's and Triple Creek Wineries. Great Shoals Winery's original location on the Eastern Shore is now used for storage and is where his father still riddles sparkling wines.
Interestingly, Matt said, seventy-five percent of customers have never been to a tasting room before visiting Great Shoals.
Fruit Wines
The Hard Plum was a yellow color with orange hue. The wine was lightly effervescent and the wine offered a light plum aroma and taste with some sweetness. Peach Draft was a pink color with orange hue. The peaches for this wine were sourced from Howard County, Maryland. The wine was lightly effervescent. The aroma and taste were of fresh peaches. The finish was peachy. Berry Draft was produced with strawberries sourced from Somerset County. The orange colored wine offered notes of strawberry throughout the aroma and finish.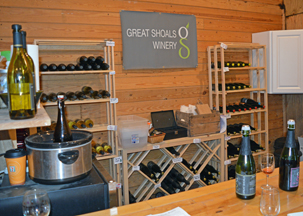 Cherries for the Hard Cherry wine were sourced from Carroll County, Maryland. The wine was a red color with a pink hue. The aroma and taste had intense cherry notes. Cherry notes were also on the finish. The wine was lightly sweet but dried on the finish. Hard Blackberry wine was produced with blackberries from Frederick County, Maryland. This red colored wine was slightly effervescent with notes of blackberries. The wine was sweet. The finish was of blackberries. There was some drying on the aftertaste.
Sparkling Wines
All of Great Shoals sparkling wines are produced in the traditional method. The 2011 Vidal sparkling was the first wine made by Great Shoals. The gold colored wine had multiple columns of tiny bubbles forming a mousse in the center surface and along the surface's circumference. The wine was aged on its lees over 30 months. The aroma and taste included apple, pear and freshly baked bread. The mouthfeel was lively. The aftertaste offered a long fruit aftertaste. Matt proudly noted that this sparkling wine is winning numerous awards.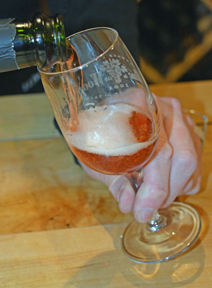 The 2012 Cuvee Blanc was produced with a blend of Chardonnay and Vidal Blanc. This dark yellow colored wine was aged for 20 plus months. The wine had multiple columns of bubbles. There was a small mousse on the surface of the wine. The taste included notes of baked bread, apple, pear and mineral. The mouthfeel was smooth. The finish had fruit yielding to mineral.
The Blanc de Blanc 2012 produced with Chardonnay grapes was a yellow color. The wine had multiple columns of beads forming a small mousse. Wine notes included apple, freshly baked bread and mineral.
A special treat at Great Shoals was the 2012 Elderberry Sparkling wine (pictured left). The fruit was sourced from Cecil County, Maryland. The wine was a dark reddish/orange color. Multiple rows of bubbles formed a mousse on the surface and circumference. The aroma was of elderberries. The taste included notes of elderberries with some earthiness. The finish was of fruit yielding to earthiness.
Be sure to stop by Great Shoals Winery's tasting room for a delightful tasting at Heyser farm market when in Silver Spring, Maryland.
Great Shoals Winery at Heyser Farms
14526 New Hampshire Ave
Silver Spring, Maryland 20904
GPS: N39º 05.683' W77º 00.160'
Article written February 2016
---
Visit these wineries that partners with Wine Trail Traveler.