Sugarloaf Mountain Vineyard
by
K. L. Sullivan
January 2009 update:
Sugarloaf Mountain Vineyard finished the new tasting room in October 2008. Located in the lower section of a banked barn, sales at the winery have increased by thirty percent.
As a result of the October Stomp event, a new wine was produced using the leftover grapes. Named Stomp, it is a semi-sweet wine. According to Michael McGarry, "It has been well received." During 2007-2008 Sugarloaf increased their vineyards by adding one acre of Cabernet Franc, one acre of Cabernet Sauvignon and one-fourth acre of Merlot. McGarry expects the case production for 2009 to be 4500 – 5000 cases.
In an online interview with McGarry, he wrote, "We are the closest vineyard/winery to Washington DC making award winning wines, served in a very customer friendly new tasting room."
---
On the first day of August, despite the current hot, sticky weather we traveled to Sugarloaf Mountain Vineyard. This winery has the distinction of being the only winery in Montgomery County, an affluent well-known Maryland county just outside of Washington, DC. From the District of Columbia, the winery is only a 35-minute drive. The drive would also be easy from Baltimore and Frederick, Maryland.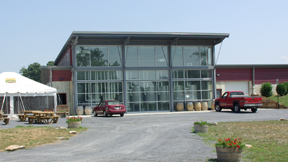 We enjoyed the trip from a suburban area to the lovely, picturesque farmland where the winery is located. With trees in full leaf and flowers blooming, it was a delightful but exceedingly warm day. As we drove closer to the winery, we became aware of Sugarloaf Mountain in the distance. By the time we arrived at the winery, the mountain appeared to be overseeing the winery and featured a lovely backdrop for the winery.
Sugarloaf Mountain Winery, a 92-acre farm, located on Comus Road is easy to spot with a bright red barn, numerous white painted shutters, a white silo and windmill nearby. To the right of the barn stands a temporary tasting tent and a building with large plate glass windows highlighting stainless steel tanks. From Comus Road you get a great view of the stainless steel tanks.
The tasting tent equipped with fans, is temporary while work on the early 1900's double-bank barn is completed. Two tasting room bars sit atop oak barrels. Several chairs and tables are available. You can sit next to the tasting bar and enjoy sampling the wines. Posters adorn the latticed walls. This temporary tasting tent sits upon the area that eventually will be the crush pad.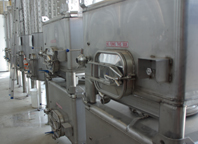 We quickly met the winemaker and vineyard manager, Carl DiManno, who guided us into the tank room and the spacious barrel room. The winery was built in 2005 and the first vintage was 2005. The winery opened its doors in 2006. The tank room currently holds 11 large traditional tanks and 6 rectangular-shaped tanks. Through a large doorway is the barrel room holding 250 French oak barrels. This room has the capacity of 400 barrels. In 2007 Sugar Loaf Mountain Vineyard will bottle about 3,300 cases of wine. The capacity for the winery is 6,000 cases of estate wine.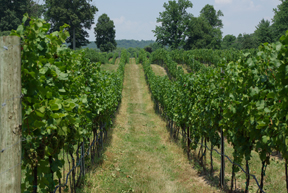 After visiting the barrel room, we walked to the vineyards where the vines are painstakingly maintained. The first vineyard was planted in 2002. Today, plantings include Cabernet Sauvignon (2.5 acres), Cabernet Franc (1 acre), Merlot (1.25), Malbec (.25 acre), Petit Verdot (.5 acres), Chardonnay (2 acres) and Pinot Grigio (2.5 acres.) In 2007 and additional acre of Cabernet Sauvignon was planted along with a third of an acre of Merlot. As we looked at the grape varietals in various stages of grape production, Carl pointed out which grape vines may need to have grapes dropped in order to produce quality grapes. In our conversations he indicated that it does "hurt" to know that they are losing wine when grapes are dropped, however, the vines will produce better grapes and ultimately better wine.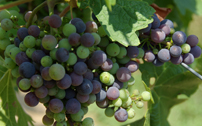 In early August some of the grapevines have berries that are beginning to change color. The Cabernet Sauvignon had the most color. The Pinot Gris was beginning to turn to what we thought was a light purple, however, Carl pointed out that it is considered gray. While in the vineyard we had the chance to taste a Chardonnay berry. Although too early to harvest, the grape was delicious.
We returned to the tasting room tent. While we tried several wines, Michael McGarry, owner, and marketing strategist entered and joined our discussion. Michael feels that the winery is located in an ideal spot with Sugarloaf Mountain and Comus Inn nearby. Visitors to those two attractions often stop at the winery. As he said about the winery's location, "we are blessed." Michael graciously went into detail about the future. Plans for the winery include renovations and additional vineyard plantings. His enthusiasm is catching.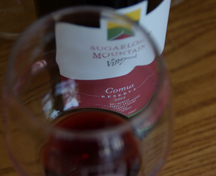 During our visit, we tasted several wines. The emphasis is on growing the Bordeaux grapes. Varietal wines are made from these grapes as well as a Bordeaux blend. We found the reds easy to drink. If you are a white wine lover, try the reds at Sugarloaf Mountain Vineyard. Independence Rosé 2006 has a red fruit taste, is light and makes a great summertime wine. It is made from the Cabernet Franc grape. Circe 2006 is a Bordeaux blend of 40% Cabernet Sauvignon, 35% Merlot, 20% Cabernet Franc, 4% Petit Verdot and 1% Malbec. This is a very drinkable Bordeaux blend that would pair nicely with many foods. The Cabernet Sauvignon Reserve 2005 is fruit flavored with a fruit and pepper bouquet. The Comus Reserve 2005 is a nice Bordeaux blend with 59% Merlot, 29% Cabernet Sauvignon, 10% Cabernet Franc, 1% Malbec and 1% Petit Verdot. Pinot Grigio 2006 has a nice fruit bouquet with a high acid and fruit flavor, which is nicely balanced. The 2005 Chardonnay has an apple flavor with a slight oak and butter on the finish. The regular tasting fee is $2 and with reserve wines $4.
If you are looking for a nice day trip, you can combine a visit to the winery with a trip to Sugarloaf Mountain, a popular destination. On the other hand, you may want to check out the Comus Inn for lunch or dinner on your trip to the winery. Picnic tables set up outside the tasting room give another option. Bring a picnic lunch and enjoy a glass or bottle of your favorite Sugarloaf Mountain Vineyard wine.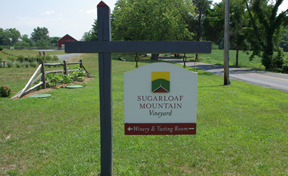 Sugarloaf Mountain Vineyard is new on the wine scene and already has much to offer. With more plans in the works, this is definitely a winery to keep an eye on and visit more than once.

Sugarloaf Mountain Vineyard
Dickerson, Maryland
GPS N39° 15.068' W077° 22.798'
Related article on Examiner.com Baltimore Edition
Day Trip to Sugarloaf Mountain Vineyard article
---
Visit these wineries that partners with Wine Trail Traveler.