Olney Winery
by
Kathy Sullivan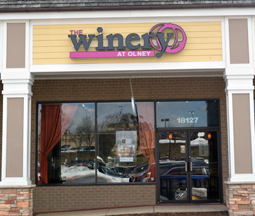 Summary: In a short three and a half years, The Winery in Olney now known as Olney Winery, has established a significant following with their crafted wines available at more than 400 facilities.
Olney Winery is a blend of wine shop, wine bar and winemaking. Visitors to Olney Winery, in the upscale Fair Hill shopping center, will discover a wine bar with a bright interior filled with seating areas, tables, a tasting counter and a winemaking studio for do-it-yourself winemaking.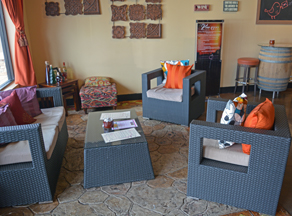 Just inside the glass front doors are two intimate, comfortable seating areas. The middle of the shop has a large square tasting counter and beyond are numerous tables for gathering with friends and enjoying Olney wines. The walls of the wine bar are filled with numerous wine themed quotes. Look for "There's always time for a glass of wine," "It's 5 o'clock somewhere," "Sometimes wine is the answer to life's questions," "Wine warms your heart," and "Save the earth it is the only planet with wine." A large blackboard reminds visitors of the numerous events coming up soon. Another wall is filled with the many colorful bottles of wines produced by Olney Winery.
Olney Winery is the brainstorm of Joe McCall, president and one of the investors in Olney Winery. The investors also include Jeremy Cronin, Joey Ecker, Joyce Simonsen, and Dan McCall. Joe's sister helped open the winery in September 2012.
When the winery opened in the burgeoning Olney shopping center, all winemaking took place at that location. As they expanded the business, they moved the majority of the winemaking and storage to their Beltsville location. In Spring 2016, a second tasting room will open in Hagerstown, Maryland. Current production is more than 20,000 gallons. The owners plan to continue to increase their production.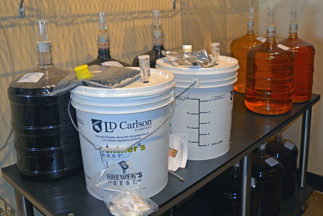 Make Your Own Wine
In addition to wine tasting at the current location in Olney, the tasting room also offers a variety of events for visitors to participate and the opportunity to make a wine in carboys. A small separate room is for consumer winemaking.The big sale months for wine lovers to make their own wine are January and July, although interested people can also make wine throughout the year. July is popular because the wine will be finished in time for holiday gift giving. More than 100 customers are making wine at Olney Winery. The Olney Wine Club has grown quickly and currently has 250 members.
Events
A wide variety of private and public events take place at Olney Winery. Private events include bridal showers and bachelorette parties. Adults of all ages are likely to find an event or two to enjoy. Look for fundraisers, music, cooking with wine classes, wine pairing classes, painting on canvas and painting on glass. In keeping with the fad of coloring, Olney Winery has added adult coloring, especially wine labels. Coloring appears to very relaxing especially when paired with a glass of Olney wine.
Olney Wines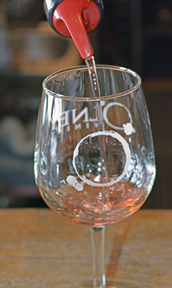 All wines are produced with juice obtained from various countries around the world. While the majority of juice is from California, Olney Winery also sources juice from Italy, New Zealand, Chile, South Africa, Germany and Spain. The winemaker for Olney Winery is Christopher Lanning who learned his winemaking skills in Washington, Europe and New Zealand.
We tasted several wines at the tasting counter. Sauvignon Blanc New Zealand Marlborough was a yellow color with 12 percent alcohol. The aroma included tropical fruit and lemon grass notes. The taste offered notes of melon, pineapple and lemon grass. The finish was crisp with a fruit aftertaste. Gewürztraminer Gertie's Gold was a light gold color. The aroma provided hints of sweetness and spice. The taste was dry with honey, spice and floral. The finish was dry with lingering spice and honey. Food pairing suggestions included Asian cuisine, munster cheese and smoked salmon.
White Merlot (pictured left) with 2.5% residual sugar had a reddish-orange color. The aroma was of red berries especially raspberries. The taste offed red raspberry notes and was sweet. The finish was fruity and sweet. The Montepulciano "In Bocca Al Lupo" means "in the mouth of the wolf," an Italian idiom for "good luck." The In Bocca Al Lupo had 12.7% alcohol and was a purple-reddish color with an aroma of cherries and plums and a hint of chocolate. The finish was somewhat sweet and the wine could pair with chocolate. Suggested pairings included grilled eggplant, veal, salami and pasta with meat sauce.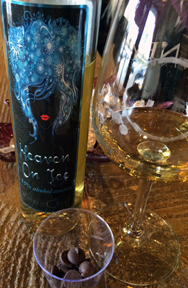 Peach Chardonnay is the number one seller at Olney Winery. This popular fruit wine had 10.5% alcohol. The wine was a yellow color. The aroma had an intense peach aroma. The taste was very peachy and slightly sweet. The wine was drying on the finish. A response to this wine was, "Why bother making a peach pie, just pour a glass of Peach Chardonnay." Olney Winery suggests pairing this wine with spicy food, crab or fruit salads.
Raspberry Chocolate Port had 18% alcohol. The wine was a dark purple to black opaque color. The wine offered notes of raspberries and chocolate with a smooth mouthfeel. The finish did not have an alcohol burn. The port was paired with dark chocolate chips which enhanced the raspberry taste.
Riesling Ice Wine (pictured right) with 15% alcohol was a dark gold color with notes of honeysuckle. This full-bodied wine should be paired with sweet desserts including dark chocolate. This is the ultimate dessert for Valentine's Day.
While out and about in Olney, Maryland be sure to discover Olney Winery in the Fair Hill shopping center.
Olney Winery
18127 Town Center Drive
Olney, Maryland 20832
GPS: N39º 09.155' W77º 03.726'
Article written February 2016
---
Visit these wineries that partners with Wine Trail Traveler.