Fiore Winery
by
Kathy Sullivan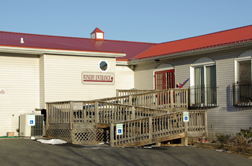 Fiore Winery is located a short distance from the Pennsylvania line and is well worth the trip. The small tastefully decorated tasting room is filled with a variety of Italian style wines produced by the owner and winemaker, Mike Fiore. Wine accessories are available and colorful filled baskets are also available for purchase.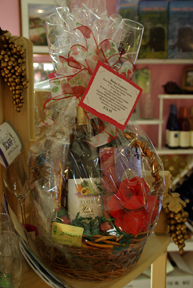 We were fortunate and able to speak with Mike, owner and winemaker. Mike grew up in one of the largest grape areas in Italy. He comes to winemaking with a history of family winemaking. His is about the 26th generation of winemakers in his family – over 400 years of winemaking. Mike also studied viticulture at the University of Florence.
When we first arrived at Fiore Winery, we were met by a knowledgeable assistant, who showed us the large hosting room for special events. This room, capable of holding 200 people, would be perfect for a special party or wedding reception. It is a popular rental and should be arranged well in advance. On of the walls is a painting of Italy, which was a view Mike saw from his window when he was growing up. Mike purchased the land in 1975 and by 1986 the horse barn had been converted into a tasting room.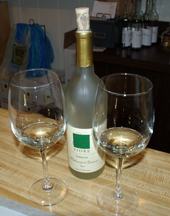 Fiore Vineyards produces about 30,000 gallons of wine. Everything involved with producing wine is done by hand. Wines include Cabernet Franc, Cabernet Sauvignon, Merlot, Sauviogese, Chambourcin, Chardonnay, Vidal Blanc and blends. When speaking with Mike it is obvious he enjoys winemaking as he discusses experimenting with different types of grapes.
Mike leaves no doubt as to why people should visit wineries – especially Fiore Winery. To paraphrase Mike, the wine at Fiore is genuine wine and pride went into each bottle of wine. Each wine is individual, and passion and love was put into the vineyard.
If you like white wines and are learning to like red wines, you may want to try Zinnavo, a blend of Cabernet Sauvignon, Cabernet Franc and Zinfandel. If you are looking for a dry fruit wine, you might want to try the blueberry wine at Fiore Winery.
We are always impressed when the winemaker participates in the tasting. Mike joined us in tasting the Chambourcin, his favorite, and Malvasia. We left the winery happy we had made the trip to Fiore.
---
Visit these wineries that partners with Wine Trail Traveler.