Bordeleau Vineyards & Winery
Kathy Sullivan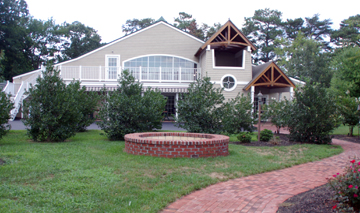 Summary: Bordeleau Vineyards & Winery in Eden, Maryland on the water's edge of Wicomico Creek produces 100 percent estate grown and bottled wines. The name Bordeleau means "edge of the water." The winery is one of the few wineries in the United States that can be visited by boat.
Visitors will find Bordeleau Winery by traveling through Salisbury and into the countryside through small towns of Allen and Eden. Soon one sees a large brick Georgian-style mansion. The winery and vineyards are located at the end of the road. Tom Shelton traveled to Annapolis and Williamsburg to learn more about colonial era architecture and incorporated much of this information into his mansion including the symmetry of the chimneys. The illusion created by Shelton is one of the 1700's with the brick mansion and waterside views. The mansion took three years to complete. The winery and tasting room are located within view of the mansion.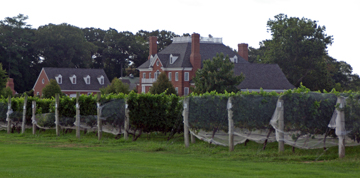 Tom Shelton, Owner and Master Winemaker
Shelton has always been interested in agriculture. He has major experience in the poultry industry and has now turned his interest to growing wine grapes and producing wines. Tom, owner and winemaker, has found his calling in the creation of this estate.
Tom has added several acres of grapes to the 225 acre property which he purchased in 1998. The farm dates back over 350 years. In 2001 and 2002 the farm was growing corn and soybeans. Shelton planted the first acre of grapes in 1999 and added more vineyards through 2003. The vineyards include Chardonnay, Merlot, Cabernet Sauvignon, Cabernet Franc, Malbec, Pinot Grigio, Petit Verdot, Sauvignon Blanc, Viognier, Vidal Blanc, and Chambourcin. Shelton honed his skills as a home winemaker and in 2006 the winery became commercial, Maryland's 24th winery.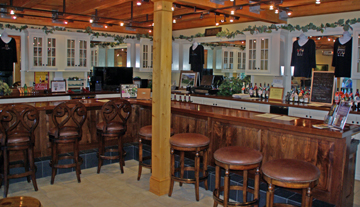 Tasting Room
A nearby pole barn was built but now has been converted to a tasting room with ambiance and the winery. The tasting room has the added touches of Shelton's woodworking talents. The tasting counter is of refined black walnut wood. Cushioned seats provide comfortable seating. Tables with black walnut tops on oak barrels provide additional space. A patio offers tables and more seating.
Visitors can arrive by boat docking at the wharf and walking around a curved pathway to the tasting room.
Events at Bordeleau Vineyards & Winery
The winery offers facilities for weddings. The delightful green landscaping with a large brick fireplace is beautiful. Vineyards and the Wicomico Creek add to the ambiance. In addition, the winery will be hosting Happy Hours.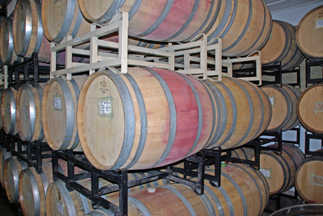 Bordeleau Wines
Bordeleau Vineyards & Winery produces 3,500 to 4,000 cases each year. Currently producing 15 different wines, Shelton is producing sparkling wine and a port that will be released in 2011. Shelton wants to continually increase the quality of his wines and noted, that he "wants to make wine that is better than the ones sold out the year before." Bordeleau wines are available in many of Maryland's counties as well as some other states.
Mars to be bottled soon, was fermented in stainless steel. This was a blend of Chardonnay, Seyval Blanc and Vidal Blanc. The wine was fruity with a perceived sweetness. There was a fruity aftertaste. Cabernet 2008 from a barrel tasting offered notes of dark fruits including blackberries, plums and black cherries. The finish had mild tannins and was fruity. This wine will be bottled in late summer of 2011.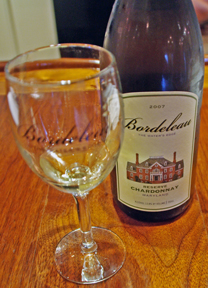 Pinot Grigio 2010 was straw colored. There was a citrus aroma and the taste had specific grapefruit notes. The finish was crisp with grapefruit nuances. Reserve Chardonnay 2007 was a light yellow. This wine offered pear and apple notes with a hint of caramel. The taste was very smooth while the fruity finish had caramel notes.
Cabernet Sauvignon 2006 was red with slight sienna hues. The aroma offered notes of blackberry. The taste also had blackberry with hints of black cherry and plum. The finish was fruity with mild tannins. Meritage, non-vintage, was ruby with dark fruit notes. The fruity finish had mild tannins.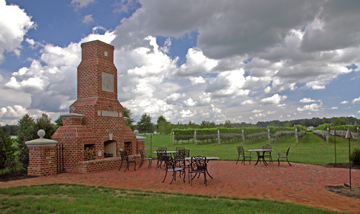 When planning a visit to Bordeleau Vineyards & Winery be sure to take a camera. The pcturesque views of the vineyards and water are delightful. Stay awhile and enjoy a glass of wine in the tasting room or on the patio. Be sure to watch for scheduled Happy Hours as well as the upcoming port and sparkling wine releases.
Bordeleau Winery
3155 Noble Farm Rd
Eden, Maryland 21822
GPS: N38º 16.647' W75º 43.315'
---
Visit these wineries that partners with Wine Trail Traveler.