Loew Vineyards
by
K.L. Sullivan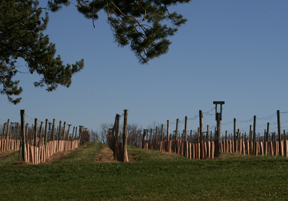 Loew Vineyards - a small, family-run vineyard and winery. Loew's is a relatively new winery having sold its first bottle of wine in August, 1986. However, there is a long history of wine making by Loew ancestors in Europe until World War II. To find out more about Loew wine history, be sure to visit their website. A desire to become involved in wine making in the United States brought the Loews to their present location in Frederick County, Maryland in the 1980's.
To reach the tasting room at Loew Vineyards, we drove up a long driveway lined with grape vines on both sides. Upon entering the small tasting room, we were greeted within seconds by the welcoming Mrs. Loew. Both friendly and efficient, she assisted us in our tasting of several wines. At the time of our tasting, there was no tasting fee. While the tasting room appeared to be small, there was a small corner to sit and relax and a nice selection of wine accessories including t-shirts and jewelry.
Currently Loew's produces two to three thousand gallons of wine using 80% of their own grapes. They produce a variety of wines including: dry white, dry red, semi-sweet and sweet wines. By growing a Reliance grape, Loew's is able to produce a semi-sweet wine named Serendipity. If you like fruit wines which are traditionally very sweet, you may enjoy Loew's Blueberry or Raspberry in Grape wines. These are especially good as after dinner drinks.
Loew Vineyards participates in the Wine in the Woods Festival in Columbia, Maryland, held each spring. They also participate in a wine festival at the Carroll County Farm Museum.
Loew Vineyards
Mt. Airy, Maryland
---
Visit these wineries that partners with Wine Trail Traveler.