Catoctin Breeze Vineyard
by
Kathy Sullivan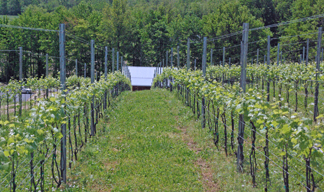 Summary: Enjoy a visit to a boutique vineyard and winery in Maryland's beautiful countryside. Look for white and red wines. Catoctin Breeze also produces meads. Wine tastings are accompanied by local cheese pairings. In addition to providing quality wines, Catoctin Breeze wants to focus on educating the consumer.

We enjoyed a spring trip to Catoctin Breeze, just a little north of Frederick, Maryland. Sitting on a knoll in the beautiful agricultural region of Maryland, Catoctin Breeze Vineyard offers views of sloping vineyards. The vineyard soil is rocky and provides good drainage.

The winery and vineyard is the brainstorm of Voytek Fizyta and his wife. They had friends in a wine club and visited a Virginia vineyard. Inspiration struck and they decided to sell their home and move to Thurmont in Frederick County, Maryland.
Fizyta had the first two rows of vines planted in 2009. In 2010, Cabernet Franc, Sirah, Chardonnay and Viognier were added. The following year, Grenache, Mourvedre, Albarino, and Vermentino were planted. The first harvest was in 2012.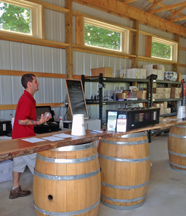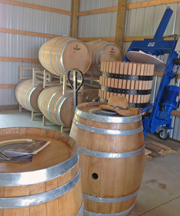 Tasting Room

Currently the temporary tasting room is below the vineyards. The wine tasting area shares space near winery equipment including oak barrels. A large image of a the new tasting room and winery, to be completed in early 2014, is available for visitors to see. Mike Lentini, winemaker, is enthusiastic about having a larger winery and tasting room. Nearby an underground cellar located beneath vineyards is currently under construction.
Several tables and chairs are in and outside the tasting room area, giving wine enthusiasts an opportunity to sit and enjoy the surroundings with a glass of wine.

Catoctin Breeze Wines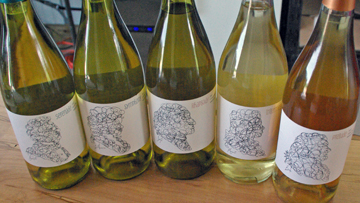 The winery has two lines of wines, Butterfly and Musical. They also produce different types of meads. Current production is 500 cases of mead and 500 cases of wine. As the vineyards increase in grape production Fizyta and Mike hope to increase the quantity of wines and meads to 3,000 cases. The best selling meads are Honeymoon and Amber.

While we visited, we tasted several wines from the Musical series. Each of the wine bottle labels in this series features a whimsical sketch of a musician. The Serenade Riesling 2012 featured Shubert. This Riesling was a light straw color. The aroma notes included floral and citrus. The finish was citrusy. Symphony Chardonnay 2012 featuring Beethoven was a straw color. The grapes were sourced from Erie, Pennsylvania. The wine aged for five months in the barrel. The texture was very smooth. Nuances included pear with citrus overtones. Rhapsody Chardonnay 2012 with an image of Liszt was a blend of oak and some stainless steel Chardonnays. The straw color wine offered apple and pear notes.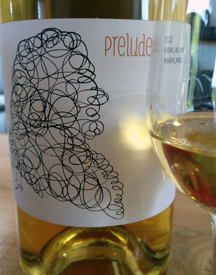 Intermezzo Vidal Blanc 2012 featuring Mozart was produced with grapes from St. Mary's County in Maryland. The straw colored wine offered an aroma of tropical notes and a taste of apples and tropical fruits. The finish was crisp. Prelude Vidal Blanc 2012 with an image of Bach on the label was also produced with grapes from St. Mary's County. This wine was a golden color with an orange hue. The wine was fermented on the skins for three weeks. The wine offered a floral aroma with a taste of floral and a background of citrus. The finish had floral nuances and tannins.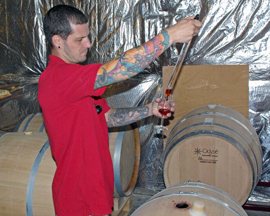 Barrel Tastings

We were interested in the wines produced with grapes from the Catoctin Breeze Vineyard. The fall of 2012 was the first harvest from this vineyard. The wines tasted were still aging in barrels. Cabernet Franc 2012 was an estate wine. The wine offered black fruit and spice notes and a finish of bold tannins and fruit. Shiraz 2012 estate barrel had an aroma of pepper and spice. The taste was of pepper and dark fruit. The wine had very bold tannins.
Meads

Dolce Vita, a melomel, was made with honey, raspberries, blueberries, and marionberries. This ruby colored wine offered notes of honey and raspberries. It was slightly sweet. The best selling meads are Honeymoon and Amber. Honeymoon is made with honey and orange juice. The Amber is made with honey and spices including vanilla, allspice, cloves, and cinnamon.

Enjoy a visit to Catoctin Breeze Vineyard. Take a picnic basket with you, purchase a bottle of wine and enjoy a few hours viewing Maryland's countryside. The location is also near several other interesting visitors' sites including Gettysburg National Military Park, Catoctin Wildlife Preserve & Zoo, Cunningham Falls State Park, and Roddy Road Covered Bridge. Camp David is not far away.
Catoctin Breeze Vineyard
15010 Roddy Road
Thurmont, Maryland 21788

Article written May 2013
---
Visit these wineries that partners with Wine Trail Traveler.