Old Westminster Winery
by
Kathy Sullivan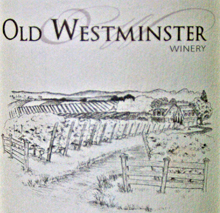 Summary: Old Westminster Winery expects to open in April 2013 with serious wines for the consumer. Keep an eye on this family owned up and coming winery in Westminster, Maryland. Anyone interested in the winery can become a Century Club member. The Bakers expect to open the winery by appointment only.
Jay and Virginia Baker moved from Annapolis to Westminster with their children, Drew, Lisa and Ashli. They lived on the property since the children were young. With the children now young adults, Jay and Virginia wanted to do something with the 20 acres of land. They brainstormed and came up with the idea and funding for a vineyard and a winery. Convincing Drew Baker, with a business background, took some doing but he soon realized the feasibility of the vineyard and winery concept. Lisa Baker, winemaker, with a degree in chemistry, is thrilled with producing wine with the help of a winemaking consultant. Their sister, Ashli, has undertaken a marketing degree that will benefit the winery. Lisa and Drew noted that the more they learn about wine, the more they see why people like it.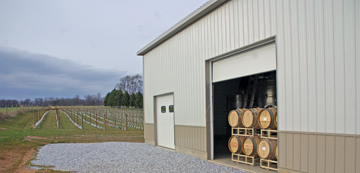 This year the Bakers have planted seven acres of grapevines including Cabernet Franc, Merlot, Syrah, Albariño, Sauvignon Blanc and Chardonnay. Next year they plan to add Petite Sirah and Muscat. A six-foot high deer fence surrounds the property.
The winery is located with vineyards surrounding it. Just inside the doors are several oak barrels from people taking part in the alternating proprietorship. The winery was built for a capacity of 2,700 cases. Drew expects the winery to open with 500 cases and to sell most of the wine from the tasting room.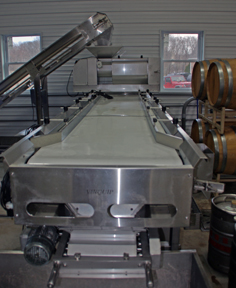 Old Westminster Winery will emphasize serious wines. In the winery they are using French oak. Clients who work with the winery with alternating proprietorships may use their own barrels. A sorting table is used to remove jacks and green grapes giving the winemaker more control over tannins. In addition to striving to produce wines for the serious wine consumer, Old Westminster Winery will have visits by appointment only. Drew noted they want to "stay small to be serious." This will allow them to offer a special experience to wine enthusiasts.
Old Westminster Century Club
Consider becoming one of the 100 members of Old Westminster Century Club. Members receive 20 percent off all purchases for life. Other benefits include exclusive access to Century Club blends and an annual wine release party. Contact the winery for more information and a private tour before the winery opens in 2013.
Opening in Spring 2013

The Bakers expect the winery to open to the public in April 2013. People visiting will be encouraged to make appointments. Visitors will receive a wine tasting and a tour of the winery.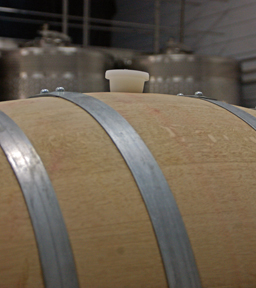 Barrel Wine Tasting
While talking with Drew and Lisa we tasted three wines that were recently put in barrels. These young wines will barrel age for many additional months. Merlot 2011 was a light ruby. The aroma was fruit forward while the taste had notes of berries and earthiness. The finish was crisp with very mild tannins. Cabernet Franc 2011 was a blend of Maryland and California Cabernet Franc. The color was ruby with pink hues. The taste was fruit forward and the wine was crisp. Merlot 2011 (from a different lot) was a light ruby. The aroma had dark fruit and spice nuances. There was spice on the taste and finish. These wines will change while barrel aging and bottle aging over the next several years.
In a beautiful country setting, Lisa and Drew Baker are growing and crafting some excellent wines. This is a winery to watch. Look for their opening in the spring of 2013.
Old Westminster Winery
1550 Old Westminster Road
Westminster, Maryland 21157
GPS: N39º 31.934' W77º 02.046'
---
Visit these wineries that partners with Wine Trail Traveler.