Big Cork Vineyards
by
Kathy Sullivan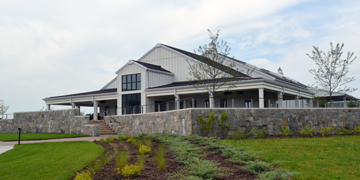 Summary: Big Cork Vineyards, a modern winery with acres of vineyards surrounding it, is set amidst the rolling wooded farmlands of Washington County. The newly established winery offers a delightful spot to taste wines, enjoy authentic bistro foods and relax with friends and families. Big Cork Vineyards officially opened January 31, 2015. When visiting be sure to ask about the unusual grape varieties from Eastern Europe XVI and SK-77.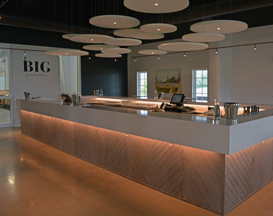 Located in rural Maryland, Big Cork Vineyards may be a bit of a surprise for first time visitors. The simple but elegant building is large and offers outdoor seating arrangements, a large modern rectangular tasting counter, a small shop with unusual items and a bistro.
After meeting Heather Tapper, General Manager, we took a quick walk through the winery facility. Heather pointed out an outdoor area that is set aside as a cigar lounge. Smiling she referred to it as a man cave. However, she noted that people really enjoy it.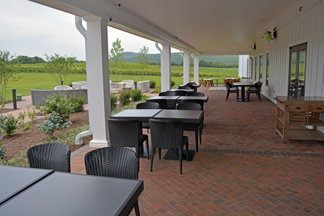 Large patio areas surround the winery and for cold weather, the patios can be enclosed by a remote control screen (see through). Portable heaters provide enough warmth even in January and February weather. Heather said how delightful it is to sit on the patio and watch the snow fall.
One of our first questions for Heather was, "Why the name Big Cork?" She said that the big cork speaks to the quality of wine. "We do not spare expense on the corks." At Big Cork, the most expensive corks are used for their wines. The winery also has unique chairs with "big" corks used for seats.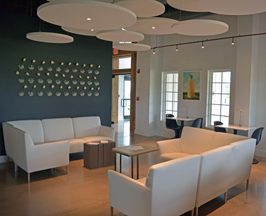 Bistro
The bistro is a big part of the Big Cork ambiance. The bistro features local cheeses and produce. Items on the menu include salad dressing, pie and mousse, all made from scratch. The winery also has a quarter-acre vegetable/flower garden. The fresh vegetables are used for the restaurant. Currently the Bistro is open Friday, Saturday and Sunday.
The bistro menu changes about every two months depending on what is available locally. Look for a variety of "Big Bites" and "Desserts." The summer menu included a selection of local cheeses, local charcuterie, spaghettini al fungi, spinach gouda guiche, crab melt, salad, dips, grilled shrimp tacos, flatbread, banana splits, and key lime pie.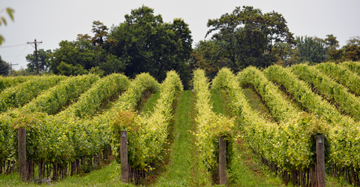 Vineyards
Big Cork has planted 29 acres of grapevines. The 13 varieties include: Chardonnay, Sauvignon Blanc, Viognier, Treminette, Vidal and two Eastern European grapes. Red grape varieties include Syrah, Nebbiolo, Petit Verdot, Malbec, Cabernet Franc and Merlot.
The most unusual varieties growing on the property are the XIV and the SK-77. The grapes are believed to have originated in Eastern Europe. Blended with the Muscat Canelli, Big Cork Vineyards is producing a wine called Russian Kiss.
Future plans include planting more vineyard acreage. Current production at the winery is 2,500 cases. As of 2015 all wines will be produced with estate grown fruit. Over the coming years the winery intends to increase production.

History of the Property
Randy Thompson's family owned the 100-acre property. Historically, Union troops stayed on the property prior to the battle of Antietam. Heather said, that Thompson is an "entrepeneur at heart." Thompson was curious about the venture of grape growing. He is a person who likes to take on a challenge and see it succeed. He loves the land and loves wine. The winery and vineyards give him something to pass on to future generations. The farm was originally planted with corn, soybeans and vegetables.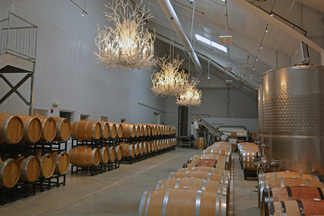 Big Cork Wines
From the tasting counter, visitors can see into the winery with its stainless steel tanks and oak barrels. The winemaker at Big Cork Vineyard is Dave Collins. Dave has years of experience as a winemaker at a well thought of Northern Virginia winery.
Chardonnay 2013 was produced with a Chardonnay blend of one-half tank and one-half barrel aged. The light yellow wine offered an aroma of caramel, apple, and pear. The taste was of bright fruits including pear, apple and reminiscent of fruit salad. The finish was crisp and fruity with a hint of citrus. Viognier 2013 was a pale yellow color with an aroma and taste of honeydew. The wine was dry and crisp. This is a good wine as an aperitif or paired with food. Russian Kiss 2013 was a blend of three grapes including XIV, SK-77 and Muscat Canelli. The pale yellow colored wine offered a very floral aroma with tropical fruit notes. The taste was of orange blossoms, mango, peach and nectarine. The finish was crisp with a long aftertaste of fruit.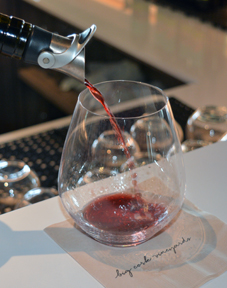 Syrah Rosé 2013 was pink with an orange hue. The aroma and taste offered strawberries and raspberries. Pair this wine with a rocking chair on a porch.
Merlot 2012 was a translucent dark ruby color. The aroma was very aromatic with dark fruits including mushrooms and earthy hints. The taste was of blackberries with a hint of plums. The wine was medium to full-bodied and had noticeable tannins. The finish was crisp with fruity, earthy and leathery tones.
Guest House
A large home on the property has been renovated. With views of the vineyards and winery, this location provides a delightful stay. This house is rented as a "getaway from it all" with family lodging. It is also available for wedding guests.
When planning a visit to Big Cork Vineyards, plan to bring the family and enjoy a day in the country amid vineyards.
Big Cork Vineyards
4236 Main Street
Rohrersville, Maryland 21779
GPS: N39º 25.674' W77º 39.816'
Article written July, 2015

---
Visit these wineries that partners with Wine Trail Traveler.