Hidden Hills Farm & Vineyard
by
Kathy Sullivan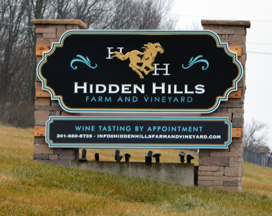 Summary: Hidden Hills Farm & Vineyard offers visitors a boutique wine experience. The winery is a love story that began in high school and many years later resulted in the teenage lovers rediscovering each other and renewing their love. In addition to vineyards, Hidden Hills Farm & Vineyard also offers boarding for horses. Wine tastings are by appointment only. The winery owners enjoy hosting wine tastings for small and large groups.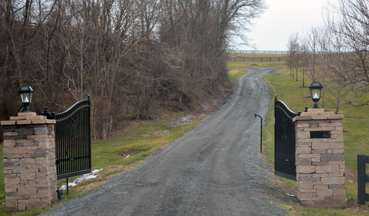 Visitors to Hidden Hills Farm & Vineyard is an easy to find winery located outside of Frederick amid Maryland's picturesque rolling countryside hills. Upon reaching the long driveway and passing through a gate, we reached an area where the driveway split into three. Eventually we decided to head toward the long, modern horse barn. A friendly, busy horse caretaker, directed us toward a large modern home for the wine tasting.
After arriving at the home and parking in the circular driveway in front, we met Art Sagoskin; his wife Robin is the sole owner. Quickly we were invited inside their home to the wine tasting area located on the lower level. An experienced wine assistant, Barbry Williams, also joined our wine tasting. We asked Barbry about her wine journey. Barbry had an opportunity to work in their tasting room at Frederick Cellars, and enjoyed the experience. After working at Frederick Cellars, Barbry worked at other Maryland wineries until coming to Hidden Hills.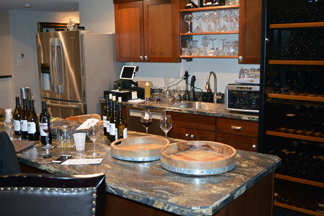 The wine tasting room is located on the lower level of the large home. During the warm, summertime weather, guests walk from the driveway around to the patio/swimming pool area for access to the tasting room.
After being seated at the tasting counter, which reminded us of simulated granite, Art quickly began the story of the winery noting that he is a physician and that the wine is Robin's domain. Art began his story with their personal history which went back to their high school years when he and Robin were dating. Robin remembers that Art was the first boy she ever kissed. Each Hidden Hills wine back label references that first kiss.
"Do you remember your first kiss? It's a memory locked in time that you savor for the rest of your life. At Hidden Hills Farm & Vineyard, we are devoted to creating a wine for you that is just as remarkable and exhilarating as that first moment."
However, after high school Robin and Art went their separate ways. Some 40 years later, they met again, married and began Hidden Hills Farm & Vineyard.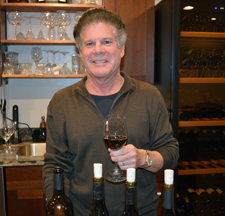 The farm property of 102 acres was purchased in 2009. Art and Robin enjoy wine and wine travel. They decided to plant vineyards that incorporated their interest in wine. Art and Robin also wanted to add vineyards to the property as a way to preserve the land.
The vineyards, planted 3 1/2 years ago, consist of 12 acres. Grapevine varieties include Cabernet Franc, Chambourcin, Vidal Blanc and Sauvignon Blanc. Future plans include enlarging the vineyards. While their own grapevines mature, the current Hidden Hills Farm & Vineyard wines are produced with grapes sourced from Maryland and California.
Hidden Hills Farm Wines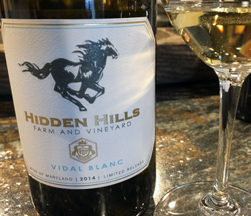 Vidal Blanc 2014 was produced with grapes sourced from Maryland. This delicious wine was a yellow color with a gold hue. The aroma was intense with floral notes. The taste offered notes of floral and yellow stone fruit. The wine was dry with a bit of perceived sweetness. The finish was crisp and fruit forward. Pinot Grigio 2015, produced with California fruit, was a yellow color with a salmon hue. The wine offered an aroma of flowers and some citrus. The winemaking process included leaving the juice on the skins for three days. The wine had notes of citrus especially grapefruit with tropical fruit hints. The finish was crisp and fruity. Hidden Hills suggests enjoying this wine for Thanksgiving and holiday dinners. Chardonnay 2015 was yellow with an apple aroma. The taste was of green apple and citrus. The finish was crisp with a fruit salad aftertaste. Pairing suggestions included enjoying this wine with lean meat, vegetables and fish.
Cabernet Franc 2015 was also made with grapes from California. The wine was an opaque, dark ruby color. The aroma was of dark fruit and spice. The taste offered notes of plums, blueberries, blackberries and baking spices. This full-bodied wine had medium tannins. The finish was fruity. The winery suggests pairing this wine with grilled meats and fresh herbs.
The emphasis at Hidden Hills Farm is on the experience. In addition to the tasting room, a second floor room is located in the stable where small groups can relax in a warm and cozy spot with a glass of wine in hand. Robin and Art built the large stable which includes a large indoor arena. Several arenas are also located outdoors and there are established horse trails on the property. Currently they board 14 horses. It appears that for horse lovers, the stable at Hidden Hills Farm offers numerous desirable amenities.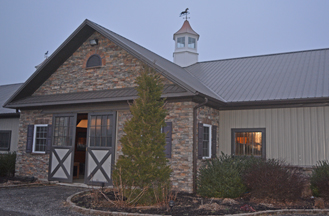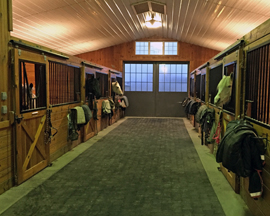 Be sure to contact Hidden Hills Farm soon for an appointment to taste their wines in a warm and welcoming tasting room.
Hidden Hills Farm & Vineyard
7550 Green Valley Rd
Frederick, Maryland 21701
GPS: N39º 26.670' W77º 15.221'
Article written January 2017
---
Visit these wineries that partners with Wine Trail Traveler.