Mazzaroth Vineyard
by
Kathy Sullivan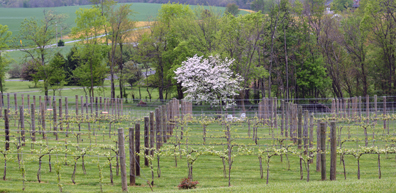 Summary: Mazzaroth Vineyard is a small, boutique winery in Maryland's picturesque countryside. Visitors should contact the winery in advance for appointments that include a tour of the vineyard and a wine tasting.
Mazzaroth Vineyard in Middleton, Maryland is a boutique winery owned by Garry and Micki Cohen. At Mazzaroth, the emphasis is on producing quality wines from meticulously maintained grapevines. Mazzaroth is a member of the Antietam Highlands Wine Trail. Private wine tastings take place on the patio overlooking the vineyard with distant views of Maryland's countryside including South Mountain.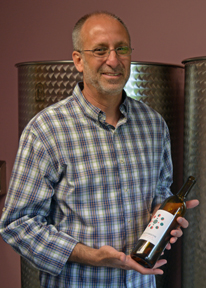 We met Garry, winemaker, who had just retired from a career as an air traffic controller supervisor for 30 years. He commented that air traffic controllers must retire when they reach 56 years of age. During our conversation, he said that the regulation is in effect because authorities believe that peoples' reflexes slow down as they age. Knowing he would retire early, he and Micki, made plans for his second career. He considered his "bright idea." Garry and Micki have always liked wine and Garry has always had an inclination to own his own business. Even today when his wife arrives home from work, Garry is likely to have a glass of wine ready for her. Fifteen years ago Garry decided to make wine and knew he wanted to have his own vineyard. When the time drew closer for retirement, Garry knew he needed a second career.
For Garry's dream to become reality, he and his wife needed to move. Finding the right house took several years. When they discovered their current home with the sloping land and a cape cod house, they knew they had found the right spot. After purchasing the property, Garry planted a quarter-acre of grapevines.
Vineyard
Garry is enthralled with his small vineyard. For Garry the vineyard is a priority and managing a vineyard takes a lot of time. He also commented that grape growing is more challenging than winemaking.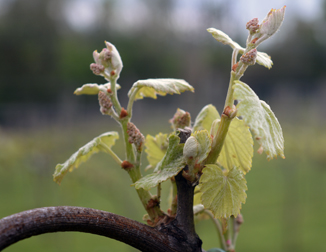 One of the vines was very special. Garry described how the weather was very cold and rainy on the day of planting. They planted one grapevine in memory of Micki's mother. As the roots of the vine were covered with soil a beam of sunlight came out and touched the grapevine. Immediately after covering the roots the clouds covered the sun and it began raining for the duration of the day. This special grapevine is now called the "grandma vine."
Garry's small vineyard (1.0 acres) has four grape varieties including: Albarino, Vidal Blanc, Cabernet Sauvignon and Tannat. Garry has plans to plant additional vines in 2017 expanding the vineyard to 1.5 acres. Garry does not use fencing to guard against deer. He uses netting to cover the grapes and said that the netting protects against both deer and birds.
Garry is very passionate in maintaining his vineyard. No chemical weed control is used in the vineyard. He wants to maintain the quality of the soil. Low growing grass and weeds cover the area between the vines. Garry hand pulls the weeds close to the grapevines. He mentioned that the millennial generation is impressed with his vineyard management practices.
To grow grapes and produce wine, Garry read a lot of books and talked with friends. Garry noted how helpful the Maryland Winegrowers Association has been in his development of the winery and vineyard.
Garry's Wine Journey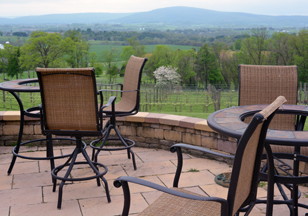 Garry had two epiphanies before embarking on his wine journey. His bright idea occurred one day while at Six Mile Creek, a winery in the Finger Lakes region. While sitting on the patio, Garry said to Micki. "This is what I want to do." A similar event happened at another winery and Micki went along with the idea. "This is what I want to be when I grow up." Garry ultimately knew that with a vineyard and winery, "This is where I will find peace."
Wine Tasting
The Mazzaroth wine bottle labels were created by a local artist after she heard the story of the winery and vineyard. The image of a rotating series of balls around a central figure is elegant and likely to be noticed on any shelf. The name "Mazzaroth" was suggested by a friend. The word is in the Bible's Book of Job and refers to a constellation or star array.
While visiting Mazzaroth we tasted a mead that Garry had just racked. The mead was very floral with a smooth mouthfeel. The mead offered notes of honeysuckle.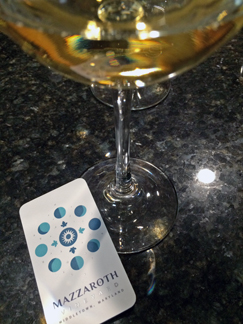 We tasted several of the Mazzaroth wines. The Vidal 2014 was a yellow color with aroma notes that were floral. The taste had a smooth mouthfeel. There were notes of citrus and some tropical hints. The Vidal 2015 was a yellow color. The wine had floral notes and a velvety mouthfeel. There were also citrus and tropical notes.
A 2014 Tannat/Cabernet Sauvignon blend was an opaque dark ruby to black color. The wine offered notes of black fruits including black raspberries and cassis. The wine had bold, gripping tannins and was full-bodied. The wine ended with a crisp finish.
For the future, Garry intends to build a gazebo outside of the winemaking section of his home and within view of the vineyard. He also plans to add a quarter-acre of grapevines to the vineyard.
To enjoy a visit with Garry at his boutique winery with views of Maryland's picturesque countryside, be sure to contact Garry for an appointment.
Mazzaroth Vineyard
8333 Myersville Rd.
Middletown, Maryland 21769
GPS: N39º 27.870' W77º 31.537'
Article written May, 2016

---
Visit these wineries that partners with Wine Trail Traveler.