Boordy Vineyards
by
K.L. Sullivan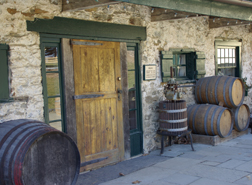 Once past the Baltimore Beltway, the journey to Boordy Vineyards is a very pleasant drive along winding country roads. Boordy Vineyards consists of several large yellow-sided buildings and 20 acres of vineyards at this location and another 20 acres farther west in Maryland. Boordy produces 70,000 gallons about 30,000 cases of wine including Chardonnay, Seval, Vidal, Chamborcin, Pinot Gris and Cabernet Franc.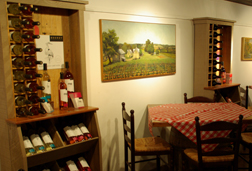 The tasting room is located in a renovated 1830's bank barn. (A bank barn is a barn built partially into the ground.) The tasting building has three sections for visitors. The smaller room one enters has a small tasting bar, and wine accessories. Going beyond the first room, one enters a much larger room with tables covered with red and white checked tablecloths. As befitting a winery environment, each table sits on an old oak barrel. At the back of this room is a long tasting bar. Along the walls are displays of each wine they produce. Next to the bottles of wine are cards, called shelf talkers. These cards provide information about each wine – especially handy if giving the wine as a gift. Boordy Vineyards has managed to achieve the delicate balance between ambience and elegance.
Especially unique about this winery is the third room, much smaller but with the added ambience of a fireplace. From this room one can look into a small stone-walled storage area, which is set aside for reserve wines. On the left side are oak barrels and on the right are bottles in racks upside down.
Boordy prides itself on being a fun place to visit. Outside of the tasting room is a large patio with picnic tables and farther up on a slope are picnic tables under evergreen trees – perfect for a spring or summer day.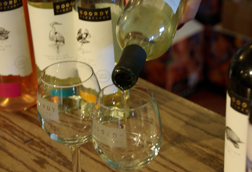 I am always fascinated by wine bottles and labels. At Boordy Vineyards, there are many unique designs on the labels. All of the designs on the labels are created by an Austrailian design firm.
Broody is a busy winery especially on weekends when they may have 250 visitors. The staff is knowledgeable and friendly. On the day of our visit we tasted a blend of Seyval, Vidal and Cardonnay, Vidal Blanc, Riesling, Chilled Apple, Jazz Berry, Merlot, Syrah and Veritas Vintage Port.
Boordy Vineyards
Hydes, Maryland

---
Visit these wineries that partners with Wine Trail Traveler.