Frederick Cellars
by
K. L. Sullivan
Note: Frederick Cellars closed in 2012.
Our first trip to an urban winery took place a few days after Christmas. Frederick Cellars in Frederick opened for tastings in November 2006. A 1904 ice warehouse was converted into a modern day winery.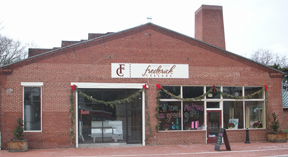 One of the many nice things about Frederick Cellars is the simple design of the building and the use of the available space. Picture a long, rectangular room. As you enter the red brick, 20th century one-story building, you will see a mini stage to your right. Frederick Cellars will use this for hosting special events. Near the middle of the wall is a long, laminated countertop. Beyond the tasting counter are several displays of wine accessories, including a set of plates, which allow one to hold a glass of wine and appetizers with one hand.
Sitting on the wine tasting countertop are a group of the various wines sold at Frederick Cellars. Several bottles are labeled Catoctin and others Frederick Cellars. Recently Frederick Cellars purchased Catoctin Winery. The wine master from Catoctin has been using his mastery of wine to help Frederick Cellars. If you are disappointed that Catoctin Winery closed, you may want to try wine from Frederick Cellars.
After we introduced ourselves, our wine guide had us taste several wines and answered our questions. Tastings at Frederick Cellars are five dollars for a selection of five wines. At the current time, they are expecting to make over 7000 gallons of wine each year. The grapes for the Catoctin labeled wine are from various parts of the country, while the grapes for the Frederick Cellars wine are from vineyards in Maryland. Prices for their wines ranged from eleven to thirty dollars a bottle.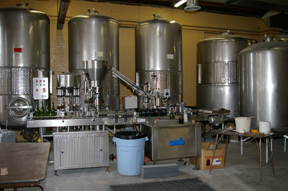 After the wine tasting, we went on a short tour of the wine making area. This area is located next to the tasting room. A wine crusher, bottler, stainless steel tanks and oak barrels were in the room and an explanation was provided for the use of the equipment. Frederick Cellars has an automatic bottling machine, which according to our guide is unusual for this area of the country.
Frederick Cellars will participate in wine festivals throughout the state in the coming year.
Frederick Cellars
Frederick, Maryland

---
Visit these wineries that partners with Wine Trail Traveler.