Linganore Winecellars/Berrywine Plantations
by
K. L. Sullivan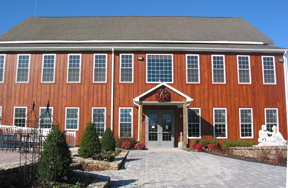 Linganore Winecellars is Maryland's largest winery and has been in existence for 30 years. At the present time, the winery produces 125,000 gallons of wine each year. Almost all of their grapes are from Maryland with a few from Pennsylvania. In addition to red and white wines, Linganore Winecellars produces fruit wines under the label name Berrywine Plantations and the local farmers provide the fruit for these wines. If you are looking for a light fruit wine, you may find what you like here.
As we entered the tasting room facility we were given a friendly hello and invited to the back of a large room where the tastings would take place. As we proceeded to the back of the room we passed displays of wine and holiday decorations.
The new tasting room is housed in a 120 year old barn. The rafters in the ceiling – rough-hewn logs – were kept from the original barn. The bark is still visible high above the tasting room. Skilled workmen from Pennsylvania transformed the barn into a picturesque tasting room.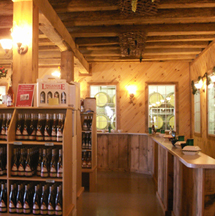 Once back at the tasting counter we met our friendly wine server who was very informative. We began to taste a variety of red, white and fruit wines while she discussed our likes and dislikes of the various wines. Whether you favor dry wines or sweet wines, this is your chance to taste a variety of wines. Linganore Winecellars has a tasting list to suit any wine lover's palate.
While Linganore Winecellars may have 110 to 130 visitors on a Saturday, Linganore hosts festivals, which may have eight to nine thousand visitors attending. Festivals are held in June, July and August. An admission fee is charged for the festivals but in general wine tastings are free.
Visitors include area people and visitors from other states, some of whom stop because they see a sign for Linganore Winecellars on Route 70.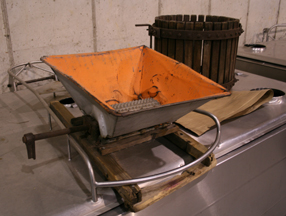 After our long wine tasting we were invited to join a tour of the winery. Large pieces of equipment were used in this large wine making process. One machine crushed grapes and another one strained the crushed grape mixture. In another room we saw short and tall tanks used for the fermentation of the wines. Our final view of the wine making process was the bottling room where we saw a state of the art bottling machine from Germany.
Do you have a jar of cream of tartar in your kitchen? Do you have any idea where cream of tartar comes from? As the wine ferments in a tank, a sediment gathers on the bottom of the tank. The winemaker climbs in the tank to clean it and to remove the sediment. This sediment is cream of tartar. By the time it reaches your kitchen shelf, it has been processed.
Linganore Winecellars
13601 Glissans Mill Road
Mt. Airy , MD 21771-8599
Related article on Examiner.com Baltimore Edition
Day Trip to Linganore Winecellars at Berrywine Plantations article
---
Visit these wineries that partners with Wine Trail Traveler.