Knob Hall Winery
by
Kathy Sullivan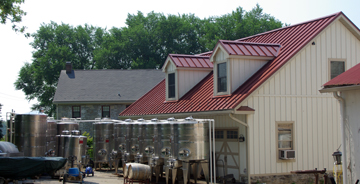 Summary: Knob Hall, a family owned winery located on 200 acres of farmland in northern Maryland, offers a delightful country experience. Imagine tasting wines on a summer day under a 300-year-old white oak tree. With many acres of vineyards, Knob Hall also sells grapes to other Maryland wineries.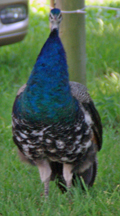 On warm days, tastings at Knob Hall Winery are outside on a knob in front of the old barn. A picnic table and a small outdoor counter are set up under a 300-year-old white oak tree. Gazing up at the tree with huge branches, one wonders how many children may have climbed among the leaves. While tasting Knob Hall wines lucky visitors will see a handsome peacock or two wandering nearby.
The barn has been setup for events and tastings. Round tables for six to eight people are for any number of events. Knob Hall offers its facilities for private events. Public events include Wine Down Fridays. Richard and Mary Beth Seibert, owners, are looking forward to building a dedicated tasting and event building.
History of the Knob Hall Property
The Knob Hall property has been in the Seibert family for more than 200 years. One of the Seibert brothers came to this area during the French and Indian War. The property was named "Knob Hall" because of the three knobs with the hall running between. The stone section of the house was built in the early 1800's and the barn in 1865.
When Richard inherited the property few options were available for making a farm profitable. Richard Seibert and his wife who is the winemaker wanted to make the farm self-sustaining. When someone suggested soybeans would do well, Richard discovered that one acre of harvested soybeans would sell for only one hundred dollars. Planting soybeans was not an option.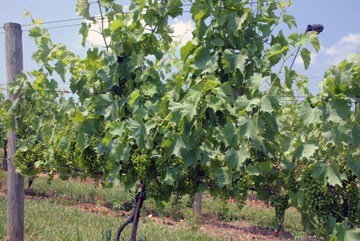 Vineyards
The Seiberts met a couple from Bordeaux who helped them layout the vineyard. The farm is in the Cumberland Valley AVA that is noted for its red clay and limestone. In 2007, the Seiberts planted eight acres of grapes. In the next two years they added 12 acres. The vineyards have increased to a total of 43 acres. Varieties include Cabernet Franc, Merlot, Vidal, Chambourcin, Traminette, Pinot Gris, Petit Verdot, Chardonnay, Albarino, Viognier, Syrah, Grenache, Sauvignon Blanc, Malbec and Cabernet Sauvignon. Richard smiles when recalling how friends, neighbors, and family volunteered to help plant the vineyards the first year. The second year a few people showed up to help and the third year no help arrived. After that he hired someone to plant the vines.

The first harvest was in 2009. Grapes harvested included Cabernet Franc, Merlot, Vidal Blanc, and Chambourcin.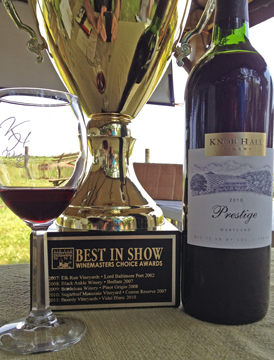 Wines
Mary Beth, winemaker, enjoys collaborating with family, interns and likes blending the wines. On the day of our visit, temperatures were in the 90s. Rather than having tastings in the barn, they were conducted on the top of a knob under an oak tree. A constant light breeze made sitting in the shade comfortable.
Rose 2011 was pink with a slight orange tint. This was produced with a blend of Cabernet Franc, Chambourcin and Merlot. The wine reminded one of red berry fruit. The wine was dry with a strawberry aftertaste. This is a good 3P (Porch, Patio, Pool) wine. Le Rêve Roughe 2010 was a deep red. The wine was a blend of Chambourcin and Vidal. Cherry notes were on the aroma and taste. The finish was crisp with mild tannins and cherry with a hint of tartness and mineral.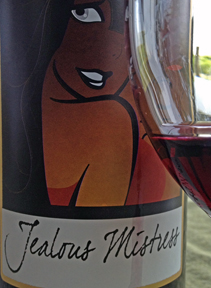 Jealous Mistress 2010 was dark ruby. This Chambourcin and Merlot blend offered cherry and plum. The finish had tannins and was fruity with a slight hint of tobacco. Chambourcin 2010 was a dark ruby with black fruit on the aroma. The taste offered black cherry and coffee notes. The finish had bold tannins and was fruity with a hint of tobacco. Prestige 2010, a ruby color, was a blend of Merlot, Cabernet Franc with a splash of Chambourcin. The wine aroma was of dark fruits. The taste had notes of blackberries and raspberries. The finish offered bold tannins, was very fruity with a slight minerality. This was a delicious wine that pairs well with food or can stand alone. The wine won Best in Show for the Maryland Winemasters Choice Awards competition.
White Wines
White Oak 2011 was named for the large, old white oak in front of the 1865 barn. The wine was yellow and the taste had a tinge of minerality with pineapple notes. This was a blend of Chardonnay, Traminette and Vidal. Fish and fowl were suggested for pairings. Traminette 2011 was a pale yellow. The aroma was light floral and the taste offered lemon and a suggestion of lime. The finish was dry with pineapple.
Enjoy a trip to northern Maryland's beautiful countryside near the Pennsylvania border. Watch for special events at Knob Hall including Wine Down Fridays. Make the trip extra special by stopping at the friendly Knoll Hall Winery where you can enjoy quality wines.
Knob Hall Winery
14108 St. Paul Road
Clear Spring, Maryland 21722
GPS: N39º 42.056' W77º 53.295'
---
Visit these wineries that partners with Wine Trail Traveler.