Detour Vineyard and Winery
by
Kathy Sullivan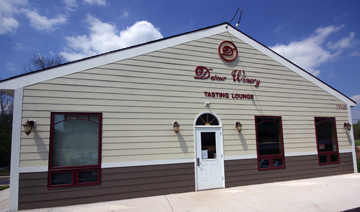 Summary: Recently opening in Detour, Maryland, Detour Vineyard and Winery is focused on being a destination winery. The winery offers public events and provides opportunities for private events. In the near future, Detour Winery will have a full line of wines including red, white, and fruit wines.
Detour Winery is a family owned and operated winery in the countryside area of Detour, Maryland.Travelers will enjoy a pleasant drive from Interstate 70 through Maryland's beautiful farmlands. Detour Winery is a member of the Carroll Wine Trail and the New Mason-Dixon Wine Trail.
The owners, Daniel and Patricia Tamminga, Sr and their family want the winery to be a destination site. Dan, Jr. notes that arriving at the winery is a journey and that journey relates to the meaning of the town, "take off and make a detour." The winery neighbors are excited about the winery and events taking place at this rural destination. Daniel Sr. writes, "Life's journey is determined, in part, by the choices we make, the paths we take and the direction we travel. When you make the decision to visit the vineyard and winery; take a road less traveled; to follow a path that detours you from your daily routine and fast pace life-then you have arrived at a truly unique destination that will enhance your life's journey forever."
The Tamminga family had a prior history of making wine in the family. Daniel's father and grandfather had made wine at home. After purchasing the tree farm property in 1999, the Tammingas decided to develop the winery and plant vineyards. The winery stainless steel tank and bottling facility was built in 2009. The Detour Winery Tasting Lounge was completed and opened in December 2011.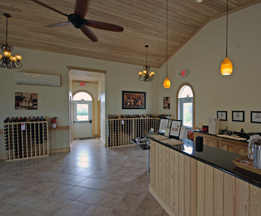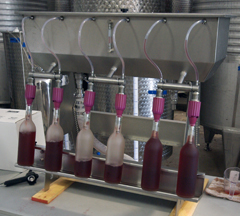 The tasting lounge is located across the driveway from the tank and bottling facility. Vineyards can be seen in the distance. At the time of our visit landscaping was in progress. Inside, the tasting room has a dark simulated granite tasting counter. The light wood base matches well with the light wood ceiling. Wrought iron chandeliers and wall lights add to the ambiance of the room.
Vineyards on the property were first planted in 2007 and 2008. This spring 10 more acres of grapes were added for a total of 35 acres. Grape varieties include Vidal Blanc, Traminette, Noriet, Chambourcin, Syrah, Cabernet Franc, Catawba and Merlot.
Wines
Daniel Tamminga, Sr. is the winemaker and Dan, Jr is the assistant winemaker. Detour Winery started with producing fruit wines since fruit wines take less time from start to finish. At the time of our visit they had several fruit wines available as well as two white wines and two ice wines.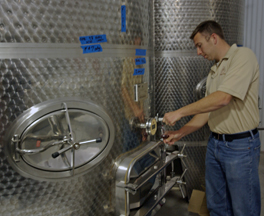 Our first tasting was from a tank. Dan Jr. led the way past gleaming stainless steel tanks to a tank of Noriet wine that will be bottled soon. It was a Noriet that was a dark purple/ruby color with an intense aroma of dark berry fruit and cedar. The wine had mild tannins and would be an excellent choice for white wine enthusiasts who may want to venture into red wines.
Red Raspberry 2011 was a reddish orange color. The taste was of soft raspberries and it dried on the finish. Blueberry 2011 was produced with fruit sourced from the Northeast. The bright red wine offered blueberry notes and was smooth. A slight hint of smoke was on the fruity finish. Blackberry 2011 was a very light ruby color with a blackberry aroma and taste. The wine was sweet but became very dry on the finish with a bit of pepper. Black Raspberry 2011 was a dark ruby color with a bouquet and taste of black raspberries. The wine was sweet but dried on the finish. Pear was produced with fruit sourced from the Northwest. The aroma and taste offered very fresh pear notes. The finish was sweet and pear-like.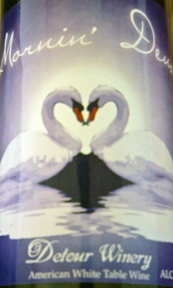 Mornin' Deux with two swans on the label was a blend of Traminette and Vidal Blanc. The back label explains, "Just like the two white swans…perfectly paired, in perfect harmony, creating a perfect heart silhouette one autumn morning on Detour Pond, "Mornin' Deux" is the perfect pair of two white grapes…." With 13.2 percent alcohol, this American White Table Wine was a light yellow with fruit especially grapefruit notes. The wine was dry and sweet. Alpine Frost was produced with a Native American grape. Suggested pairings included salmon, roasted duck and halibut. Passion was a red raspberry dessert wine. The color was a dark pink. The aroma reminded one of a nonalcoholic fruit drink. The taste was very sweet with a lot of passion fruit notes. Winter Solstice was an ice wine produced with Vidal Blanc. Ice Cubed was named because it was made with three grapes. This was a red wine with 14 percent residual sugar. The ice wines were produced with grapes that had been frozen in the vineyards in 2009.
Winery Events
Throughout the year, Detour Vineyard and Winery will feature several large events. Watch for music festivals with special themes. On summer Sundays local bands will play for the Sunday Summer Concert Series.
Take a detour in your life and enjoy a visit to Detour Vineyard and Winery.
Detour Vineyard and Winery
7933 Forest Stream Club Road
Detour, Maryland 21757
GPS: N39º 36.708' W77º 16.986'
---
Visit these wineries that partners with Wine Trail Traveler.