Royal Rabbit Vineyards
by
Kathy Sullivan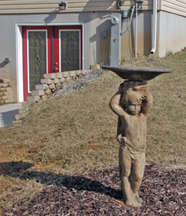 Summary: Royal Rabbit Vineyards is a small, boutique farm winery in northern Maryland. The winery is on the Mason Dixon Wine Trail and the Piedmont Wine Trail. The tasting room is open on Saturdays and Sundays.
Royal Rabbit Vineyards' tasting room is located on the lower floor of the owner's residence. Visitors park in an area set aside for cars in front of the two-story home and follow a curved walkway to the elegant double door.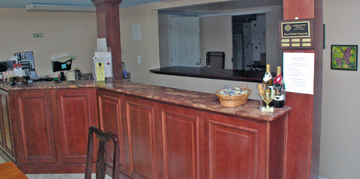 Just inside the door, a small table with chairs provides a relaxing spot to taste wines. The room also has an elegant solid surface tasting counter. The L-shaped room is decorated with numerous pieces of artwork by local artists. The artwork is available for purchase.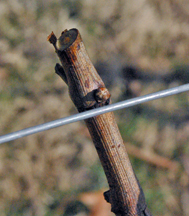 Roy Albin is the owner and winemaker at Royal Rabbit. He also currently maintains 4 1/2 acres of vineyards. The grape varieties include Gruner Veltliner, Marsanne, Vignoles, Petit Manseng, Chambourcin, Landot 4511, Barbera, Petit Verdot, Cabernet Sauvignon, Merlot, Vidal, Albarino and Chardonnay. The largest variety is the Petit Verdot which covers 20 percent of the vineyard. During our late March visit, the sap was beginning to move through the vines and began to weep where the vine was pruned.
The property has been in the family for many years. One vineyard is located upon what was once a cornfield. In the future, Roy would like to expand the size of the vineyards.
The name for the winery, Royal Rabbit, comes from Roy's involvement as an actor with Medieval Creations out of New York City. Roy first became interested in making wine years ago when his father, a high school biology and chemistry teacher, made a couple of batches of wine.
In 2014 Roy produced 900 cases of wine. Eventually his goal is to reach 6,000 to 8,000 cases. Seventy percent of his wines are produced with grapes from his vineyards.
Roy began making wine in 1982. In 1990 he started a club that taught people how to make wine. Now that he is producing wine commercially, he commented that he tries producing quality wines with different varieties that people may not have access to. Roy wants wine enthusiasts to know that his wines are food friendly with some complexity.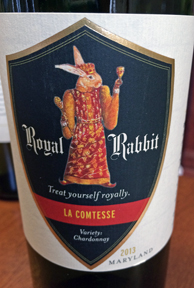 Royal Rabbit Wines
La Comtesse Chardonnay 2013 was a light yellow with notes of apple, pear and caramel. The full bodied wine was crisp with a very fruity aftertaste. The Margravine 2012 was estate grown Gruner Veltliner. Roy used oak with this wine. The color was yellow with notes of petrol and light spice. There were nuances of sweetness from the fruit but the wine was crisp. There was a long aftertaste. The Marquise 2013 (Marsanne estate grown) had 12.5% alcohol. The wine was aromatic with floral notes, citrus and stone fruit. The color was an attractive yellow. The very dry wine was food friendly.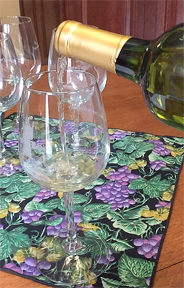 Chatelaine's Blush 2015 was a blend of Barbera, Chambourcin, Cabernet Franc, Cabernet Sauvignon, Petit Verdot, Traminette and Merlot. The color was dark pink. The wine was very aromatic with notes of grapefruit. This is a 3P (patio, porch, pool) wine or a rocking chair wine.
The Duke 2012 with 12% alcohol was a blend of Cabernet Franc and Cabernet Sauvignon. The wine was a translucent ruby color. It offered dark fruit notes including black berry, black cap and cassis with mild tannins.
The Viscount 2013 with 12.5% alcohol was made primarily with Petit Verdot. Roy added a touch of Cabernet Sauvignon to this wine. It was a dark ruby to dark purple color. The wine had dark fruit notes and bold tannins.
On a weekend, when traveling Interstate 83 north of Baltimore, you may want to take a break and stop by Royal Rabbit Vineyards for a wine tasting.
Royal Rabbit Vineyards
1090 Jordan Sawmill Rd
Parkton, MD 21120
GPS: N39º 41.363' W76º 38.446'
Article written March 2015
---
Visit these wineries that partners with Wine Trail Traveler.