Layton's Chance Vineyard and Winery
by
Kahy Sullivan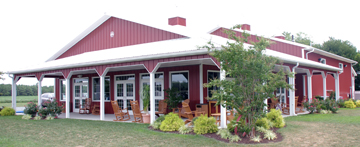 Summary: Visit Layton's Chance Vineyard and Winery, a family friendly winery, located amidst the farmlands of corn and soybeans. Visitors will enjoy the tasting room and views of the vineyards. The Laytons are welcoming and want people to experience the setting and the wines. Currently demand is greater than production.
Layton's Chance Winery is located just off Route 50. During the summer months visitors will enjoy traveling past the green fields of corn and soybeans to reach the location of the tasting room and winery. The Layton family has been involved in farming for hundreds of years. In 1709, the first farm was purchased and called "Layton's Chance." When the winery opened in 2010, they named the winery "Layton's Chance."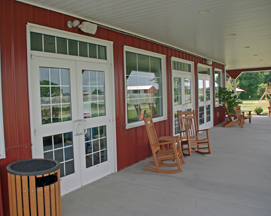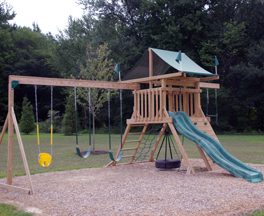 Layton's Chance Winery is located in a modern, red barn-style facility with white trim. A patio is located along two sides. A children's climbing and swinging apparatus is nearby providing a safe location for children. It is within view of the tasting room and from one side of the patio. Children can play while parents stop by to enjoy tasting a wine. The winery owners encourage wine lovers to bring a picnic lunch to enjoy with one of their wines. Vineyards can be viewed and enjoyed from the other section of the patio.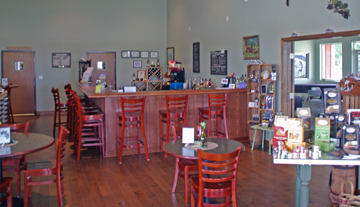 Tasting Room
The tasting room has a lovely finished walnut L-shaped tasting counter. Small tables are available for enjoying a glass of wine. Adjacent to the tasting room is an event room. The rooms provide a good ambiance for enjoying time with friends and family while enjoying wines.
As we visited with William Layton, we learned that the property is a part of his heritage. In 2010 the farm was inducted into the Maryland Agriculture Hall of Fame. William Layton's father and grandfather have been very active in agricultural associations on all levels. In the 1920's his great grandfather was a sharecropper on the current property growing corn and tomatoes and raising cattle. After World War II, William's grandfather bought the farm. William's father was a farmer all his life on the same property. His grandfather and father have worked with the University of Maryland to advance agriculture. Today the winery and vineyards are on the original property and the family owns several other pieces of property totaling 1,800 acres. The tillable land accounts for 1,300 acres and the rest is forest. The property is a part of the Agricultural Preservation program.
The Layton family has focused on promoting the farming industry in Maryland. They chose to go into the winery business because of the value added farming aspect of grapes. Asked about the difference between farming corn and growing grapes, William acknowledged that growing grapes is more labor intensive than a crop like corn.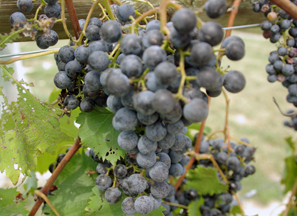 Vineyards at Layton's Chance
The 13 acres of vineyards include Vidal, Chambourcin, Traminette, and Norton varieties. William began with two acres so that he could learn and experience grape growing. Drip irrigation has been installed. Eventually, he sees the vineyard size increasing to 22 acres.
All grapes used in the Layton's Chance wines are from the Eastern Shore; the only exception are Concord grapes sourced from New York State.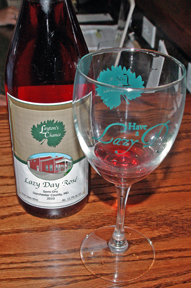 Layton's Chance Wines
Traminette 2010 was a straw color. The aroma had floral and fruit notes. The taste offered rose and peach nuances. The finish was very drying with fruit notes yielding to rose petals. Vidal Blanc with 12.7 percent alcohol offered light citrus nuances. This is a food friendly wine and a good wine for a warm summer afternoon. The Chambourcin 2010 was a ruby color with red berry fruit notes. The wine had mild tannins. Lazy Day Rosé was a light red wine. The wine offered strawberry and red raspberry notes. This is a 3-P wine, good for picnic, patio or pool.
Watermelon Fruit Wine
An unusual fruit wine, we had to try while visiting, was the Watermelon Wine. Layton has been able to produce Watermelon Wine with 100 percent watermelon. The wine had light watermelon nuances with 10 percent alcohol. This may be a great wine to have on hand during a winter snowstorm when dreaming of summer weather.
Events
The winery offers a variety of events for visitors to enjoy while tasting wines. Watch for book club events, ice cream nights, and concerts. Usually there is an event every week. Weddings can also be scheduled.
While traveling Route 50 to reach the coastal beaches or to return home, plan to stop at Layton's Chance for an enjoyable time. Experience a little bit of farm life. Remember this is a family friendly winery.

Layton's Chance Vieyard and Winery
4225 New Bridge Rd.
Vienna , Maryland 21869
GPS: N38º 29.209' W75º 54.519'
---
Visit these wineries that partners with Wine Trail Traveler.